Off to Vegas!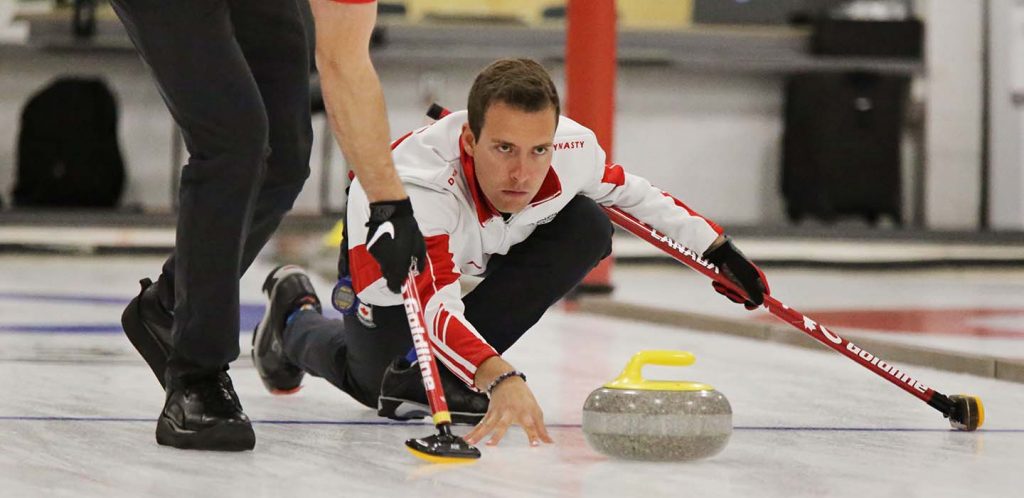 Team Bottcher secures Canada's spot at 2022 World Men's Curling Championship
LACOMBE – A vastly improved Team Brazil put up a stubborn fight Saturday evening, but it still wasn't enough to prevent Team Bottcher from taking a 10-1, six-end victory that secured Canada's spot in the 2022 World Men's Curling Championship.
There were still handshakes after six ends, but for the first time in three games, Team Bottcher had a competitive game on its hand at the Americas Zone Challenge at the Lacombe Curling Club. Instead of coasting to victory, they had to steal their way.
After two lopsided, six-end victories over Brazil (11-2) and Mexico (14-1), skip Brendan Bottcher, vice-skip Darren Moulding, second Brad Thiessen, lead Karrick Martin, alternate Patrick Janssen and coach Don Bartlett had to fight for their points Saturday evening.
"From the first game to this game you could tell they improved quite a bit," Thiessen said of Brazil skip Marcel Mello and his team of vice-skip Ricardo Losso, second Gilad Kempenich, lead Filipe Nunes and alternate/coach Henrique Kempenich. "They're learning the ice a bit. It's probably a bit more curly than they're used to and they're figuring it out more. Definitely a tougher game for sure.
"The score might not show it but they played quite a bit better than the first game."
After scoring six and five points in their previous first ends, Bottcher settled for three on Saturday, followed by a steal of one in the second. Mello and his Brazilian team countered with one in the third and then forced Canada to a single in the fourth.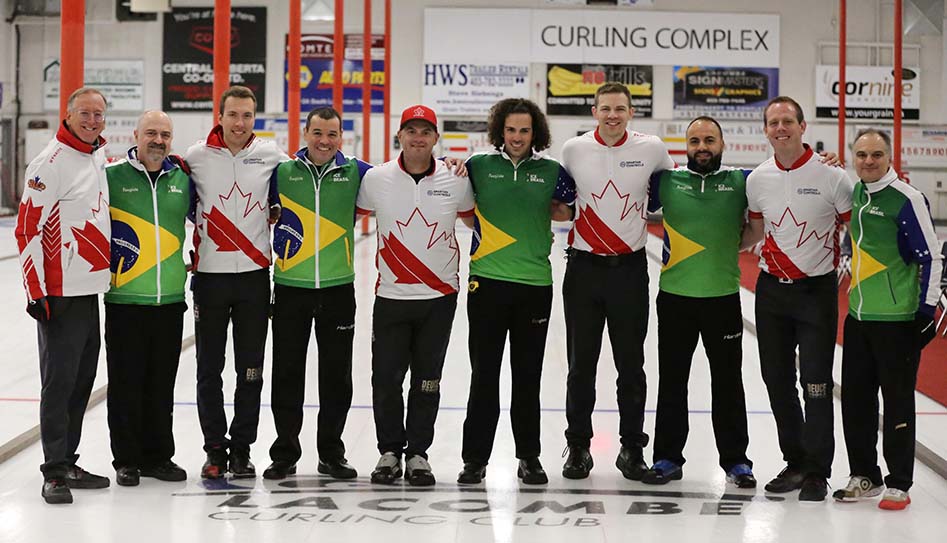 Canada had a chance to score four in the fourth but Bottcher's final rock runback attempt came up light and he had to settle for the single that kept Brazil very much alive. However, a steal of one in the fifth and four in the sixth ended whatever hopes Brazil had.
The difference, agreed Theissen, was the skill level.
"For sure. We just made the shots we had to. Brendan and Darren played really well and Karrick played well."
The win improved Canada to 3-0 with one game remaining and left challengers Brazil and Mexico both with two losses in the double round-robin competition. Brazil beat Mexico 9-6 in an afternoon game, Brazil's first win after 23 games in seven Americas Zone Challenges.
That guaranteed Canada will win the event.
"That's good, that's what we came here to do," said Theissen. "We definitely took this seriously, we wanted to make sure we qualified Canada and we didn't want to take these teams lightly. Glad we did what we came here to do."
The Americas Zone has two guaranteed berths into world men's and women's championships; the U.S. is guaranteed a berth into the men's worlds as the host team this season with the event staged in Las Vegas, meaning Canada could be challenged by other countries in the zone for the right to attend the world championship.
Mexico and Brazil challenged and Team Bottcher, the reigning Tim Hortons Brier champions from Edmonton, was selected by Curling Canada to try to win this country's spot in the world championship that Canada has participated in every year since the event was inaugurated in 1959.
The 2022 Americas Zone Challenge concludes with two draws Sunday at 2 p.m. and 7 p.m. (all times Mountain).
The schedule, scores and team lineups are available at curling.ca/scoreboard
This story will be available in French as soon as possible at https://www.curling.ca/?lang=fr.