Qualified!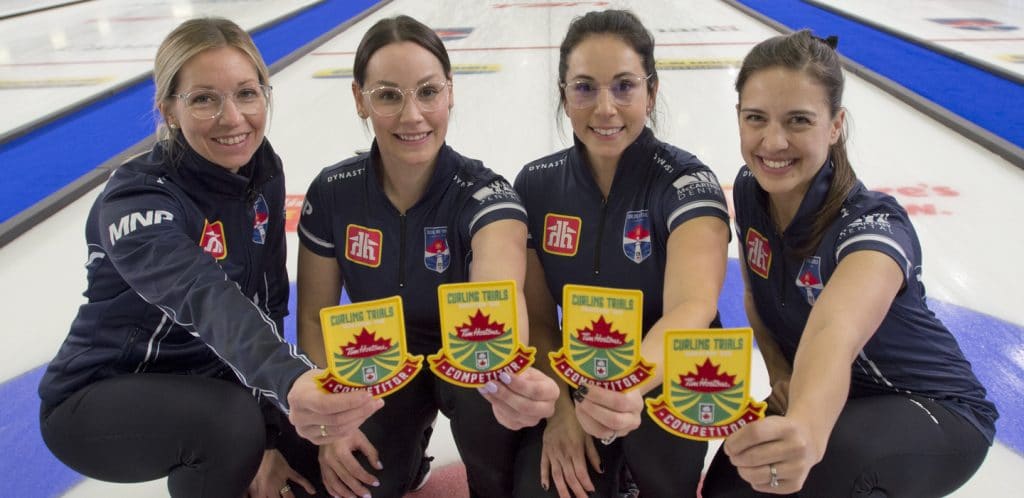 Two win day secures Trials berth for battle hardened Krista McCarville
If there's one thing that can never be questioned, it's Krista McCarville's resilience.
The Thunder Bay, Ont., rink – alongside vice-skip Kendra Lilly, second Ashley Sippala, lead Sarah Potts and coach Rick Lang – were used to having their backs against the wall at the 2021 Home Hardware Curling Pre Trials Presented by New Holland, having staved off elimination once in the round robin portion of the event only to qualify first overall in pool A.
Team McCarville then won its opening playoff match versus Mackenzie Zacharias (Altona, Man.) 8-7 by scoring four points in the 10th end and stealing a single in the extra, setting up a showdown in the A Qualifier against Jaqueline Harrison (Dundas, Ont.) as the Saturday evening feature match from Queens Place Emera Centre in Liverpool, N.S.
And with a spot at the 2021 Tim Hortons Canadian Curling Trials in Saskatoon on the line, it certainly pays to be a comeback specialist. She'd end up needing it as she would defeat Harrison 9-6 to secure her Tim Hortons Trials berth.
McCarville would falter early and surrender a huge score of five points without hammer in the second end by way of a well executed double from Harrison, quickly falling behind 5-1. Most teams would soon fold and enter a self-defeating mentality but McCarville was undeterred.
"I don't think we've ever come back from two different four point deficits in the same day," joked McCarville.
"There were a lot of emotions in that game. Obviously we didn't have the best second end by giving up five, but if you're going to give up five, you want to do it early in the game. This week has been a battle of comebacks and this is something our team is really good at."
McCarville is a veteran of this Home Hardware Pre Trials event, having qualified twice for the Tim Hortons Canadian Curling Trials twice before though it in 2017 (Summerside, P.E.I.) and 2009 (Prince George, B.C.). She can now add the 2021 accolade to that resume.
"Every game we play, we want to go hard right through to the 10th end and make the skip shoot their last shot. We always have that mindset that we never give up," said McCarville.
By the end of 4th end, the score was already tied 5-5 thanks to a deuce in the third with hammer and a steal of two in the fourth after applying massive pressure to Harrison. The comeback was complete even before the halfway mark of the match and McCarville would continue the onslaught of pressure for an additional steal of one in the fifth end
Harrison would act swiftly to generate some offence with the hammer but only managed to take a single point in the sixth. McCarville would blank the seventh before taking a game changing two points in the eighth to lead 8-6.
McCarville would never trail again and closed out a 9-6 victory.
"We somehow always end up in this position where our backs are against the wall and we have to play the best we can. We did that and that's just how we roll," said McCarville.
In additional playoff action, all other matches were elimination games. Corryn Brown (Kamloops, B.C.) had a strong showing and defeated Mackenzie Zacharias by a score of 10-3. Pat Simmons (Winnipeg Beach, Man.) kept his Home Hardware Pre Trials hopes alive with a 9-4 victory over Paul Flemming (Halifax). Team Glenn Howard (Penetanguishene, Ont.) downed Team Tyler Tardi (Langley, B.C.) by a score of 6-4 while Team Sherry Anderson (Martensville, Sask.) bested Team Suzanne Birt (Montague/Cornwall, P.E.I.) by a score of 8-6.
The 2021 Home Hardware Pre-Trials will continue Sunday with draws scheduled for 9 a.m., 2 p.m. and 7:30 p.m.
Live scoring, standings and statistics for the 2021 Home Hardware Pre-Trials are available at www.curling.ca/scoreboard/
Playoff games are being broadcast in Canada on TSN/RDS2, and in the United States on ESPN3. CLICK HERE for the broadcast schedule in Canada.
This story will be available in French as soon as possible at www.curling.ca/2021pretrials/nouvelles/?lang=fr