Still Perfect!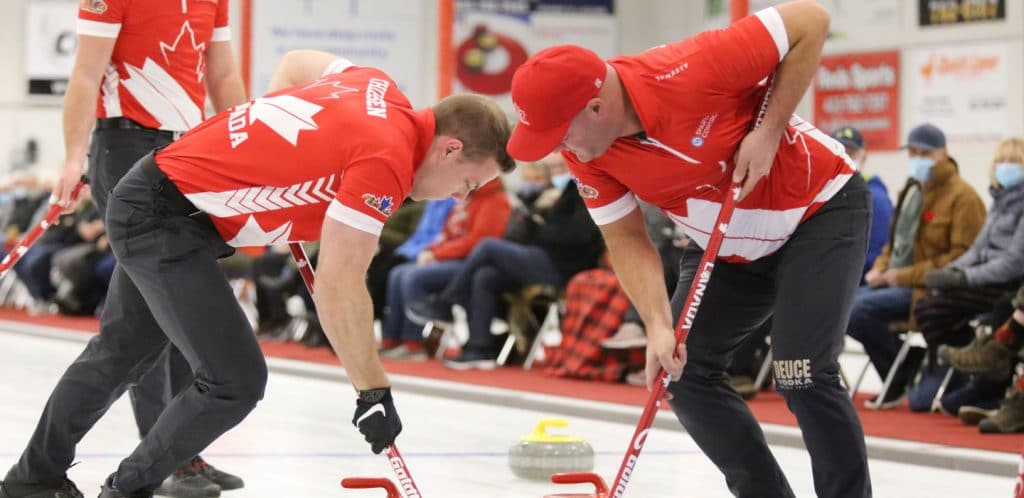 Canada flexes might with dominant win over Mexico at Americas Zone Challenge
It was almost deja vu all over again for Team Brandan Bottcher Saturday afternoon at the Americas Zone Challenge at the Lacombe Curling Club. And this time there was almost a rare exclamation point at the end.
After scoring six in the first end to beat Brazil 11-2 Friday evening, the reigning Tim Hortons Brier champions put a five on the board in the first end and rolled to 14-1, six-end win over Jesus Barajas and Team Mexico.
Unlike Friday when Marcel Mello and his Brazilian teammates scored a single in the second and stole one in the third, Bottcher, vice-skip Darren Moulding, second Brad Thiessen, lead Karrick Martin, alternate Patrick Janssen and coach Don Bartlett kept the pressure on Mexico. Canada stole three in the second and four more in the third for an insurmountable 12-0 lead.
"We got off to a good start, which is key for us, lets us relax a bit and we executed really well today so I'm happy about that," Bottcher said of the team's second straight overpowering performance.
"We come out and we're always aggressive in games," added Moulding. "And we want to play our regular game here so we've been able to crack a couple of big ends in the first end so far. I felt we played a really good first four ends."
And a final end that nearly produced a rare eight-ender. Canada had a legitimate shot at it before skips final stones. It would have required a double take-out by Bottcher but the shot was definitely there … until Barajas put his final stone in the top of the eight foot, leaving Bottcher to try an extremely difficult triple.
"We definitely had a chance," Bottcher said, especially until Barajas put his stone where he did. "He got his last one into a pretty good spot and unfortunately we had a pretty good wall back there.
"I'm not sure, in the end that it was there because I was pretty darn close. But in your whole career, the chance you get to even look at one of those is pretty slim, even with all the curling we play. So you definitely have to give it a shot."
It did not work out, partly because Canada had four shots blocking the back of the house.
Canada got its first-end five when Barajas wrecked on guards with both his stones. Bottcher drew the edge of the button with his first and the full four-foot with his second to give Canada five counters all inside the foot-foot.
Difficulties continued in the second for Barajas; vice-skip Ramy Cohen, second Christopher Barajas and lead Alex Sánchez. Canada took advantage of narrow, but critical misses by Mexico's third and second to put three counters surrounding the button.
Barajas made a good hit and roll to the button to sit one. But Bottcher coolly executed a wide in-off to eliminate the Mexico counter and leave Canada sitting three. Barajas' last-rock draw attempt was wide and light.
From the third end on there were aahs from the fans each time Mexico was close on a shot and encouraging but light cheers on the rare occasion they successfully executed a shot. And a jolly round of applause when Mexico scored a point in the fifth end. That came when Bottcher uncharacteristically missed both his shots – short of the hog line on an attempted guard and wide on a runback that took out his own counter and left Mexico with its only point of the game.
The result leaves Canada at 2-0, Brazil at 1-1 and Mexico 0-2 in the three-team, three-day competition to determine the second Americas Zone berth in the 2022 world men's curling championship next April in Las Vegas, Nev.
Brazil recorded its first ever win after 23 losses in its seven challenges, beating Mexico 9-6 in the morning draw. Brazil scored a single in the seventh end and stole deuces in the eighth and ninth ends to record the historical victory.
If Canada beats Brazil in the evening draw, that will give Mexico and Brazil two losses each and Team Bottcher will win the round-robin and secure Canada's berth in the 2022 worlds.
The 2022 Americas Zone Challenge will continue this evening with Canada playing Brazil at 7 p.m. The event concludes with two draws Sunday at 2 p.m. and 7 p.m. (all times Mountain).
The schedule, scores and team lineups are available at curling.ca/scoreboard
This story will be available in French as soon as possible at https://www.curling.ca/?lang=fr.