Gunner nails down berth!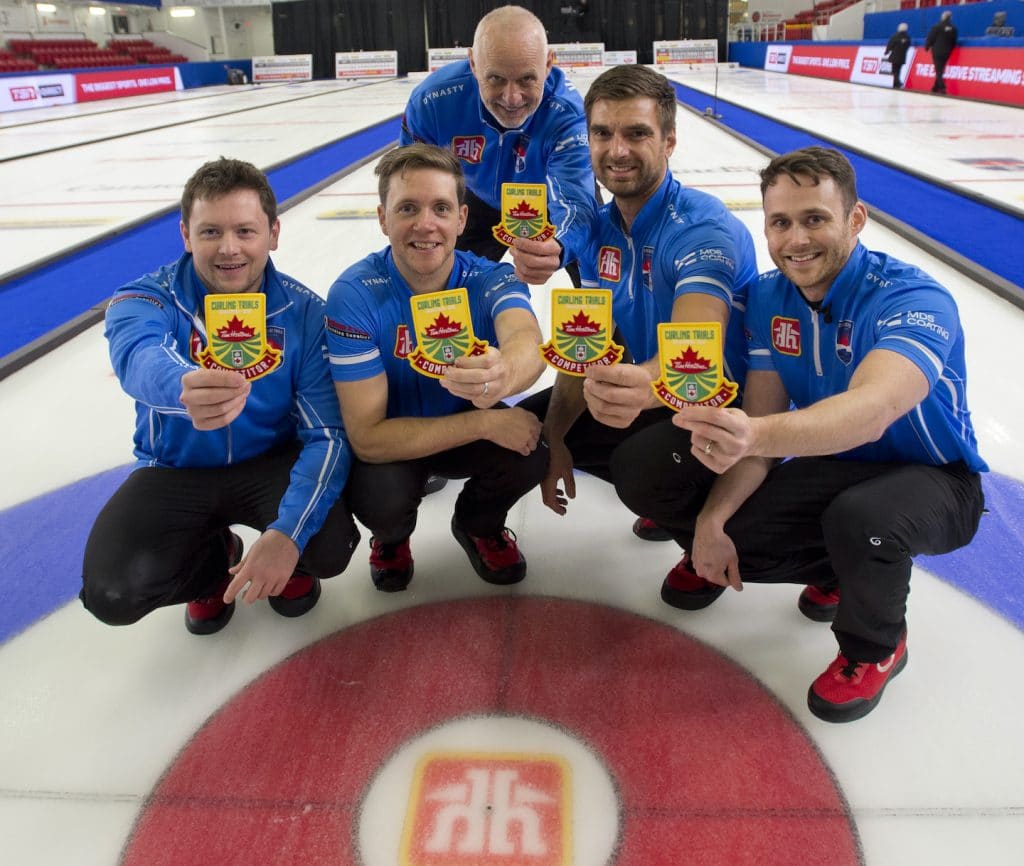 Team Gunnlaugson wins first men's qualifier at Home Hardware Pre-Trials
Jason Gunnlaugson is headed back to the Tim Hortons Canadian Curling Trials, presented by AGI, and he'll have no shortage of Trials experience to draw on.
Gunnlaugson's team from Morris, Man., squeaked past Team Tanner Horgan (Kingston, Ont.) 9-8 on Sunday morning at Queens Place Emera Centre in Liverpool, N.S., in the first men's qualifying game at the 2021 Home Hardware Canadian Curling Pre-Trials, presented by New Holland.
It will be Gunnlaugson's fourth straight trip to the Tim Hortons Trials, and while the last two were in the role of an alternate, it's still Trials experience that pays off. He'll be skipping in the Trials for the first time since 2009 at Edmonton, and he'll have vice-skip Adam Casey, second Matt Wozniak (a runner-up at the 2017 Tim Hortons Trials playing with Mike McEwen), lead Connor Njegovan and coach Garry Van Den Berghe along for the ride next month in Saskatoon.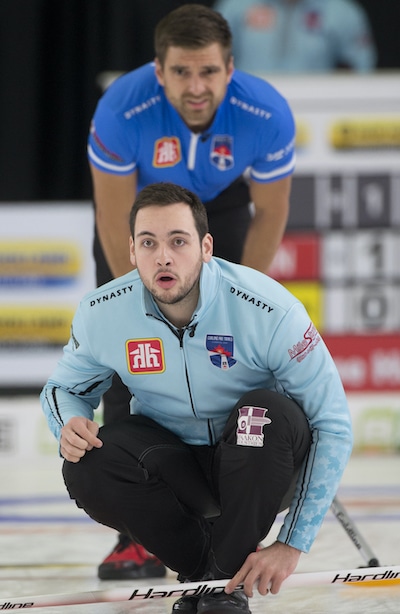 "Oh, I'll be shaking for a good hour," said a relieved Gunnlaugson, 37, after the nailbiting game. "To get to the Trials was a huge goal for us; this is a tough event, but it was a lot of fun and we got through it. So, pretty happy with that."
It was an edge-of-your-seat game with Team Horgan, who hadn't lost a game entering the Sunday morning showdown.
The teams traded haymakers throughout — Gunnlaugson's wonderful angle-raise double takeout for two in the fourth end was matched by a cold-blooded draw through a port to the four-foot by Horgan in the fifth.
But Gunnlaugson picked up momentum after the fifth-end break, cracking a deuce in the sixth, forcing Horgan to a single in the seventh and then all but putting the game away with a three in the eighth when Horgan's attempted raise to set up a steal barely missed and slid heavy to the back 12-foot, giving Gunnlaugson the draw for the three.
Horgan, though, would fight right back with a game-tying three of his own in the ninth. But a marvellous double peel by Wozniak set the stage for Gunnlaugson's game-winning draw, with full-bore sweeping from Njegovan and Wozniak, to the full four-foot between two Team Horgan counters in the eight-foot.
"You watch Connor — he's in the gym every day, he's stronger than most guys twice his size out here. That's the difference, right? An inch or two of sweeping — it's just all that hard work over the five years I've played with the guy," said Gunnlaugson. "Just an unbelievable sweep. I didn't want to throw it too hard; I didn't, and I almost regretted it."
Sunday's win capped a roller-coaster ride the past 48 hours for Team Gunnlaugson, which needed a Team Horgan win over Team Mike Fournier on Friday to qualify for the playoff round in Liverpool.
"It's a tough country to get into the Trials; you're playing great teams here," said Gunnlaugson. "You go 4-and-2 (in the round robin), and it's not that bad, but the next thing you know you could be going home. But we get a little bit of luck, and then we get through."
Gunnlaugson will be looking to improve on the 0-7 record he posted skipping at the 2009 Tim Hortons Trials, and already is relishing the opportunity to compete in Saskatoon for the chance to represent Canada at the 2022 Winter Olympics in Beijing.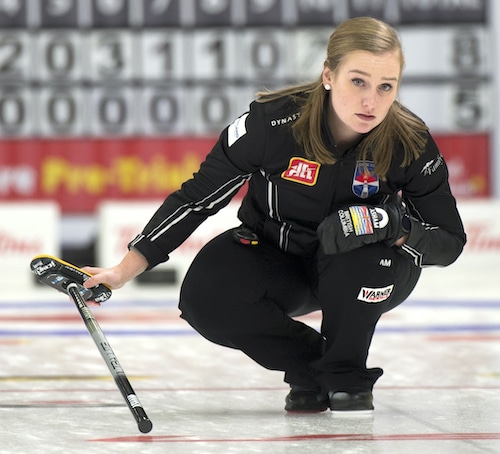 "It's going to take amazing curling," he said. "One of the reasons that it means so much, and you see that emotional explosion from the team, is because I think it's the pinnacle of (Canadian) curling. All of those teams are in the Grand Slams, they're playing every week, they're elite curlers. To get to compete against those peers, and feel like you're part of that group, is just the most exciting thing a Canadian curler can have, and we're excited to be a part of it."
Team Horgan — rounded out by vice-skip Jon Beuk, second Wes Forget, lead Scott Chadwick, alternate Jacob Horgan and coach Sean Turriff — will get a second chance at a Tim Hortons Trials berth later on Sunday, playing the winner of the B-side semifinal at 2 p.m. (all times Atlantic) between Team Glenn Howard (Penetanguishene, Ont.) and Team Pat Simmons (Winnipeg Beach, Man.).
In women's play, meanwhile, Team Corryn Brown (Kamloops, B.C.) kept its Tim Hortons Trials dreams alive with an 8-5 win over Team Sherry Anderson (Martensville, Sask.).
Team Brown took control of the game by stealing three in the sixth end and adding single-point steals in the seventh and eighth ends. Team Anderson was eliminated with the loss.
Team Brown will be back in action in the second Tim Hortons Trials qualifying game, taking on Team Jacqueline Harrison (Dundas, Ont.) at 2 p.m. Team Harrison bowed to Team Krista McCarville (Thunder Bay, Ont.) in the first women's qualifying game on Saturday night.
Live scoring, standings and statistics for the 2021 Home Hardware Pre-Trials are available at www.curling.ca/scoreboard/
Playoff games are being broadcast in Canada on TSN/RDS2, and in the United States on ESPN3. CLICK HERE for the broadcast schedule in Canada.
This story will be available in French as soon as possible at www.curling.ca/2021pretrials/nouvelles/?lang=fr