The sweep is complete!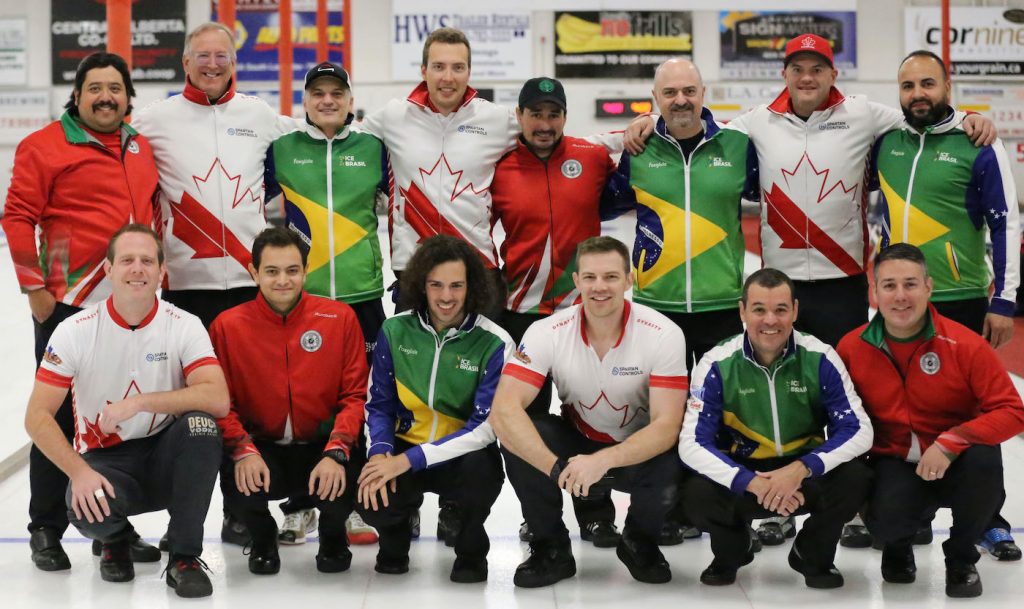 Team Bottcher completes perfect run through Americas Zone Challenge
LACOMBE, Alta. — Trick-or-treating with their families was on the agenda for Sunday evening, but before they got to enjoy that, members of Team Bottcher took care of some final business in the afternoon, completing a four-game sweep at the Americas Zone Challenge.
Having already secured Canada's spot in the 2022 world men's curling championship next April in Las Vegas with their win Saturday evening, the reigning Tim Hortons Brier champions out of Edmonton wrapped up the three-day round-robin competition at the Lacombe (Alta.) Curling Club with an 11-1 win over Mexico.
Team Canada got another multiple first-end score, but for the first time Bottcher had to make a tough shot to get more than a single. After Mexico skip Jesus Barajas executed a tapback to leave himself sitting in front of two Canadian stones inside the four-foot, Bottcher came through a narrow port for an angle raise takeout for the triple points.
"That's good, those are the kind of shots I wanted to be playing," Bottcher said later. "It's easy to walk up and peel for the whole game, but I was trying to make some shots and make them good so I was glad there were a few shots like that."
Canada stole two in the second – Barajas had an open double takeout for three with final shot but just nudged the Canadian stone – three in the third, one in four and two in five. Barajas made a last-rock tap-back to score Mexico's only point in the sixth end before the teams shook hands.
Bottcher, vice-skip Darren Moulding, second Brad Thiessen, lead Karrick Martin, alternate Patrick Janssen and coach Don Bartlett, finished 4-0 in Lacombe.
"We did what we needed to do," Bottcher said of his team's overall weekend performance. "On top of that we played well. If we can carry that through into the slam next weekend and then into the trials I think we're heading in the right direction."
Brazil, which was 0-23 in seven previous Americas Zone Challenges, finished 2-2 and Mexico 0-4. As runner-up, Brazil qualified to compete in the last-chance world men's qualification event in Lohja, Finland, in January.
The Americas Zone has two guaranteed berths into world men's and women's championships; the U.S. is guaranteed a berth into the men's worlds as the host team this season, meaning Canada could be challenged by other countries in the zone for the right to attend the world championship.
Mexico and Brazil challenged and Team Bottcher was selected by Curling Canada to try to win this country's spot in the world championship that Canada has participated in every year since the event was inaugurated in 1959.
For Team Bottcher, which will defend its Canadian title at the 2022 Tim Hortons Brier, presented by AGI, in Lethbridge, Alta., March 4-13, the three-day challenge was a rare opportunity to wear their Team Canada jerseys in front of family and friends.
"It's definitely a treat, especially playing in one of our home clubs, Lacombe," said Martin, who proudly took pictures on the ice of himself and son Kayler. "I don't know if it's easier or more difficult (having family at the event) but we definitely enjoy it.
"It's great, it's not too far from my wife's farm in Delburne so we get lots of family out."
With all members of the team having children, there's always the pressure to be around on holidays, like Halloween on Sunday. So playing close to home makes life a little easier.
"Once we're done we'll be trick or treating, so we get some family time as well," said Martin.
And that, added Bottcher, "is definitely nice, It's a cool opportunity to be able to do this in Lacombe. It's curling season so we don't spend a lot of time at home at the best of times, so it's good we're close to home."
No one was closer to home than Moulding, who now lives in Lacombe.
"Representing Canada here in my hometown is quite a unique honour, it's very special," he said.
This story will be available in French as soon as possible at https://www.curling.ca/?lang=fr.