Playoffs set!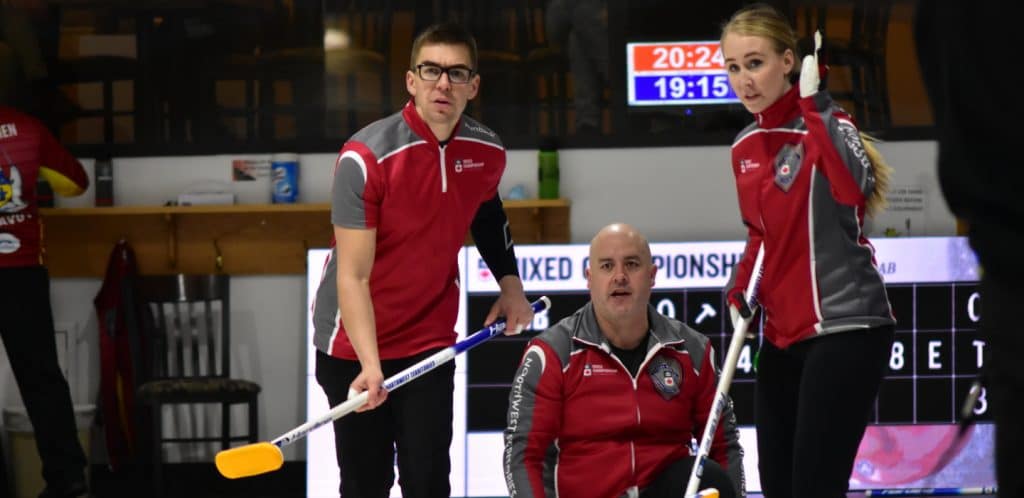 Four teams earn berth into the playoffs at 2021 Canadian Mixed Curling Championship
It's taken 23 draws to determine the playoff picture at the 2021 Canadian Mixed Curling Championship from the Canmore Golf & Curling Club with the conclusion of the Championship Pool on Saturday, but four teams will vie for the illustrious title of Canadian champion on Sunday.
When the dust would settle, the Northwest Territories' Jamie Koe (9-1; Yellowknife) would retain the first seed in the Championship Pool and will face the fourth seeded Québec represented by Jean-Michel Ménard (7-3; Etchemin/Des Collines) while second seed Ontario, represented by Mike McLean (7-3; Ottawa), will face the third seed James Grattan of New Brunswick (7-3; Fredericton).
The two winners then advance to the gold-medal final Sunday afternoon at 2 p.m. (all times Mountain) while the two losing teams meet in the bronze-medal game at the same time.
Recapping Saturday's action, draw 21 saw Alberta's Craig MacAlpine (3-6; Edmonton) defeat Newfoundland and Labrador's Keith Ryan (3-6; Labrador City) by a score of 6-4 while Prince Edward Island's Jamie Newson (2-7; Summerside) downed Nunavut's Peter Van Strien (0-9; Iqaluit) 8-1.
In draw 22, Manitoba's Alex Forrest (5-4; Winnipeg) dismantled British Columbia's Sebastien Robillard (5-4; Kamloops) 5-2 while Ontario bested Québec 6-4 and the Northwest Territories defeated New Brunswick by a score of 5-3.
Draw 23 featured New Brunswick besting Manitoba 9-8 and the Northwest Territories vanquishing British Columbia 6-3 while Saskatchewan's Dean Grindheim (5-5; North Battleford) defeated Northern Ontario's Trevor Bonot (6-4; Thunder Bay) 6-5.
The 2021 Canadian Mixed Championship will continue on Sunday with draws at 9:00 a.m. and 4:00 p.m. (all times Mountain).
Live scoring, standings and statistics for the 2021 Canadian Mixed are available at www.curling.ca/scoreboard/
Round-robin and playoff games are being streamed on Curling Canada's YouTube channel. CLICK HERE for the broadcast schedule.