Apple for the teachers!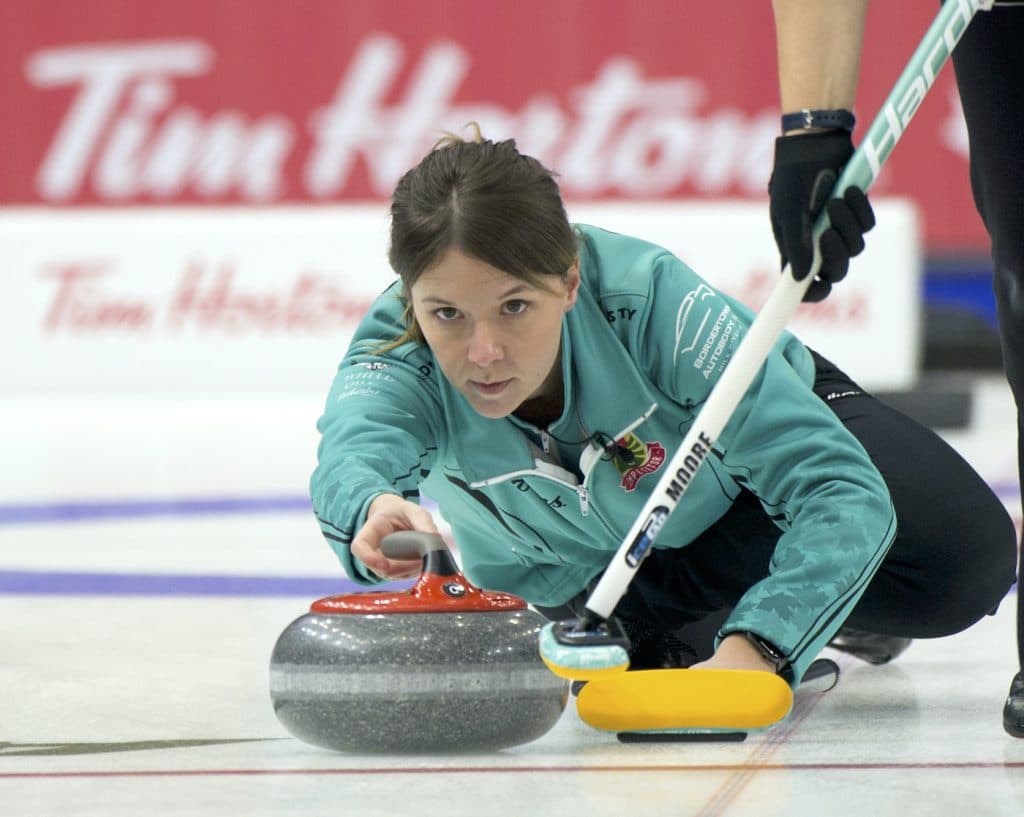 Tim Hortons Trials fans learn a bit from teachers
What happens when two school teachers play each other on a sheet of curling ice?
Chances are somebody's going to learn something.
And Sunday night, the folks watching the 2021 Tim Hortons Trials, presented by AGI, both on TV and at SaskTel Centre, learned that Team Casey Scheidegger and Team Krista McCarville are worth watching. We're talking entertainment, curling fans.
On this evening, it was Scheidegger, who teaches in Lethbridge, Alta., who got the better of McCarville, who teaches in Thunder Bay, Ont. That there had to be a loser was a shame, because it was a seriously interesting up-and-down game, that came down to the wire as Scheidegger scored two with the hammer in the 10th to pull out a 5-4 win.
It was a game with a lot of significance.The win boosted Team Scheidegger — with a supporting cast of vice-skip Cary-Anne McTaggart, second Jessie Haughian, lead Kristie Moore, alternate Susan O'Connor and coach Joan McCusker — to a 2-1 record and among the leaders in the bumper-to-bumper race to the playoffs on the weekend, and dropped McCarville to 1-2.
Team Scheidegger learned something too, on the evening. It learned Team McCarville is most dangerous when cornered. Team Scheidegger had Team McCarville down 3-1 after seven ends, only to watch the team from the Lakehead retake the lead 4-3, including a steal of one in the ninth.
Scheidegger was relieved to come out on top, considering the team she was facing.
"It was a bit of a roller-coaster game," said Scheidegger. "We tried to manage the rocks the best we could. We were OK with giving up the steal in the ninth. We really wanted hammer in the 10th. It worked out."
Team McCarville had a good setup in the 10th but the skipper came up short with her first, then too deep with her final rock, opening the door for Scheidegger to draw for the win.
After the smoke cleared Sunday night after the four-game draw, Team Scheidegger found itself in a two-way tie for third place with Team Jacqueline Harrison (Dundas, Ont.) It trails only Team Jennifer Jones (Winnipeg), who recorded her third straight victory, and Team Tracy Fleury (West St. Paul, Man.) who is 2-0. Team Jones needed an extra end steal to defeat Team Laura Walker (1-2; Edmonton) while Team Fleury was an 8-6 winner over Team Kelsey Rocque (0-2; Edmonton).
Scheidegger is appearing in her second Tim Hortons Trials. She went 3-5 in Ottawa and says she learned a lot in her first big rodeo.
"I think a big takeaway there (Ottawa) was rebounding after a loss. We had that big loss this morning so this was essential to moving forward."
Team Kerri Einarson (1-2; Gimli, Man.) had a chance to remain among the leaders but dropped a 7-6 decision to Team Harrison, giving up a steal of two in the 10th.
Team Rachel Homan (0-2; Ottawa) had the evening bye to consider her winless start.
The top three teams will make the playoffs, with the first-place teams advancing directly to the Sunday's championship games (women at 11 a.m., men at 7 p.m.; all times Central).
The second- and third-place teams will meet in the semifinals on Saturday, with the women playing at 2 p.m. and the men at 7 p.m.
The 2021 Tim Hortons Canadian Curling Trials will continue Monday with draws at 2 p.m. and 7 p.m.
Live scoring, standings and statistics for the 2021 Tim Hortons Canadian Curling Trials are available at www.curling.ca/scoreboard/
All draws from the 2021 Tim Hortons Canadian Curling Trials are being broadcast in Canada on TSN and RDS. CLICK HERE for the broadcast schedule in Canada.
As well, streaming coverage will be available on ESPN3 to fans in the U.S. with valid U.S. cable or satellite accounts.
This story will be available in French as soon as possible at www.curling.ca/2021trials/nouvelles/?lang=fr