McEwen in 'chill' mode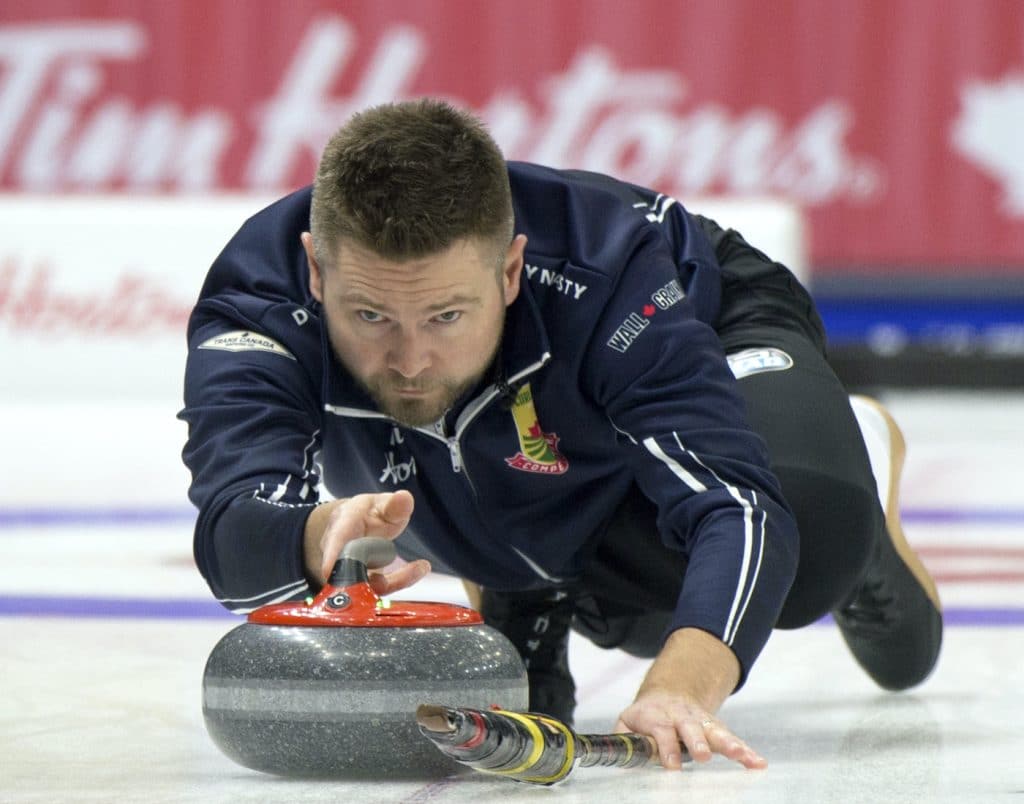 Team McEwen cool, calm and collected at Tim Hortons Trials
Imagine getting so close to an Olympic Games appearance you can taste it.
Manitoba's Mike McEwen can, and it still tastes bitter.
And the only way to wash that from his mouth is to triumph this week at the 2021 Tim Hortons Canadian Curling Trials, presented by AGI, at the SaskTel Centre in Saskatoon, where the creme de la creme of the country's curling talent, men and women, are battling it out for two berths into the Games.
McEwen took a step closer to his goal Monday afternoon at the Tim Hortons Curling Trials, trouncing Team Jason Gunnlaugson (0-2; Morris, Man.) in the afternoon draw to remain unscathed in the nine-team men's bracket with a 2-0 record after three days of play.
There's still a long road ahead, but it's been an impressive start for McEwen, who lost the 2017 Tim Hortons Trials final 7-6 to Calgary's Team Kevin Koe in Ottawa with a completely different team.
McEwen and his teammates from the West St. Paul Curling Club in Winnipeg — vice-skip Reid Carruthers, second Derek Samagalski, lead Colin Hodgson and coach Rob Meakin — says there's a similarity between this year's Tim Hortons Trials and the event staged four years ago.
"This one and Ottawa I feel very calm. Just chill," he said. "Hopefully that lasts for the week."
Team McEwen has had the benefit of a light schedule. Only two games in three days has left the team members loose and feeling good about themselves. They were on the top of their game against Team Gunnlaugson, which was simply outgunned.
McEwen grinned when his light schedule was mentioned.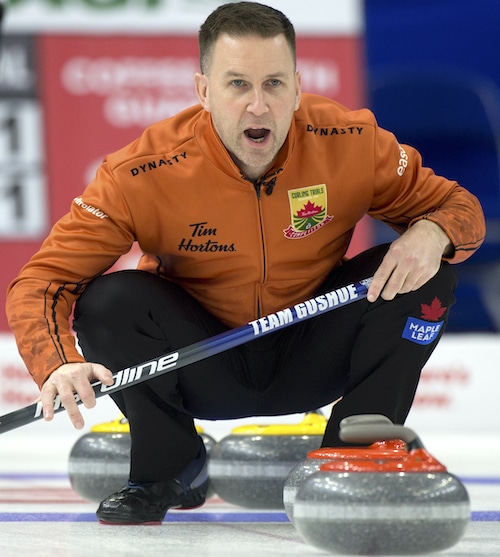 "It felt like we were starting another event today," he said. "The layoff, combined with they touched up the rocks last night (Curling Canada's ice technicians sandpapered the stones late Sunday night to make them curl more), it was like, 'new event'. Sunday's (bye) didn't hurt us. It worked in our favour."
Team Gunnlaugson went down fighting, though. Skip Gunnlaugson made a bunch of doubles to keep his team in it.
"We just stayed patient," said McEwen. "He can make four or five rocks fly."
Team McEwen, though, is still staring up the standings at two other undefeated teams. Team Brad Gushue (St. John's, N.L.) and Team Brad Jacobs (Sault Ste. Marie, Ont.) upped their records to 3-0 Monday with knee-knocking victories. Team Gushue needed all its shots to defeat Team John Epping (1-2; Toronto) 8-6, while Team Jacobs handed defending Tim Hortons Brier champion Team Brendan Bottcher (0-3; Edmonton) a serious setback, 5-2. Bottcher may now need to run the table just to make the three-team playoffs at the end of the week.
In the only other game on the afternoon slate, Team Koe (2-1) trounced Team Matt Dunstone (0-3; Regina) 10-3 in eight ends.
Team Tanner Horgan (1-1; Kingston, Ont.) had the bye on Monday afternoon.
The 2021 Tim Hortons Canadian Curling Trials will continue Monday with a women's draw at 7 p.m. (Central).
Live scoring, standings and statistics for the 2021 Tim Hortons Canadian Curling Trials are available at www.curling.ca/scoreboard/
All draws from the 2021 Tim Hortons Canadian Curling Trials are being broadcast in Canada on TSN and RDS. CLICK HERE for the broadcast schedule in Canada.
As well, streaming coverage will be available on ESPN3 to fans in the U.S. with valid U.S. cable or satellite accounts.
This story will be available in French as soon as possible at www.curling.ca/2021trials/nouvelles/?lang=fr