Offence aplenty!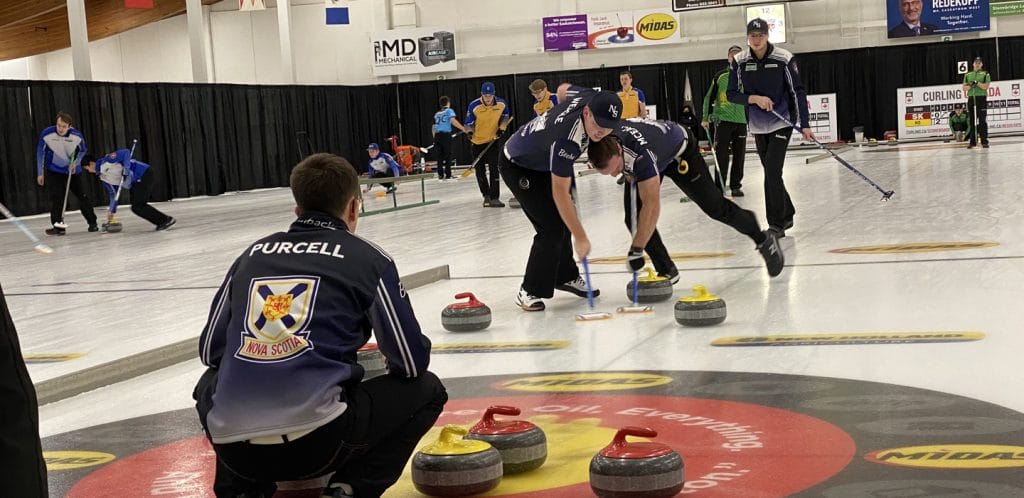 High scoring matches featured in draw 4 at 2021 New Holland World Juniors Qualifying Event
Fans went to watch curling Tuesday evening at the New Holland World Juniors Qualifying Event in Saskatoon where, if you had looked at the scoreboard, you'd assume a basketball game had broken out.
That's an exaggeration to be sure, but Team Owen Purcell (2-0; Halifax) and Team Daymond Bernath (1-1; Saskatoon) put up 10 points in the first four ends, with each team owning five of them.
The teams battled around the four-foot for much of the three hours, although the scoring slowed down in the second half of the game. That was a given after the early pace.
With the teams headed to the ninth end in a 6-6 tie, Team Purcell sealed the deal, or so it appeared, with a three-ender. Bernath wrecked on a guard to give the Nova Scotia team a draw for three.
On the 10th end, Bernath tried a one-in-10 — or more — split to force an extra end. He rolled his shooter into rings. It took a measurement to determine if the other stone was nibbling the 12-foot.
"It was out by hairs, like a couple of millimetres," Purcell said. "It was a really good try."
Purcell, who is backed by Joel Krats, second Adam McEachren, lead Scott Weagle and coach Anthony Purcell, was asked about the scoring spree in the first four ends.
"I love rocks in play," he said. It's exciting to set up the angles, play around with stuff, and eventually somebody gets to throw the high heater."
Ten points in four ends seemed excessive.
"It doesn't happen too often. Both of our teams like to play a very aggressive kind of game," Purcell said. "It is so much fun to play with rocks in play, and I am sure they think the same thing."
He said sitting at 2-0 is beneficial in a five-game round robin.
"It puts you into that nice positive mindset going into the last three games."
Another team that has had a 2-0 start is Newfoundland & Labrador's Team Nathan Young (2-0; St. John's). Young and his team defeated Team Jullian Bowling (0-2; Yellowknife) 14-3.
"We are feeling good with the ice. It's a good way to start. It's a short round robin, so every one means more," said Young, who is backed by third Sam Follett, second Nathan Locke, lead Ben Stringer and coach Gerry Adam.
He said his team's recipe for success is simple:
"We just take it one shot at a time; the right weight at the broom. We feel if we can simplify it down to that level on every shot, it will give us the best chance of making every shot. That's all we're doing."
He said Brad Gushue's success has had an impact on his team.
"A huge impact for sure. Our coach Jeff Thomas can't coach us this week because he's at the Trials as fifth for Brad.
"We look up to Brad's team so much and try to do what they do as best we can. We are fortunate to have those guys to look up to for sure."
With the exception of the Saskatchewan/Nova Scotia match, it was a night with a long line of one-sided games.
In Pool C, Team Johnson Tao (2-0; Edmonton) defeated Team Mitchell Schut (0-2; Cornwall, P.E.I.) 8-2; Team Jordon McDonald (1-1; Winnipeg) defeated
Team Dallas Burgess (0-2; Kakabeka Falls, NOnt.) 10-3; Team Scott Mitchell (2-0; Whitby, Ont.) defeated Team Josh Nowlan (1-1; Moncton) 14-5.
In the other Pool D game, Team Connor Deane (1-1; New Westminster, B.C.) defeated Team Raphael Patry (0-2; Jonquiere, Qué.) 11-2.
In the opening draw of the day in Pool C, Team Nowlan defeated Team Schut 7-3;
Team Mitchell defeated Team McDonald 6-3; and Team Tao defeated Team Burgess 6-4.
In Pool D, Team Bernath defeated Team Bowling 11-2; Team Purcell defeated Team Patry 14-4; and Team Young defeated Team Deane 7-6.
The women's and men's winners will compete at the worlds in early March in Sweden.
Live scoring, standings and statistics for the New Holland World Juniors Qualifying Event are available at www.curling.ca/2021worldjuniorqualifier/ and curling.ca.
This story will be available in French as soon as possible at https://www.curling.ca/2021worldjuniorqualifier/nouvelles/?lang=fr