Four left standing!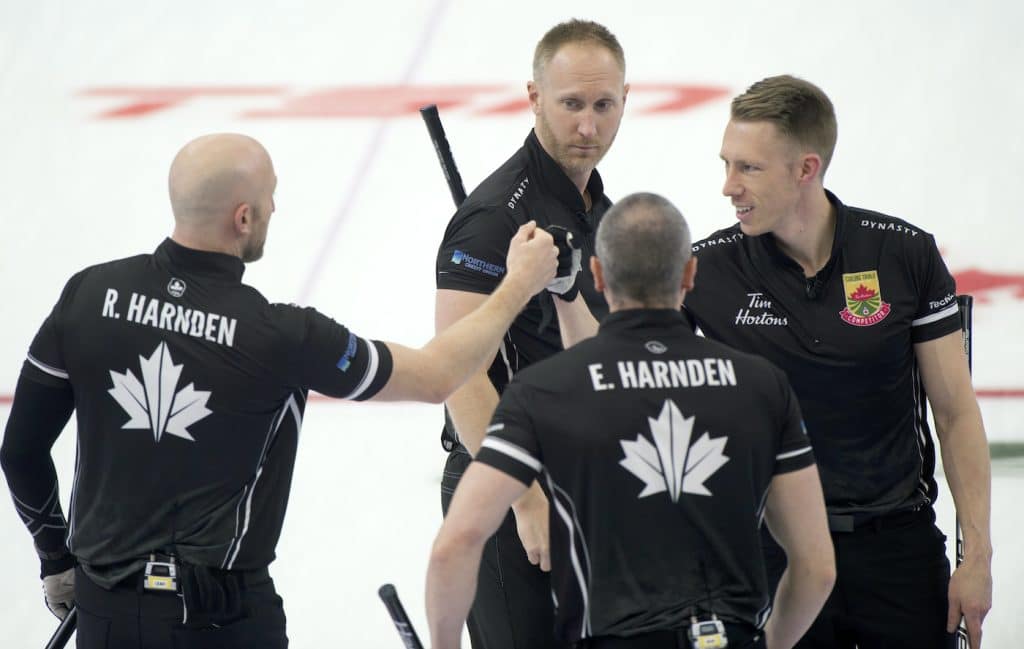 Men's top spot still to be decided in Tim Hortons Curling Trials
Team Brad Jacobs landed a near knockout punch to the hopes of Team Mike McEwen at the Tim Hortons Curling Trials, presented by AGI Friday morning, but now will be hoping the vanquished can become the victors in Friday night's final draw
The 9-5 win for Team Jacobs (6-1, Sault Ste. Marie, Ont.), vice-skip Marc Kennedy, second E.J. Harnden, lead Ryan Harnden and coach Caleb Flaxey, moved it into a tie for top spot with Team Brad Gushue (6-1, St. John's), who had the morning bye.
Team Jacobs, 2014 Olympic gold-medallist and 2013 Tim Hortons Brier champion, could claim top spot if it beats Team Tanner Horgan and Team McEwen beats Team Gushue in Friday evening's final draw at the SaskTel Centre in Saskatoon.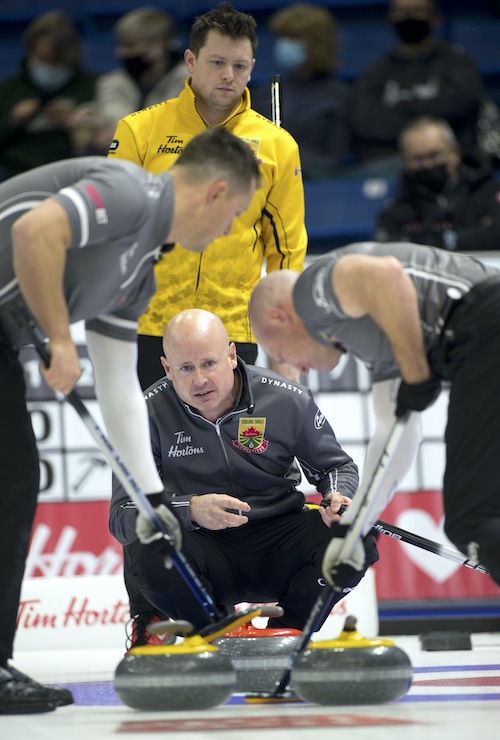 "I guess there is a chance," Jacobs said of finishing first in the round robin and getting a bye into Sunday's final. "it's coming right down to the wire, last game of the round robin, as it should. You never know … we're just going to be worrying about ourselves tonight."
Team McEwen (4-3, West St. Paul, Man.) put the pressure on Team Jacobs early, scoring two in the first and forcing Team Jacobs to a single with hammer in the second. But a three-ender in the fourth turned the momentum and powered Team Jacobs to the victory.
"That early miss by myself in the first end gave them a simple deuce and that was frustrating," Jacobs said. "But we've been very good all week, very efficient at scoring deuces and forcing teams to one. It's great to see our maturity level where it is right now, in terms of when you give up an early deuce not letting it get to us. That's very important. In the past we've let that get to us.
"Getting that three, bouncing back and getting control of the game was huge."
It was a frustrating end for Team McEwen because they had the initial chance for a freeze but mis-swept a rock and left the door open for Kennedy to make a perfect freeze that led to the triple.
"We had a lot of pressure on them the first two ends, but the fourth end really got away from us," said McEwen. "The biggest shift in that end was when we over-swept Derek's (second Samagalski) freeze and that tapped off. That changed the course of that end very substantially."
Team Jacobs, the most efficient team in the event with the hammer, jumped on the opportunity for the game-changing points.
Team McEwen slipped to a 4-3 record and will need a win over Team Gushue in the final draw to have any hopes to getting into a tiebreaker scenario.
On the other sheets in the morning draw, Team Kevin Koe (5-2, Calgary) rebounded with a tough loss Thursday evening, with a 9-7 win over Team Jason Gunnlaugson (2-4, Morris, Man.), Team John Epping (4-4, Toronto) lost its playoff hopes, losing 10-6 to Team Brendan Bottcher (2-6, Edmonton) and Team Matt Dunstone (2-5, Regina) beat Team Tanner Horgan (1-6, Kingston, Ont.) 8-4.
The winners in both women's and men's brackets will represent Canada in four-person team competition at the Winter Olympics Games in Beijing, China, Feb. 4-20.
The 2021 Tim Hortons Canadian Curling Trials will continue with draws at 2 p.m. and 7 p.m. (all times Central).
Live scoring, standings and statistics for the 2021 Tim Hortons Canadian Curling Trials are available at www.curling.ca/scoreboard/
All draws from the 2021 Tim Hortons Canadian Curling Trials are being broadcast in Canada on TSN and RDS. CLICK HERE for the broadcast schedule in Canada.
As well, streaming coverage will be available on ESPN3 to fans in the U.S. with valid U.S. cable or satellite accounts.
This story will be available in French as soon as possible at www.curling.ca/2021trials/nouvelles/?lang=fr