Representing Canada!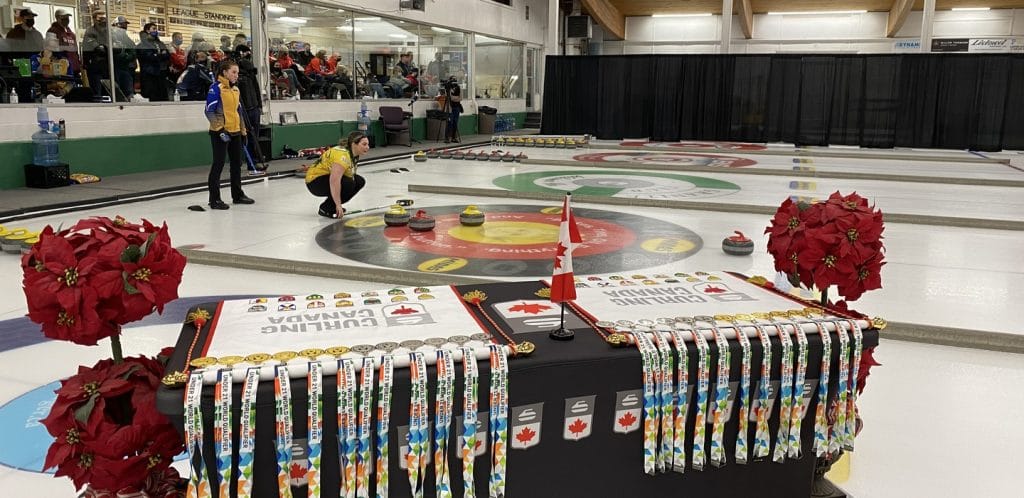 Northern Ontario Women and Nova Scotia Men will represent Canada at upcoming World Junior Curling Championships in Sweden
Team Isabelle Ladouceur (Sudbury) and Team Owen Purcell (Halifax) won the New Holland World Juniors Qualifying Event at the Granite Curling Club in Saskatoon.
Now, they become Team Canada and will compete at the 2022 World Junior Curling Championships March 5-12, 2022 in Jönköping, Sweden; something that was not lost on them Saturday after the medals were awarded and the photos snapped.
"It sounds pretty good," Ladouceur said after receiving her gold medal. "I have been dreaming about this since I started curling (at age 10). Pretty much right then, I wanted to win a juniors."
And she and third Jamie Smith, second Lauren Rajala, lead Katie Shaw, fifth Katy Lukowich and coach Steve Acorn did win.
Team Ladouceur defeated Team Elysa Crough (Edmonton) 7-6 in the final. The game wasn't as close as the final score, with Team Ladouceur three up with the hammer coming home. Facing three, she killed a Team Crough rock with her final stone, leaving Crough with a steal of two that meant little to the outcome.
It was Team Crough's first loss of the competition.
On the men's side, Team Owen Purcell had little trouble with Team Nathan Young (St. John's, Newfoundland & Labrador). Team Purcell had a 7-1 lead after three ends. The final score was 10-9, but Purcell was never seriously pushed.
"It's a dream come true," Purcell said. "This is everything you ever dream of. Ever since you are really, really young, you want to represent your country. This is everything I have been working for the last 14, 15 years. It feels really, really good."
Team Purcell won all seven of its games, and looked confident and motivated all week.
"We have a little bit of flair. We get intense out on the ice. I think most of the time it works in our favour."
He said winning all seven games was gravy.
"Winning is fine, but running the table is so, so hard at an event like this, where all the competition in every game is so hard. It feels really, really good."
He said all the work he and his teammates have done was rewarded on Saturday.
"It takes a lot of work to get to the top," he said. "I'm really, really proud of my guys for playing well this week."
Those aforementioned guys are third Joel Krats, second Adam McEachren, lead Scott Weagle and coach Anthony Purcell. Team Purcell won all seven of its games in the championship.
"It feels awesome; we worked so hard over the last five years," Coach Purcell said. "The whole season, we played so well. To see them get rewarded for the hard and time they put in, it's phenomenal."
"I am so proud of not just my son, but also the boys. You don't win this stuff by luck. It's hard work and they have done everything on their own. And any time I wanted them to do anything to put in the extra time, they did."
Team Ladouceur is coached by Steve Acorn, who came on board at the end of last season.
"They gave me a call in April and asked me if I would coach them," Acorn said. "I thought about it for a bit, and it's the best decision I ever made."
"In April, we set some goals for ourselves, one of them being getting here and winning. So, this is a culmination of a year-long process and lots of practices and lots of travelling."
He said he didn't know much about the players, other than the front end of Rajala and Shaw, before the phone call.
"I had seen some of them curl, coaching against them in previous years, but I didn't know them that well. That was my hesitancy at first."
"They needed a coach, and I missed coaching; I didn't get to coach during COVID. I took the opportunity and I am glad I did."
The team played well.
"They kept building throughout the week. I kept telling them individually the four of you are fantastic curlers, but what makes them special is the collective. They feed off each other, they complement each other very well. That is their strength."
In the final two games, the team's rock placement was near flawless.
"The rock placement on draw weight was very good. Our judgment is really good, and our sweepers are really good. We threw to our sweepers, and they put it exactly where we wanted it. That always helps."
And now it is onto the worlds for Team Ladouceur and Team Purcell. They will be held in March in Sweden. The teams will also attend the Continental Cup in January in Fredericton, N.B.
Live scoring, standings and statistics for the New Holland World Juniors Qualifying Event are available at www.curling.ca/2021worldjuniorqualifier/ and curling.ca.
This story will be available in French as soon as possible at https://www.curling.ca/category-all-posts-fr/?lang=fr