Underway at Seniors!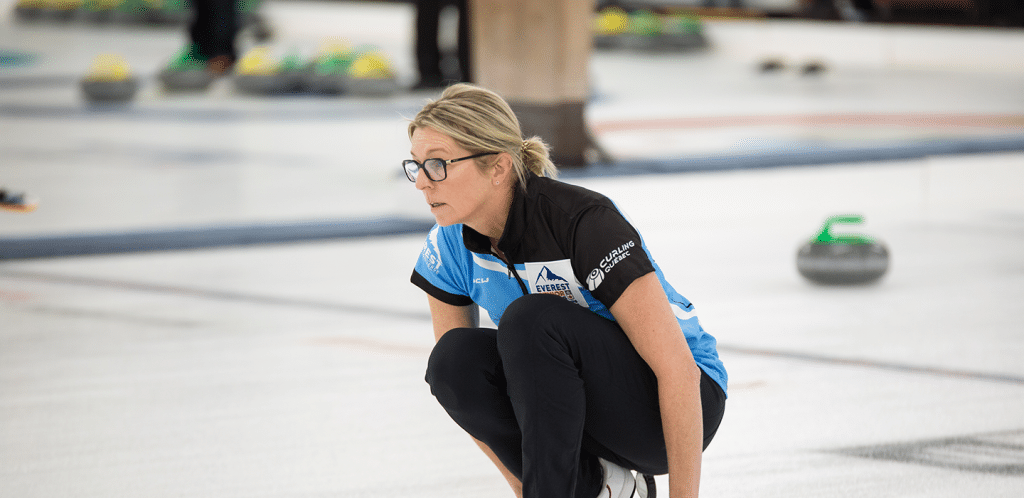 Canada's best men's and women's senior teams are in action at 2021 Everest Canadian Senior Curling Championships
Boasting one of the deepest and most skilled fields ever at the Everest Canadian Senior Curling Championships, day 1 of the 2021 edition of the event proved to be chock full of high quality play and surprise outcomes.
Fourteen men's and 14 women's teams (representing the 10 provinces plus Northern Ontario, Northwest Territories, Nunavut and Yukon) are competing and have been seeded into two pools per gender, based on 2019 results, and will first play a round robin within their pool through Wednesday.
On the women's side in pool A, team Saskatchewan (skip Sherry Anderson, vice-skip Patty Hersikorn, second Brenda Goertzen, lead Anita Silvernagle) from Saskatoon are taking a run at a record-breaking fourth consecutive Canadian senior women's title but the experienced rink only managed to split their opening day record with a 9-2 win over Nunavut's Geneva Chislett (0-2; Iqaluit) before dropping its second match to 2013 Canadian mixed doubles champion Isabelle Néron (1-1; Chicoutimi/St-Lambert/Victoria) of Québec by a score of 5-4.
Five time Scotties Tournament of Hearts champion Mary-Anne Arsenault (2-0; New Westminster), representing British Columbia, and Manitoba's Kim Link (2-0; East St. Paul) both remain tied for the top spot in pool A.
Meanwhile in pool B, Team Ontario (2-0; Vaughn), represented by four-time Scotties Tournament of Hearts bronze-medallist Sherry Middaugh, opened its campaign with a strong two win day, defeating Newfoundland and Labrador's Laura Phillips (1-1; St. John's) by a score of 5-4 and New Brunswick's Sandy Comeau (0-2; Mocton) 6-3. Ontario finds itself in a tie atop pool B with Nova Scotia's Theresa Breen (2-0; Halifax).
In the men's championship, New Brunswick's Terry Odishaw (2-0; Mocton) and 2006 Tim Hortons Brier champion François Roberge (2-0; Etchemin) of Québec lead the way in pool A while pool B features 2019 World Senior Men's Champion Bryan Cochrane from Ontario (2-0; Russell) sharing the top spot with Alberta's Wade White (2-0; Lac La Biche).
The top four in each pool then advance to the Championship Pool for games against teams from the other pool, while the remaining teams go to the Seeding Pool. At the conclusion of the Championship Pool on Friday, Dec. 10, the semifinals will be held Saturday, Dec. 11, at 10:30 a.m., pairing 1 vs. 4 and 2 vs. 3. The winners then advance to their respective gold-medal final while the losers will play for bronze. The medal games are set for 3:30 p.m.
This year's winners will represent Canada in the 2022 World Seniors, at a site and date to be announced by the World Curling Federation.
Draw results for the 2021 Everest Canadian Seniors will be available at www.curling.ca/scoreboard. For event information, visit www.curling.ca/2021seniors.
This is the sixth year of title sponsorship by Everest, the first nationwide funeral planning and concierge service.
Games from the 2021 Everest Canadian Senior Championships will be live-streamed on TSN.ca as well as on Curling Canada's YouTube channel. Check curling.ca/broadcast for the up-to-date broadcast schedule.