Playoff Time!
After an extensive qualifying process, four men's and four women's teams now ready for their respective playoffs
After a grueling week of heart pounding play at the 2021 Everest Canadian Seniors Championships from the Community First Curling Centre in Sault Ste. Marie, Ont., it's down to the top four men's and women's senior teams in Canada.
At stake? A chance to represent Canada in the 2022 World Seniors, at a site and date to be announced by the World Curling Federation.
The semifinals are to be held Saturday at 10:30 a.m., (all times Eastern) pairing 1 vs. 4 and 2 vs. 3. The winners then advance to their respective gold-medal final while the losers will play for bronze. The medal games are set for 3:30 p.m.
On the women's side of play, first place seed in the playoffs belongs to defending Everest Women's Canadian Curling Champion in Saskatchewan's Sherry Anderson (8-2; Saskatoon), who are looking to win their record-breaking fourth consecutive Canadian senior women's title. That lineup shares the record of three in a row with another Saskatchewan team skipped by Ev Krahn that won in 1984, '85 and '86.
Standing against Saskatchewan in the semifinal is the fourth place playoff seed represented by 2010 Olympic women's silver medallist Cheryl Bernard from Alberta (6-4; Calgary). Alberta shared an equal record with Québec's Isabelle Néron (6-4; Chicoutimi/St-Lambert/Victoria), Ontario's Sherry Middaugh (6-4; Vaughn) and Manitoba's Kim Link (6-4; East St. Paul) at the conclusion of regulation play but defeated each of those teams in pool play and Championship Pool play inclusively, eliminating the need for a tie-breaker for the fourth playoff spot. Saskatchewan and Alberta already faced off in draw 19, with Saskatchewan taking the win by a score of 8-5.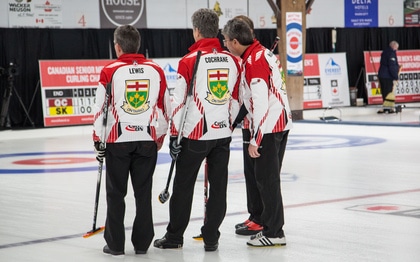 In the opposing women's semifinal, five time Scotties champion Mary-Anne Arsenault of British Columbia (8-2; New Westminster) maintained a five game winning streak to secure the second playoff seed. They'll be matched against third seed Nova Scotia, represented by Theresa Breen (7-3; Halifax). To preview the semifinal, Nova Scotia fell to British Columbia in their prior draw 18 matchup by a score of 8-3.
On the men's side of play, Alberta's Wade White (10-0; Lac La Biche) cemented their perfect record throughout pool play and the Championship Pool with two wins on Friday to secure the first place playoff seed. They'll be matched up against Saskatchewan's Darrell McKee (7-3; Saskatoon), who represents the fourth overall playoff seed. Alberta defeated Saskatchewan 8-0 in only six ends back in draw 16.
The other semifinal matchup sees 2019 World Men's Senior Curling Champion and second overall playoff seed Ontario, represented by Bryan Cochrane (9-1; Russell), taking on third place Québec, who is represented by François Roberge (7-3; Etchemin). To preview the matchup, Ontario downed Québec in draw 16 by a score of 6-1.
Draw results for the 2021 Everest Canadian Seniors will be available at www.curling.ca/scoreboard. For event information, visit www.curling.ca/2021seniors.
Games from the 2021 Everest Canadian Senior Championships will be live-streamed on TSN.ca as well as on Curling Canada's YouTube channel. Check curling.ca/broadcast for the up-to-date broadcast schedule.