Glass half-full for Einarson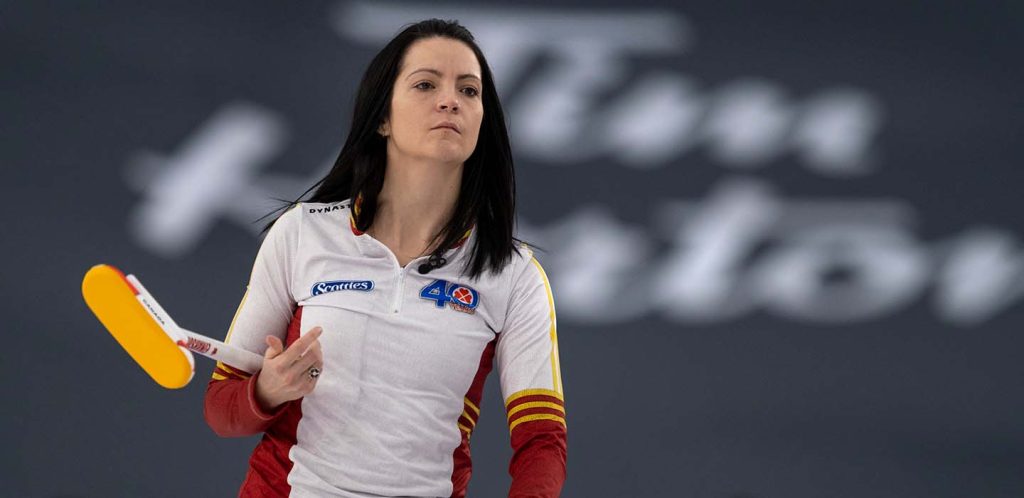 No fans, but Einarson grateful Scotties a 'go'
The COVID-19 pandemic has delivered a severe pummelling to curlers over the past two seasons, but it's doubtful any one player has been more emotionally bruised than Gimli Curling Club skip Kerri Einarson.
Einarson, who is preparing her team to defend its back-to-back Canadian women's championship in Thunder Bay, Ont., next week, has been beaten up pretty good by the pandemic since it reared its ugly head in 2019 in Canada. And yet she carries on, knowing that at some point the madness will surely end and her sport, and life in general, will return to normal.
"We've all been hit with a lot of bad news the last couple of years, but it is what it is and you can't really do anything about it. You have to roll with the punches," said Einarson, who will skip Team Canada and be one of the favourites in the 18-team shootout at Fort William Gardens, Jan. 28-Feb. 6.
Einarson will be looking to become the first skip to pull off a three-peat since Winnipeg's Jennifer Jones turned the trick in 2008, 2009 and 2010.
The effervescent skip from Camp Morton, Man., could cry over the spilled milk the virus has caused her curling fortunes. Two major events she was qualified to play in were cancelled because of the pandemic, including the 2020 OK Tire & BKT Tires World Women's Curling Championship in Prince George, B.C., and the Canad Inns Canadian Mixed Doubles Trials, which offered a berth into the Olympics next month.
But, she says, looking at the glass as half-full, it's not all so bad. Einarson and her team of vice-skip Val Sweeting, second Shannon Birchard and lead Briane Meilleur will still get to compete in this season's Scotties, although the horror-virus is still with us and many other sporting events have been cancelled.
The event will go ahead under the Province of Ontario's current public health measures and will be played in a controlled environment, with no spectators, strict protocols and testing to keep players and officials safe.
"At least we're getting a chance to play, and we're grateful for that," said Einarson, who won the Scotties last year in Calgary under strict bubble conditions. "I had a feeling it would (go ahead). It was touch and go there for a little bit. But it was a big relief when we finally learned it was a go."
And that's pretty much the view of all the women headed for Thunder Bay. It's not a normal Scotties, with fans in their seats and a buzz around the city. But it's still the Scotties, and darn it, that's still pretty good.
The COVID-19 pandemic has shaped the 18-team field in a most significant way. Some of the teams were able to play in their various playdowns before the latest Omicron variant took hold, but many didn't, leaving it up to provincial or territorial associations to handpick their Scotties representatives.
The 18 teams that participate in the Scotties include representatives from each of Canada's 13 provinces and territories, a team from northern Ontario, the defending champion (Team Canada) and three wild card teams based on the Candian Team Rankings System (CTRS).
Tracy Fleury's team of East St. Paul, Man., earned a spot as Wild Card 1, and the Scotties will offer her a chance to move further past the terrible hangover of losing the Tim Hortons Canadian Curling Trials women's final on an extra-end last rock to Jones in Saskatoon for the right to represent Canada at the Beijing Olympics.
"We've accepted it. I don't know if we'll ever get fully over it," said Fleury, who is supported by vice-skip Selena Njegovan, second Liz Fyfe and lead Kristin MacCuish. "We're ready to move forward. We're working hard and really looking forward to the Scotties."
It will be especially memorable for Fleury who lives in Sudbury and is a northern Ontario girl through and through. It will also put her back into the Scotties after her decision last season to not participate in the event because of her young daughter Nina's health concerns. She turned over the skipping duties to Chelsea Carey of Calgary.
Ironically, the two will clash at the Scotties. Carey also qualified as Wild Card 2 with her five-player team from Regina's Highland Curling Club.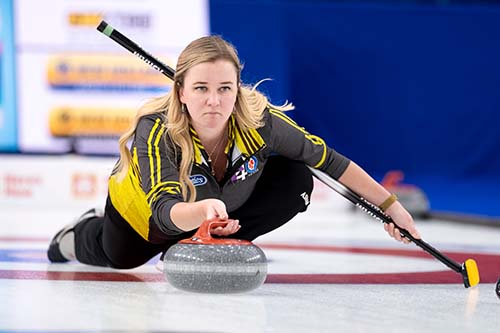 Rachel Homan, because of Olympic duties with the Canadian mixed doubles team, won't be at the Scotties, but the rest of her team will as Wild Card 3. Her team, out of the Ottawa Curling Club, will be skipped by regular third Emma Miskew. Sarah Wilkes will move up to play vice-skip, Alli Flaxey has been inserted to play second, and Joanne Courtney remains as lead.
Fleury, the No.1-ranked women's team in the world, said the presence of three Grade A-quality wild card teams only makes the Scotties better.
"It definitely helps the provinces that have a lot of depth and ranked teams," she said. "It gives other top-ranked teams a chance to get into the Scotties. I'm all for that."
Carey will be skipping in her seventh Scotties after previous appearances with Manitoba, Alberta, Team Canada and as Wild Card 1 last season with Team Fleury. She also skipped in a pre-qualifier in 2018 but lost to Einarson for the wild card spot.
The two-time Canadian champion, who won skipping Alberta in 2016 and 2019, will try to find the magic again with a group of teammates, from another province.
Carey admitted it's a shame curling fans will be denied for a second straight year to attend a flagship event.
"I'm glad it's going to be in Thunder Bay, but it's too bad there will be no fans there because it will be a good event. We know Thunder Bay's a great curling town, and the place would have been jammed, I'm sure, but after two years of trying to put it there, I'm glad it's going to be held."
The Scotties field is top-heavy with veteran skips. Mary-Anne Arsenault, who earned her reputation curling in Halifax with Colleen Jones, is back again for her 15th Scotties, this time skipping a B.C. team out of Kelowna. As is Kerry Galusha from the Northwest Territories who is off to a strong start to the season. Northern Ontario's Krista McCarville returns for her ninth Scotties, Andrea Crawford of New Brunswick checks in for the 10th time, while Suzanne Birt of Prince Edward Island will take in her 13th national women's event.
There is a smattering of youth, too. Manitoba will be represented by former world junior champs skipped by 22-year-old Mackenzie Zacharias from Altona, while 24-year-old Laurie St-Georges will be back representing Quebec.
The 18 teams split into two pools of nine, seeded based on CTRS, and play a complete eight-game round robin. The top three teams in each pool advance to the playoffs, and then further reduced to a final four and a Page playoff system.
The final goes Sunday, Feb. 6.
TSN will provide full television coverage of the event.