Young guns rule!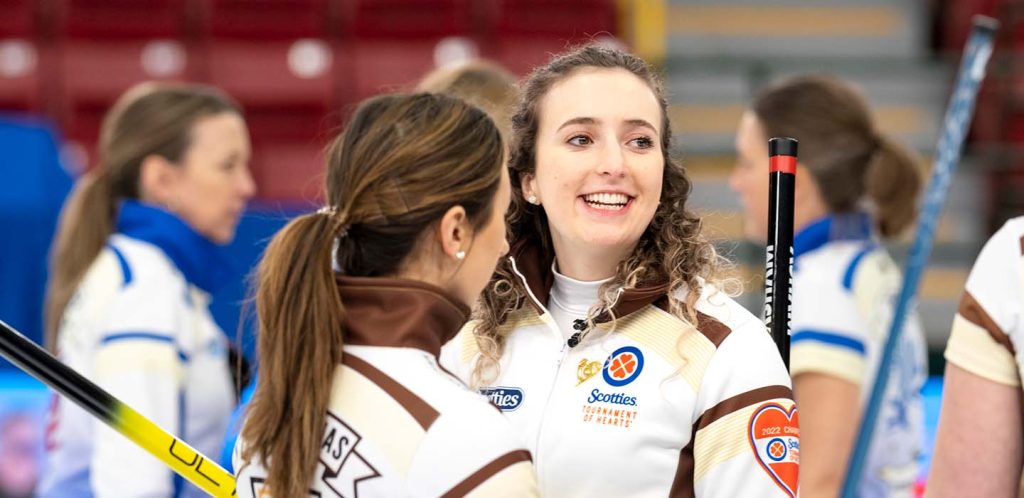 Team Manitoba strikes a blow for youth at Scotties Tournament of Hearts
It was your classic battle of youth versus experience Saturday at the 2022 Scotties Tournament of Hearts in Thunder Bay, Ont.
And this time it was the young guns who came out on top.
Team Manitoba, (1-0, Altona) skipped by Mackenzie Zacharias and with a combined age of 86 years from skip to lead (average age of 21.5), got the better of a veteran-ladened Team British Columbia (0-1, Kelowna) skipped by 53-year-old Mary-Anne Arsenault in Pool B play at Fort William Gardens, posting a 6-5 win without having to throw her last rock in the 10th.
That the win came against such an experienced team could be looked at as somewhat of a surprise. Arsenault is as close to curling royalty as they come in this country. She is making her 15th career appearance at the Scotties, winning five times between 1999 and 2004 with skip Colleen Jones, and in that span won two world championships (2001 and 2004).
And the rest of her teammates are no slouches, either. Vice-skip Jeanna Schraeder, second Sasha Carter and lead Renee Simons all won a Scotties title in 2006 with British Columbia skip Kelly Scott and defended the crown the following year as Team Canada.
But sometimes youth will not be denied, and Saturday the 20-somethings from Manitoba would not, putting on a solid enough performance for the TSN cameras but zero ticket-paying fans. The event is being played with increased health measures because of COVID-19, with no spectators, strict protocols and testing to keep players and officials safe.
"It was a scrappy win. It definitely wasn't our best," said Zacharias, 22, who did just enough to get past a battle hardened B.C. team. "We came out a bit shaky in the first couple of ends and had a little trouble figuring out the ice, but by the end we were starting to feel a little more comfortable. That's the kind of momentum we can take into our next game."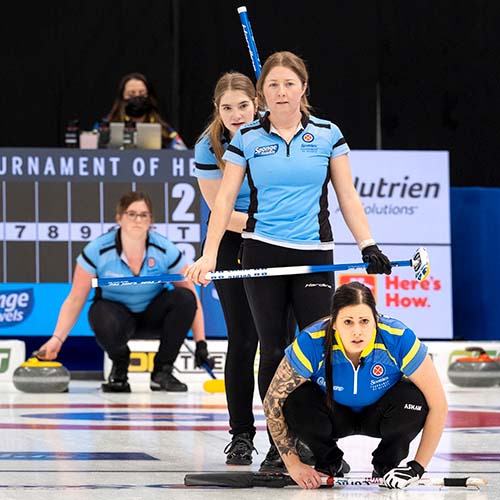 The game was a perfect advertisement for the beauty of curling: you can play at the highest level, whether you are a young university student or in your 50s.
Team Zacharias is part of the wave of a young and talented group of Canadian curlers set to rule the ice lanes in the coming years. The team, which includes third Karlee Burgess, second Emily Zacharias, lead/vice-skip Lauren Lenentine, alternate Lori Olson-Johns and is coached by Sheldon Zacharias, served notice in 2020 that they mean business by winning the world junior championship.
Now they are hunting for bigger game and getting better every time they play in big events.
"Getting the opportunities like this for the age we are helps us so much on how we're playing," said Zacharias. "We're able to pick up more things about the teams we're competing against."
It was also a successful opener for two-time defending Canadian champion Kerri Einarson whose Team Canada (1-0, Gimli, Man.) got off on the right with a dominating 12-5 victory over Team Ontario's Hollie Duncan (0-1, Woodstock). Einarson, backed by vice-skip Val Sweeting, second Shannon Birchard, lead Briane Meilleur, alternate Krysten Karwacki and coach Reid Carruthers is a strong favourite to reach the playoffs and win her third straight Canadian women's title.
Both teams struggled early in the game with line. The turning point came in the fourth when Duncan came up short drawing to the button facing four, giving up a steal of three to fall behind 5-2. She drew closer with a deuce in the fifth, but the roof fell in after she gave up four more on the very next end.
Duncan in particular had problems, shooting only 53 per cent.
Einarson, who said her team hasn't played since November, came in a little rusty.
"I think that's a good way to put it," said Einarson, who gave up a deuce in the first end and had trouble manufacturing anything over the next two ends. "But once I woke up a little bit we seemed to catch up."
Third Val Sweeting shrugged off the pressures of chasing a three-peat this year.
"[Winning is] everybody's goal coming in here," she said. "But we're trying to take it one game at a time, looking to get better every game and figure out the ice. It's a long road."
In other games Saturday as Pool B opened hostilities, Team Nova Scotia's Christina Black (1-0, Dartmouth) defeated Team Kerry Galusha of the Northwest Territories (0-1, Yellowknife) 7-5, and Team Quebec's Laurie St-Georges (1-0, Laval-sur-le-Lac/Glenmore) stole single points in the 10th and extra ends to defeat Team Laura Walker of Alberta (0-1, Edmonton) 9-8.
The 18 teams are split into two pools of nine, and will play a complete eight-game round robin. The top three teams in each pool advance to the playoffs where it will be further reduced to a Final Four and a Page playoff system.
The final goes Sunday, Feb. 6.
The 2022 Scotties Tournament of Hearts continues Saturday with a draw at 7 p.m. (Eastern).
Live scoring, standings and statistics for the 2022 Scotties Tournament of Hearts are available at www.curling.ca/scoreboard/
TSN and RDS2 (streamed on ESPN3 in the United States) will provide complete coverage of the 2022 Scotties Tournament of Hearts. CLICK HERE for the complete schedule.
This story will be available in French as soon as possible at https://www.curling.ca/2022scotties/nouvelles/?lang=fr