Aiming for playoffs!
Nova Scotia takes huge step towards securing playoff berth 
Get to the playoffs, that's the mantra for Paul Flemming and Team Nova Scotia. And they took a major step towards that goal Monday afternoon with a tough but impressive 7-6 extra end win over Jason Gunnlaugson and Team Wild Card #3 at the Tim Hortons Brier, presented by AGI.
Flemming, third Scott Saccary, second Ryan Abraham, lead Phil Cowell and alternate Kevin Ouellette scored two in the eighth end, stole one in the ninth and Flemming drew the four foot for one in the 11th for the win that kept them unbeaten at 3-0; one of only two teams with perfect records in Pool B.
"That was a lot of fun, a lot of fun," Flemming said of the victory. "We kept it light and I'm so proud of the guys, especially late in the game, that was a big win for us.
"We've had a lot of games like that over the years against these top quality teams where they've gone the other way so it feels good to know we can close it out."
Flemming, who was 1-10 the last time he skipped in the Tim Hortons Brier, said the win is a huge confidence booster for his team that now knows "that we belong.
"Our goal was to try to get to the playoffs by having at least five wins," he added. "We knew it wasn't going to be easy with 18 teams and only six moving on. We feel like we belong, why not us?
Flemming is playing in his tenth Brier and his 99th game. It's his third appearance as a skip, first since 2013, as he tries to get Nova Scotia into the playoffs for the first time since 2006. While Nova Scotia's record in Tim Hortons Brier round-robin play is an unimpressive 362-541, once the province gets into the playoffs they are 7-4.
That playoff success has resulted in three Canadian men's championships, the last coming in 2004 when Mark Dacey scored three in the tenth end to beat Randy Ferbey 10-9 and end the Alberta skip's three year reign as Tim Hortons Brier champion.
"We're playing smart, we haven't had too many shots where we're gotten absolutely nothing out of it," said Flemming who won a silver medal in 2005 while playing third for Shawn Adams.
In the other Pool B games, Brad Jacobs and Team Northern Ontario (3-1, Sault Ste. Marie) bounced back from a disappointing performance Sunday evening to beat Mike Fournier and Team Quebec (1-3, Dollard-des-Ormeaux) 6-1, Mike McEwen and Team Manitoba (2-1, West St. Paul) rolled by Team Nunavut's Peter Mackey (0-3, Iqaluit) 18-1 and front-running Brad Gushue and his Wild Card #1 team (4-0, St. John's, N-L) beat Jamie Koe of Team Northwest Territories (0-4, Yellowknife) 8-3.
The win by Manitoba was a huge bounce back from a difficult and emotional loss a day earlier to Jason Gunnlaugson and Wild Card #3 and McEwen and his mates were determined to get their game back on track.
"We were going to try to throw every shot with precision," McEwen said. "We said no matter what the score was we were going to play them hard, make them earn every point. We had a bit of a loose first half against Gunnlaugson and we wanted to see some really good throws today. So the guys, despite the score, focused on making every shot."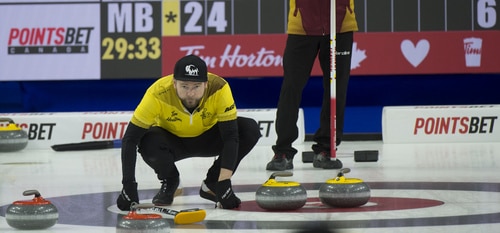 The veteran skip knows they'll need their best games going forward and couldn't really afford a second loss so early in the short round robin.
"It's daunting, you might be in a position where you need to go 6-2 so you want to avoid hiccups," he said. "I really liked what I saw today, a lot of great shots. I'm excited to see what we can put on the ice tomorrow."
The results leave Gushue, the 2022 Olympic bronze medallist, atop the standings at 4-0 followed by Nova Scotia at 3-0, Northern Ontario 3-1, Manitoba 2-1, Wild Card #3 2-2, Quebec 1-3, Nunavut 0-3 and Northwest Territories 0-4.
The 18 teams are split into two pools of nine and will play a complete eight-game round robin. The top three teams in each pool advance to the playoffs where the field will be further reduced to a Final Four and a Page playoff system.
The final goes Sunday, March 13.

The 2022 Tim Hortons Brier continues with this evening's draw at 6:30 p.m. MT.
Live scoring, standings and statistics for the 2022 Tim Hortons Brier are available at curling.ca/scoreboard.
TSN and RDS2 (streamed on ESPN3 in the United States) will provide complete coverage of the 2022 Tim Hortons Brier. CLICK HERE for the complete schedule.
For ticket information for the 2022 Tim Hortons Brier, go to www.curling.ca/2022brier/tickets/
This story will be available in French as soon as possible at www.curling.ca/2022brier/nouvelles/?lang=fr