Red Hot Flasch!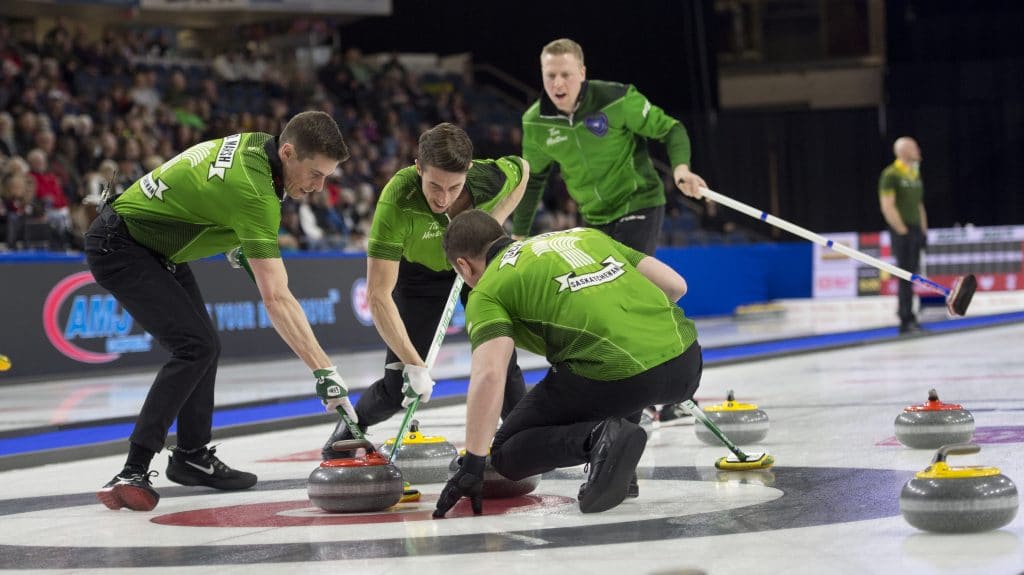 Lessons learned from the best helping Colton Flasch advance at Tim Hortons Brier
Colton Flasch absorbed a ton of knowledge while playing a number of years with Kevin Koe and now the student is putting that information to good use at the 2022 Tim Hortons Brier, presented by AGI.
Flasch and Team Saskatchewan shocked former Tim Hortons Brier and Olympic champion Brad Jacobs and Team Northern Ontario with a 10-3, seven-end victory Friday afternoon in their playoff 1 matchup. It was the team's sixth straight win since they lost to Team Canada in the round robin.
In the other game in the first playoff round defending champion Brendan Bottcher and Team Canada scored five points in the middle ends to beat Jason Gunnlaugson and Team Wild Card #3 7-3 in eight ends.
Team Saskatchewan will play Koe and Team Alberta while Canada takes on Brad Gushue and Team Wild Card #1 in this evenings' second round of playoffs. The winners advance to the Page 1-2 game while the losers move to the Page 3-4 game.
"Playing with Kevin Koe I learned over the years, don't be too good too early, learn the ice," said Flasch, whose team was 2-2 after losing to Team Canada. "Every game, even if you lose, make sure you learn something from that game and move forwards and we've been doing a great job of that. These (pressure) games are a lot easier after playing in them and knowing what it takes to win…. being comfortable in these games helps, too."
Flasch, with vice-skip Catlin Schneider, second Kevin Marsh, lead Daniel Marsh, alternate Pat Simmons and coach Jamie Schneider got into the playoffs with a 9-5 win over Matt Dunstone and Team Wild Card #3 in the morning's tiebreaker and came out red hot against Northern Ontario.
Northern Ontario finished the round robin at 6-2, second in Pool A to Team Wild Card #1, but they couldn't find their A game Friday afternoon, giving up two in the first, a steal of one in the second and a game-killing four in the fourth.
At that point in the game Jacobs was shooting a shockingly low 47 percent while Kennedy was only slightly better at 59. During the round robin they both shot a cumulative 90 percent.
While those two were struggling, Flasch was a perfect 100 percent and Schneider was at 84.
"We put rocks in good spots, got a couple of misses and took advantage of them," said Flasch. "We knew they were going to put a lot of stones in play and we had to be sharp, and we were."
Flasch was particularly sharp, making key draws to control ends and shooting 95 percent through the game.

For Jacobs and teammates, it was a frustrating few hours.
"It was a really poor performance, not like us for sure," Jacobs said. "We got outplayed. I didn't think they had that type of game in them, quite frankly. I was waiting for them to give us chances like they did with Dunstone."
Bottcher, backed by vice-skip Pat Janssen, second Brad Thiessen, lead Karrick Martin, alternate Aaron Sluchinski and coach Don Bartlett, stole three in the fourth end when Gunnlaugson missed twice on double takeout attempts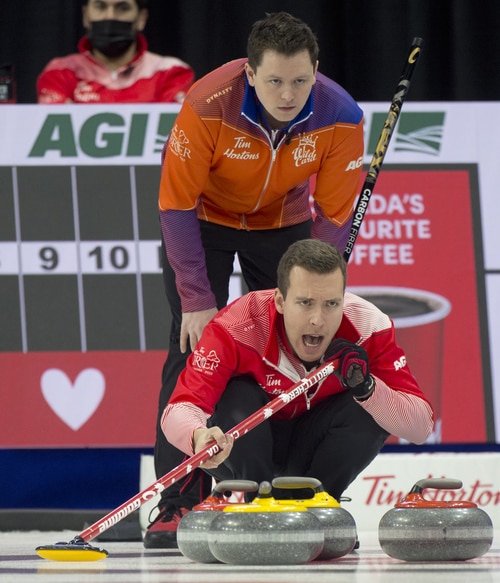 "I thought we came out of the gate great," said Bottcher. "The three we scored in the fourth end was huge and we played good for the last hour to close it out. I've been so happy with how the guys have played all week, they've been outstanding and we're bringing our best here into the playoffs."
Team Wild Card #3, who beat Mike McEwen and Team Manitoba 9-3 in the morning tiebreaker couldn't duplicate their performance in the afternoon.
"We played a really, really loose end when they got the three … and from there you're chasing against a really good team and we just weren't good enough for that."
The 2022 Tim Hortons Brier continues with this evening's draw at 6:30 p.m. MT.
Live scoring, standings and statistics for the 2022 Tim Hortons Brier are available at curling.ca/scoreboard.
TSN and RDS2 (streamed on ESPN3 in the United States) will provide complete coverage of the 2022 Tim Hortons Brier. CLICK HERE for the complete schedule.
For ticket information for the 2022 Tim Hortons Brier, go to www.curling.ca/2022brier/tickets/
This story will be available in French as soon as possible at www.curling.ca/2022brier/nouvelles/?lang=fr