On Fumes But Winning!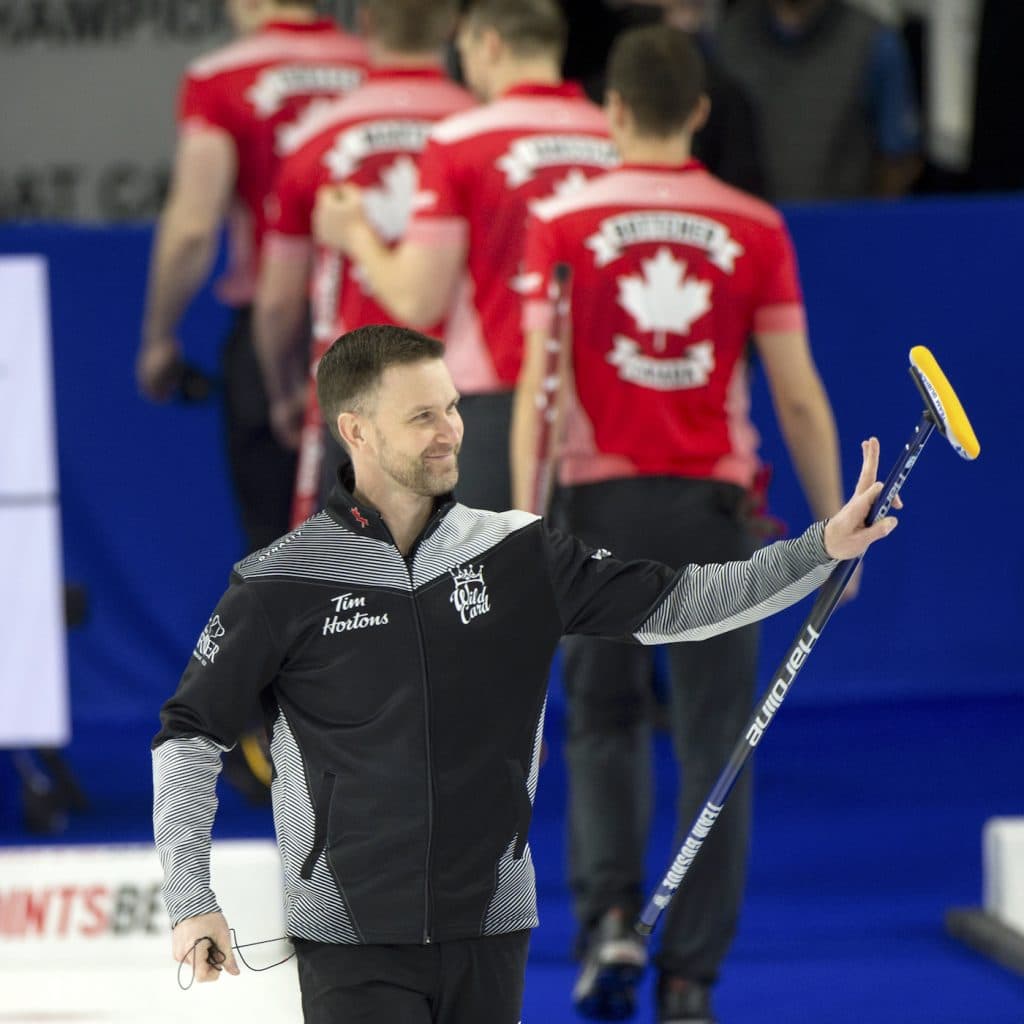 Shorthanded Team Gushue heading to Tim Hortons Brier final
They should be exhausted; they are playing shorthanded and yet Brad Gushue and Team Wild Card #1 refuse to surrender.
Gushue, Brett Gallant, Geoff Walker and coach Jules Owchar, with vice-skip Mark Nichols cheering from his hotel room, earned a berth in the final of the Tim Hortons Brier, presented by AGI, with a 9-3, eight-end win over defending champion Brendan Bottcher and Team Canada (Edmonton) in this morning's semifinal.
The win set up what will be a record-breaking final this evening when Team Wild Card #1 (St. John's, N-L) meet a rested Kevin Koe and Team Alberta (Calgary) in a battle of the teams that finished atop their pools in the round robin. If Gushue wins, his team will become the first three-man team to ever win the Tim Hortons Brier, and Gushue would join an elite group of skips to have won four Tim Hortons Brier titles. If Koe prevails, he will become the first man to skip teams to five Canadian men's championships; he shares the record of four with Randy Ferbey, Kevin Martin and Ernie Richardson.
The team from St. John's barely had time to catch its collective breath after a tough two weeks in Beijing where it won a bronze medal in the 2022 Olympic Winter Games, and a long, tiring flight home before heading right into the Tim Hortons Brier.
"We're on fumes, I'm on fumes right now," Gushue said after the semifinal that saw his team shoot a combined 95 per cent compared to 79 for Team Canada. "Now we have one game left, there's enough energy for us to go play a game and give 110 percent. But I'll tell you what, I'm going to take a few weeks off after this, that's for sure."
After going a perfect 8-0 to finish atop Pool B in the round-robin, Team Wild Card #1 lost Nichols just before the playoffs began when he tested positive for COVID-19.
The threesome lost to Bottcher 4-3 in the first round of the playoffs and then beat Colton Flasch and Team Saskatchewan 9-7 in what many long-time curling observers consider one of the best games ever played to earn a rematch with Team Canada.
It was a pair of three-enders, in the fifth and seventh ends that led to the win for Team Wild Card #1. Both teams had chances to score multi-point ends in the first half but missed shots – or an occasional successful double – eliminated those opportunities and left them trading singles or blanks until the fifth.
After Gushue executed a soft hit and roll behind cover Bottcher was wide on a runback double try that left Gushue sitting two. An easy draw to the four foot scored the game-changing three. After not giving up a three-ender their first 10 games it was the second straight game Team Canada surrendered a three-pointer.
"That was a little unfortunate," Bottcher said of the fifth end. "I thought we were set up for a force but we left one guard a little bit long and didn't make a couple of run backs we needed to. Sometimes there's nothing to dive into, it wasn't our day. Brad had an outstanding game."
At that point Bottcher and Janssen were shooting 73 per cent while Gallant was at 98 and Gushue at 96.
Gushue and his teammates added another three in the seventh when Bottcher, trying to draw the back of the four-foot came up short, setting up a tight runback double that Gushue made perfectly.
Gushue said the game was as solid as the team has played all through the tournament.
"We're executing surprisingly well for three players. There were a lot of shots there where hit and roll either rolled a rock too far or too much. I think we would make more of those with four guys but overall we're playing well.
"I was a little bit surprised by Brendan's strategy that allowed us to stay close early. Fortunately for us they blinked first, gave up the three."
Live scoring, standings and statistics for the 2022 Tim Hortons Brier are available at curling.ca/scoreboard.
TSN and RDS2 (streamed on ESPN3 in the United States) will provide complete coverage of the 2022 Tim Hortons Brier. CLICK HERE for the complete schedule.
For ticket information for the 2022 Tim Hortons Brier, go to www.curling.ca/2022brier/tickets/
This story will be available in French as soon as possible at www.curling.ca/2022brier/nouvelles/?lang=fr