Three equals four!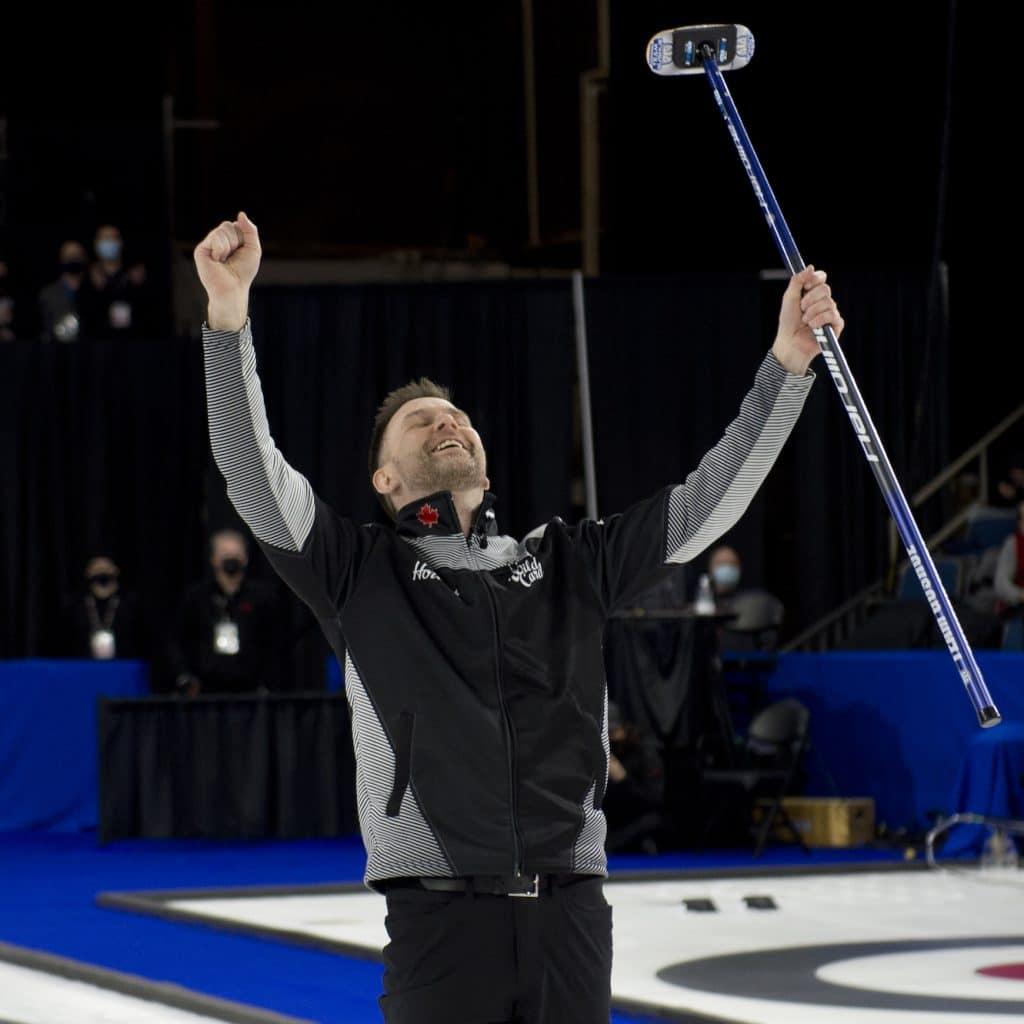 Team Gushue wins record-tying fourth Tim Hortons Brier victory
There have been some remarkable stories written about the Tim Hortons Brier over the years, but nothing can touch the one authored this year by skip Brad Gushue and his Team Wild Card #1 (St. John's, N.L.).
Imagine winning the Canadian men's curling championship with just three players. Unheard of!
But that's exactly what the boys from The Rock did Sunday after a pressure-packed 9-8, extra-end win over skip Kevin Koe's Team Alberta (Calgary) in the gold-medal final of the Tim Hortons Brier, presented by AGI, at the ENMAX Centre in Lethbridge.
The win lifted Gushue into a tie with Koe, Regina's Ernie Richardson and Edmonton's Randy Ferbey and Kevin Martin as skips with four national men's titles. But only Gushue had to win his fourth title with one hand tied tied behind his back.
Gushue previously won Canadian titles in 2020, 2018 and 2017 (all with the same team members), twice representing Newfoundland & Labrador and once as Team Canada. It also marked the first time a Wild Card team has won the Canadian title.
"Once Mark went down it was a huge long shot for us, but to be honest I think it kind of inspired us," said the 41-year-old Gushue, who limped into the last three games of the playoffs with only second Brett Gallant and lead Geoff Walker for support, along with coach Jules Owchar, after third Mark Nichols, who was earlier named to the second all-star team, failed a COVID-19 test on Friday and forced to the sidelines.
"It gave us some extra energy and we knew we had to be at our best. Brett and Geoff, the way they adapted to the new positions, was incredible. It's pretty amazing. I never thought this would happen when Mark went down."
The good news for Team Wild Card #1 was they still had plenty of fire in their bellies and the usual eight rocks to play with, and that was enough. They threw them with confidence and precision.
Team Gushue won its final three playoff games in impressive fashion, and then completed the impossible dream with a win over Koe, who was looking to become the first man to skip teams to five national titles.
It was a wonderfully played final, a typical chess match that had the usual number of well-played shots by two teams that have made many of them over the years. Team Gushue scored a pair of three-ender in the third and sixth ends that eventually spelled the difference.
Koe, trailing 8-6 in the 10th, almost won it in the 10th after positioning his rocks nicely to score three, but Gushue made a superb raise takeout with his final rock, leaving Koe a draw for two to force the extra end.
Gushue, who shot a sparkling 93 per cent in the final, played a clean extra end, and hit and stuck with the hammer to win.
Koe, backed up by third B.J. Neufeld, second/vice-skip John Morris, lead Ben Hebert, alternate Carter Rycroft and coach John Dunn, was crushed by the loss, especially because it came in Alberta and in front of friends and family.
"I thought this one was ours to win," he said. "They did a better job of making us pay (for our mistakes) than I thought we did on them. We had a chance in 10. It was looking good. But Brad made a couple of good shots. Those three-enders, we had a few misses, some were close. It worked out terrible."
Gushue made it clear how tough his team was to hang in there.
"I'll always remember the gutsiness of this team," he said. "The tenacity, whatever adjectives you want to use. What the three of us pulled off the last three days was pretty crazy."
Gushue also said the four national wins was something special.
"I've never been shy about saying our team is among the greats of all-time," he said. "We're in the argument with all the other teams. I feel pretty confident in our place."
Gushue and Co. — with Nichols back in the lineup — will now go on to represent Canada at the LGT World Men's Curling Championship, presented by New Holland, in Las Vegas, April 2-10. Gushue will be looking for his second global championship after winning the 2017 title in Edmonton.
The win marked Owchar's eighth Tim Hortons Brier win as a coach. The win was also worth $108,000 to Team Wild Card #1 in prize money.
This story will be available in French as soon as possible at www.curling.ca/2022brier/nouvelles/?lang=fr