Alone out front!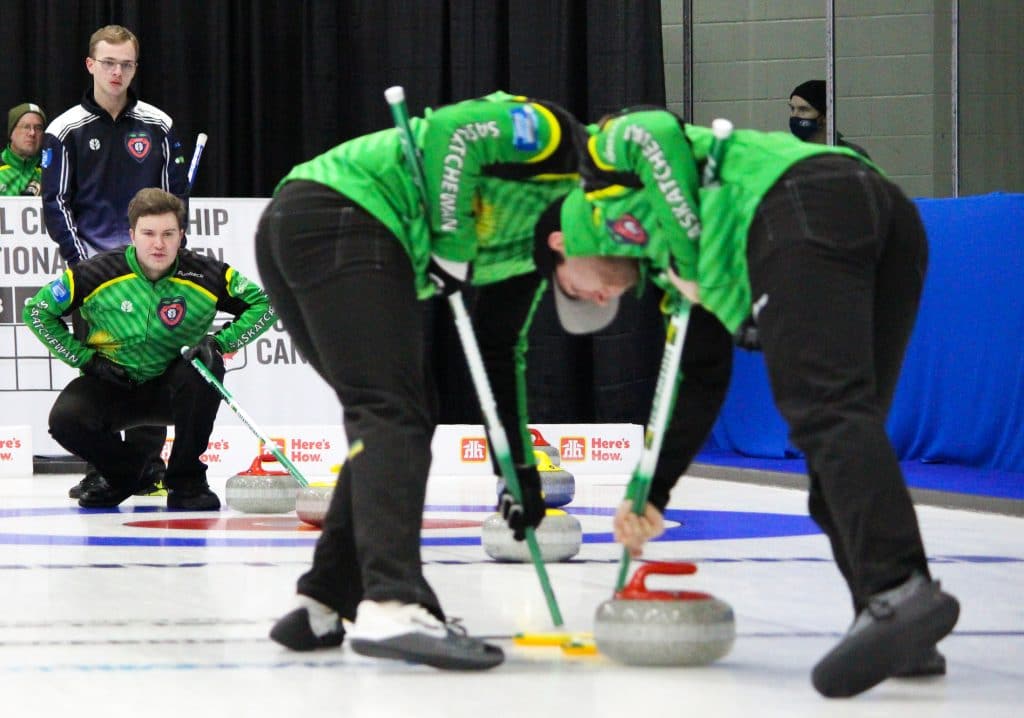 Saskatchewan #1 pulls ahead and sits atop of men's pool A at 2022 New Holland Canadian Under-21 Championships
Monday was an important and ultimately an exceptionally successful day for Daymond Bernath and his Saskatchewan #1 rink at the 2022 New Holland Canadian Under-21 Championships from the Stratford Rotary Complex in Stratford, Ont.
Bernath (6-0; Saskatoon) found himself staring down the barrel of a two game day with two other teams keeping pace at the top of pool A in the likes of Johnson Tao (5-0; Edmonton) and Newfoundland and Labrador's Nathan Young (5-1; St. John's).
If Bernath wanted to hang around at the top of the standings, his team would need to produce a pair of victories.
Saskatchewan #1 would make short work of its first challenge in Monday morning's draw 9, as they defeated a winless New Brunswick rink represented by Rajan Dalrymple (0-6; Oromocto) by a 10-2 score in eight ends.
A steady start, but Bernath would be slated to face a then still undefeated Newfoundland and Labrador team in Monday evening's draw 11. It would serve as an integral win and give the Saskatchewan #1 rink a distinct advantage in the standings of pool play, should they pull it off.
Turns out they were up to the challenge, and then some.
Newfoundland and Labrador started strong with a score of two in the first end, applying pressure to Saskatchewan #1 early, but it would only awaken Bernath and Co.
The Saskatchewan #1 team then found their stride, outscoring their opposition 8-1 over the next four ends. It would be more than enough to claim an eventual 9-6 victory.
Though Saskatchewan #1 now sit alone atop pool A's standings, Alberta #1's Johnson Tao is not far behind. The Alberta representatives boast a 5-0 record and a game in hand as they had the evening off on Monday. They're set to face Newfoundland and Labrador tomorrow afternoon at 2 p.m. (all times eastern).
Saskatchewan #1 is scheduled to face Alberta #1 on Wednesday at 9 a.m. in what is sure to be a standings defining match.
In other Monday evening action, Northern Ontario's Dallas Burgess (2-3; Kakabeka Falls) downed the Northwest Territories' Mason MacNeil (0-5; Inuvik) 14-3. Ontario #1's Landon Rooney (4-1; Whitby) defeated British Columbia's Connor Deane (3-2; New Westminster) by a score of 9-4 while Manitoba #1's Jordon McDonald (5-1; Winnipeg) bested Québec's Dimitri Audibert (2-3; Riverbend/Trois-Rivières) by an 8-3 score. Saskatchewan #2's Nathen Pomedli (4-2; Saskatoon) earned a 7-4 win over Newfound and Labrador #2's Sean O'Leary (1-4; St. John's).
Prince Edward Island's Mitchell Schut (2-3; Cornwall) defeated Manitoba #2's Aaron Van Ryssel (1-4; Dugald) 8-4 while Nova Scotia's Nick Mosher (3-2; Halifax) took the victory over New Brunswick by a 9-5 score and Ontario #2's Dylan Niepage (2-3; Guelph) picked up a 6-3 win over British Columbia #2's Adam Fenton (1-4; New Westminster).
The 2022 New Holland Canadian Under-21 Curling Championships continue Tuesday at 9 a.m., 2 p.m. and 7 p.m. All draws are being live streamed on Curling Canada's Youtube page, available here.
For teams, live scoring, results and event information from the 2022 New Holland Canadian Under-21 Curling Championships, click here.
This story will be available in french as soon as possible at https://www.curling.ca/2022under21/nouvelles/?lang=fr