Golden Performances!

Nova Scotia #1 women and Ontario #1 men claim top prize at 2022 New Holland Canadian Under-21 Curling Championships
Seven days of competition all lead up to a single culminating moment at the 2022 New Holland Canadian Under-21 Curling Championships on Friday afternoon from the Stratford Rotary Complex in Stratford, Ont.
And along with it came some of the best curling that Canada can offer as teams took to the ice to determine who would be crowned Canadian champion and earn the right to wear the Maple Leaf at the 2023 World Junior Curling Championships to be held next season (date and location TBC).
On the men's side, host team Ontario #1's Landon Rooney (10-1; Whitby) with third Nathan Steele, second Jacob Jones, lead Austin Snyder, alternate Scott Mitchell and coach Collin Mitchell defeated Alberta #1's Johnson Tao (9-2; Edmonton) 10-4 in the gold medal final to claim the national title. 
Rooney and his Whitby Curling Club rink are the first men's team to win on home ice since British Columbia's Tyler Tardi accomplished the feat in 2017 at Victoria.
"It's awesome. Just awesome," said Rooney of the national title victory.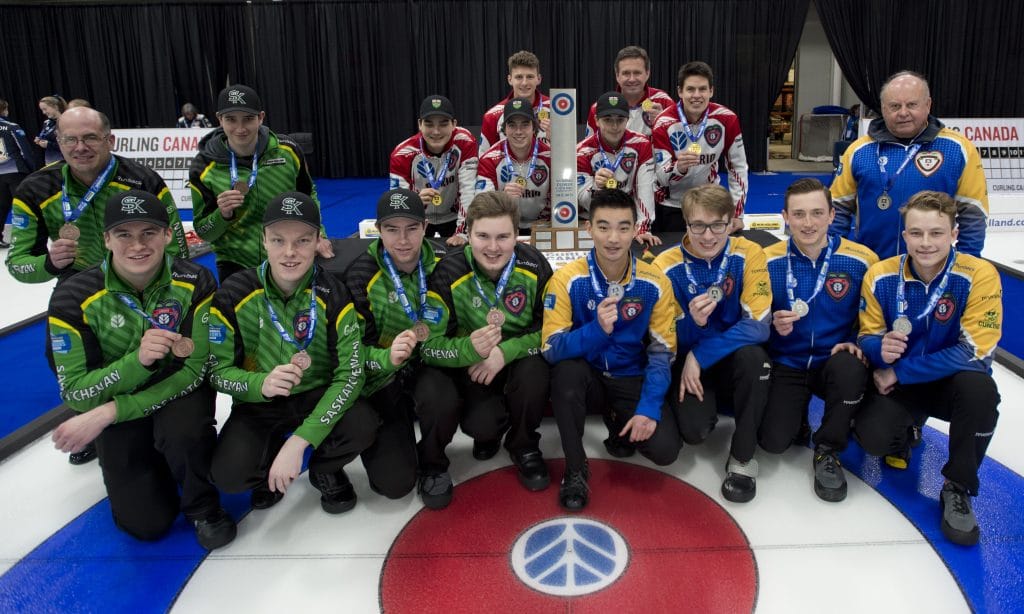 The win marks Ontario's 10th ever Junior men's title; the first since Jake Walker won the title in 2010 at Sorel-Tracy, Québec.
Rooney and company found purchase in their offence early in the final, scoring three with hammer in the second end and cruising to a 6-1 lead after just five ends of play.
"Once we popped that big three, it was kind of just about keeping damage control," said Rooney. "We knew we could give up a few and still be in control."
Rooney says his team didn't come out firing on all cylinders to begin their campaign in Stratford, but settled in nicely as the week progressed.
"A little rough to start the week," laughed Rooney. "But we picked it up in the second half of the week and just got cruising the whole way through."
Alberta #1 picks up the silver medal and Saskatchewan #1's Daymond Bernath (8-2; Saskatoon) earned the bronze medal with an 11-5 win over Manitoba #1's Jordon McDonald (7-3; Winnipeg) to conclude men's play.
Though the men's final may have been more one sided, the women's final is already being hailed as a classic.
Nova Scotia #1's Taylour Stevens (10-0; Halifax) and her rink of third Lauren Ferguson, second Alison Umlah, lead Cate Fitzgerald and coach Mary Matttatall put its perfect record on the line in the final against Ontario's Emily Deschenes (8-3; Ottawa).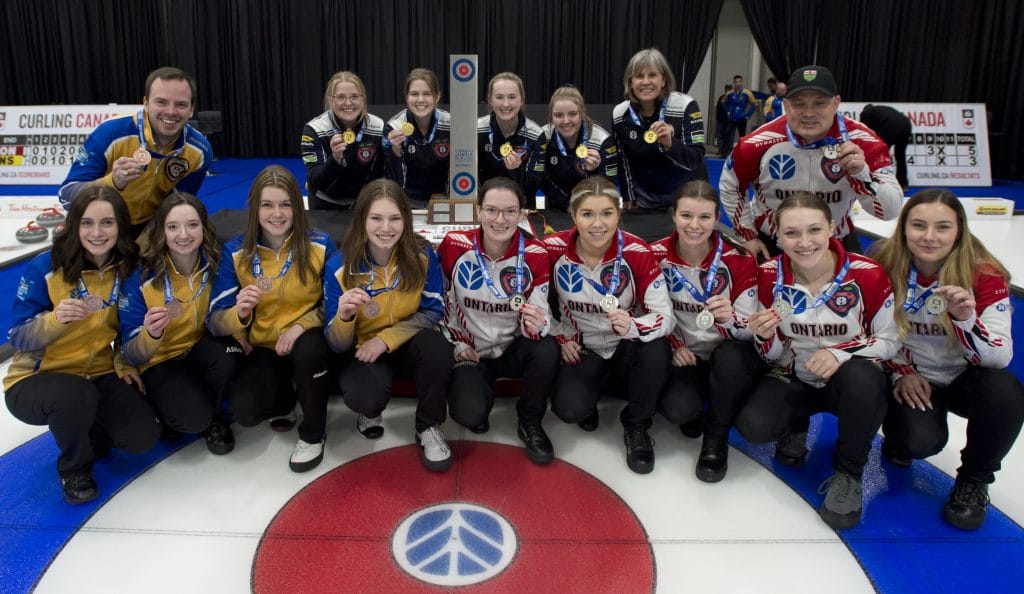 Nova Scotia won a hard fought battle, claiming a 7-5 victory and the national title.
The two teams would jockey for position in the opening ends, carrying a 3-3 tie into the sixth. Ontario #1 would be forced to a single in the seventh before Stevens would unleash an incredible angle raise takeout in the eighth end to score a deuce.
The shot was met with thunderous applause from fans.
"That was a huge shot," said Stevens reflecting upon the game. "I'm still baffled by it, honestly. It felt so great."
It would prove to be the momentum swing the Halifax Curling Club rink would need, as they would force Ontario #1 once again in the ninth before making an open hit in the tenth to secure a score of two and the win.
"There were a lot of things going through my mind," said Stevens of her emotions when the winning stone was in her hands in the tenth. "I knew I just had to take a deep breath and shake some of the nerves away. I ended up throwing it OK so it all worked out."
With the win, Stevens met her goals of improving upon a 2020 bronze medal finish at the Juniors.
"It's crazy. It doesn't even sound real yet," said Stevens of her Canadian champion title. "It's much better than a bronze."
The win marks the sixth Canadian Junior women's title for Nova Scotia, while Stevens becomes just the ninth ever skip to win a Junior women's gold medal with an undefeated record; joining the likes of Mackenzie Zacharias (11-0; 2020), Selena Sturmay (11-0; 2019), Rachel Homan (13-0; 2010), Cathy Overton (11-0; 1989) and Cathy King (10-0; 1978).
Ontario #1 settles for silver while Aberta #2's Claire Booth (7-4; Calgary) claimed bronze with a 13-5 win over Northern Ontario's Katy Lukowich (7-3; Sudbury).
For teams, live scoring, results and event information from the 2022 New Holland Canadian Under-21 Curling Championships, click here.
This story will be available in french as soon as possible at https://www.curling.ca/2022under21/nouvelles/?lang=fr