Two-win Saturday!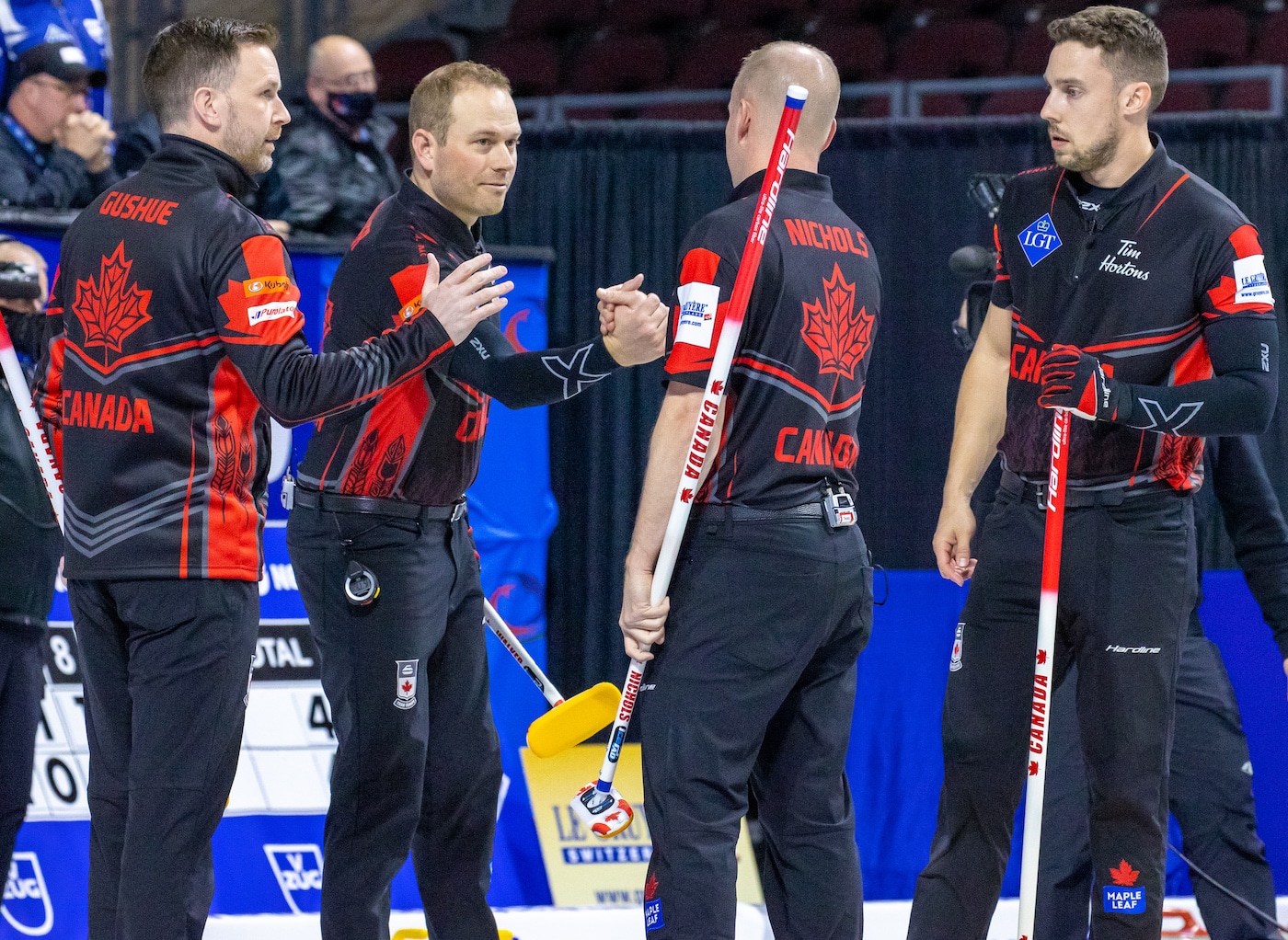 Team Canada comes through with 10th-end dramatics to defeat Norway
Some lingering rust is slowly dissipating for Team Canada at the 2022 LGT World Men's Curling Championship, presented by New Holland.
After a grinding opening victory earlier Saturday at Orleans Arena in Las Vegas, Gushue, vice-skip Mark Nichols, second Brett Gallant, lead Geoff Walker, alternate E.J. Harnden, team coach Jules Owchar and national coach Jeff Stoughton had to employ that same kind of grit to beat Norway's Team Magnus Ramsfjell 8-7.
Canada, which improved to 2-0 with the victory, scored a 10th-end deuce for the victory after giving up a stolen point in the ninth to Norway when Gushue's last-rock tap for two barely rubbed on a guard.
In the 10th, though, a wonderful freeze from Walker, and then an equally wonderful angle tap from Nichols set the stage for Gushue to make a perfect raise through a narrow port that left Canada sitting two stones biting the button behind cover. Ramsfjell's last-gasp angle-raise takeout barely missed, and Gushue didn't need to throw his final stone.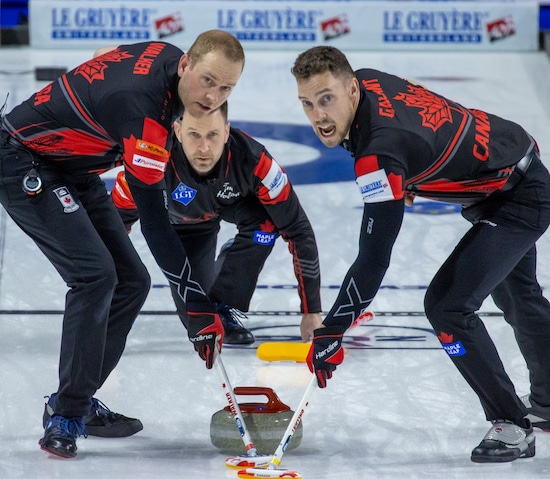 "I know we're grinders," said Gushue. "I think any team that plays us knows that even if they get up on us, we're going to make them work for it. Tonight wasn't our best, but we certainly gave ourselves a chance to win. 2-and-0 is all good; it doesn't matter how you get there."
It didn't come easily. Gushue's St. John's, N.L., crew got its first deuce in the second end, set up by a double-takeout from Nichols.
But Norway — Ramsfjell, son of three-time world champ Eigil Ramsfjell, is backed up by third Martin Sesaker, second Bendik Ramsfjell (Magnus's cousin), lead/vice-skip Gaute Nepstad, alternate Mathias Braenden and coach Pal Trulsen — turned up the pressure in the third and Gushue needed to make a nifty double takeout with his last stone to avoid giving up three or more.
Canada was forced to a single in the fourth, but took some momentum into the fifth-end break by stealing one, set up by a terrific come-around to the button by Nichols behind two staggered Norwegian stones in the top of the house.
After forcing Norway to a game-tying single in the sixth, Canada picked up a deuce in the seventh on a Gushue hit-and-roll, with help from a terrific sweep from Gallant.
Ramsfjell was able to tie it in the eighth, drawing to bite a piece of the button for the second point, and then got the steal in nine to set up the 10th-end drama.
"We're still getting used to the ice, but we're adjusting," said Gallant. "They made a ton of good shots against us, but we made some really good ones in the 10th end to pick up that deuce. It's nice to make a couple key ones to win.
"I struggled a little; maybe some bad breaks and maybe a couple not-so-great throws, but Mark really picked me up and Brad finished off a lot of ends. That's what this team is all about."
Canada has a pair of games on Sunday — at 2 p.m. (all times Pacific) against the Netherlands, and at 7 p.m. against Switzerland.
In other action, Team Sixten Totzek of Germany (1-0) rolled to a 13-7 victory over Team Wouter Goesgens of the Netherlands (0-2); Finland's Kalle Kiiskinen (1-0) was a 6-4 winner over Switzerland's Yannick Schwaller (0-1); and Scotland's Kyle Waddell (1-0) scored one in the 10th end for a 5-4 win over Italy's Joel Retornaz (0-1).
Team Korey Dropkin of the United States (1-0), Team Niklas Edin of Sweden (1-0), Team Lukas Klima of the Czech Republic (0-1), Team Soo-Hyuk Kim of South Korea (0-1) and Team Tobias Thune of Denmark (0-1) all had byes on Saturday night.
For Team Canada updates, go to www.curling.ca. Follow us on Twitter, Instagram and Facebook.
TSN/RDS2, the official broadcast partners of Curling Canada's Season of Champions, will provide live coverage of Canada's round-robin games, in addition to all playoff games. CLICK HERE for their complete broadcast schedule.
The list of teams, schedule information and live scoring can be found on the event website, worldcurling.org/events/wmcc2022/