Sixth win for Canada!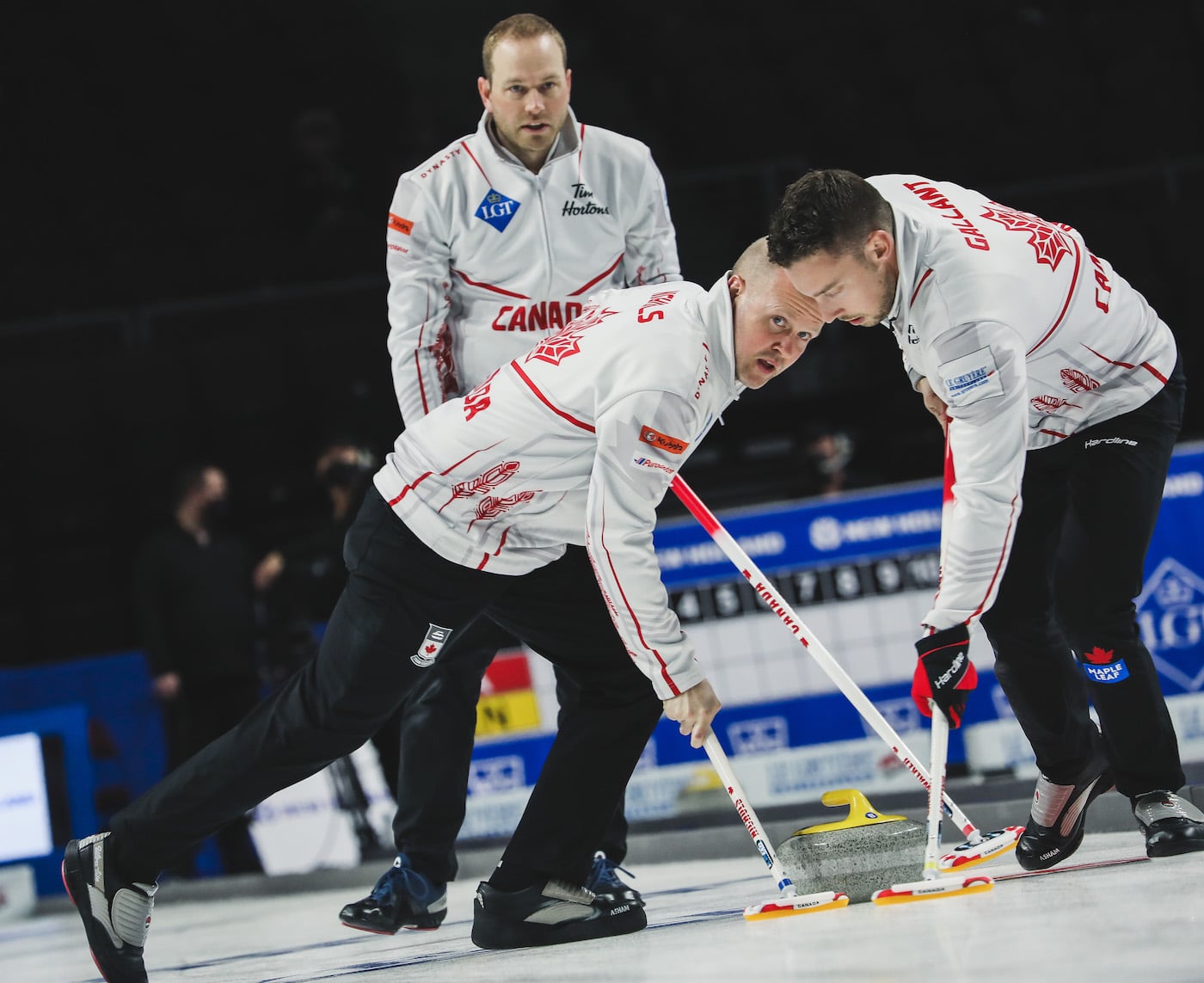 Team Gushue recovers from slow start for sixth straight win at LGT World Championship
Not that they want to continue the trend, but falling behind early in games hasn't been an issue for Canada's Team Brad Gushue at the 2022 LGT World Men's Curling Championship, presented by New Holland.
Canada had trailed at the fifth-end break in two of its past three games at Orleans Arena in Las Vegas, and it did again Tuesday afternoon against Germany's Team Sixten Totzek.
The Germans gave up a stolen point to Canada in the first end, but responded immediately with three in the second end and a stolen deuce in the third to go up 5-1.
But this is hardly unfamiliar territory of late for Gushue, vice-skip Mark Nichols, second Brett Gallant, lead Geoff Walker, alternate E.J. Harnden, team coach Jules Owchar and national coach Jeff Stoughton, who donned their rally caps yet again to dispatch Germany 11-7.
The win was Canada's sixth straight and left the St. John's, N.L., team two wins clear of the field; every other team has lost at least twice over the first two days of the 13-team round-robin event.
"It gives us a bit of a cushion," said Gushue after the win. "Love the position we're in. I don't necessarily love how we got here, but I think we're more comfortable with the ice. We just have to figure out what's causing us to not be a little bit off in the first few ends."
The stats tell the tale — Canada has been outscored by its opponents 24-23 in the opening five ends of its six games in Las Vegas. From the sixth end on, though, Canada has a 31-10 advantage, and that's been the biggest contributor to the six wins.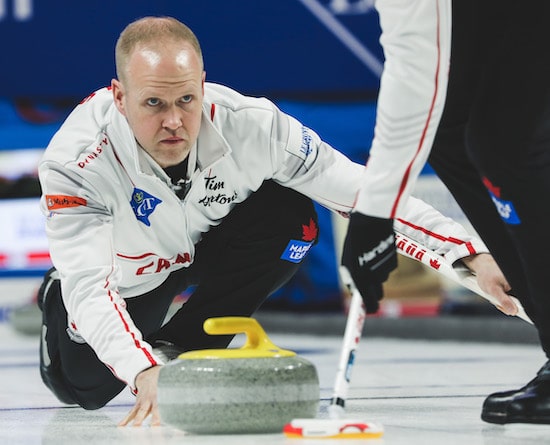 "I think we've played together for so long and been in every situation," said Walker. "We've been down so many times before and had some epic comebacks. We just believe in each other and know that we're going to be in there right to the end, even if we have a tough start."
The comeback started in the fourth end thanks to a three-ender manufactured solely by Gushue (and a couple of near misses from Totzek). Gushue, pursuing his second world championship gold medal, made a big-weight double takeout with his first to set it up and then followed it with a hack-weight precision double takeout to cut Germany's lead to one.
In the fifth, Germany was held to a single to take a 6-4 lead into the break, but Canada put the pressure on in the sixth. A wonderful split by Nichols set the table followed by a hit-and-roll from Gushue that left Canada sitting a couple behind cover. A freeze attempt from Totzek was wide and heavy, and Gushue executed the open hit for three to retake a lead it wouldn't surrender.
"We like to keep the fans entertained, eh?" said Walker with a chuckle. "You know, we played a pretty good first end to get the steal but had a bad couple right after that, and then we were able to bounce back and start putting some shots together. The ice was great today, and quick, and we just had to catch on and make some adjustments."
"You're not going to be able to do that all the time," added Gushue. "We certainly have to find a way to be a little bit sharper in the first few ends. We fell asleep in the second and third ends; we were fortunate to give up only three in the second, and fortunate to give up only a steal of two in the third. I felt like when we were down 5-1, we were actually pretty lucky to be down only 5-1."
Canada has Tuesday night off before starting a series of three two-game days before the playoffs start on Saturday. It'll be a Wednesday morning rematch of the 2018 gold-medal final in this same Orleans Arena as Canada takes onTeam Niklas Edin of Sweden (4-2) at 9 a.m. (all times Pacific); the Swedes won that gold-medal game in 2018, avenging a loss to Team Gushue in the 2017 world final in Edmonton.
Canada also will play Finland's Team Kalle Kiiskinen (3-3) Wednesday, at 7 p.m.
In other games Tuesday afternoon, Italy's Team Joel Retornaz (3-3) was a 7-3 winner over Team Tobias Thune of Denmark (1-5); Switzerland's Team Yannick Schwaller (4-2) knocked off Norway's Team Magnus Ramsfjell (2-4) 9-3; and Team Kyle Waddell of Scotland (4-2) held off Team Korey Dropkin (3-3) of the U.S. 9-7.
Sweden, Finland, South Korea's Team Soo-Hyuk Kim (2-3), Team Lukas Klima of the Czech Republic (2-4) and Team Wouter Gousgens (1-4) all had byes on Tuesday afternoon.
The top six teams qualify for the playoff round with the top two receiving a bye while the remaining four play in the first round. The gold-medal game will be played Sunday.
For Team Canada updates, go to www.curling.ca. Follow us on Twitter, Instagram and Facebook.
TSN/RDS2, the official broadcast partners of Curling Canada's Season of Champions, will provide live coverage of Canada's round-robin games, in addition to all playoff games. CLICK HERE for their complete broadcast schedule.
The list of teams, schedule information and live scoring can be found on the event website, worldcurling.org/events/wmcc2022/