All 'four' one!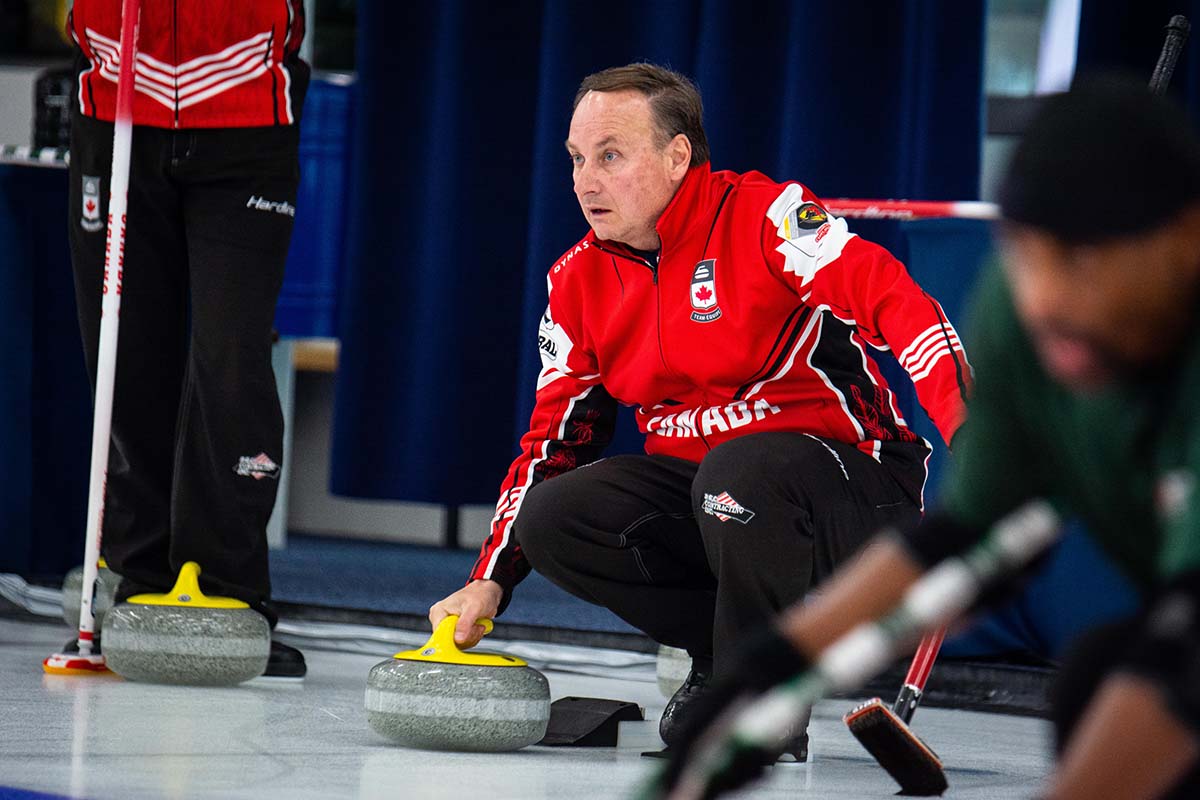 Team Canada's White tops the field at World Seniors, Team Anderson opens with loss
GENEVA, SWITZERLAND — Good things come not in threes, but fours, for the Canadian senior men's team at the 2022 World Senior Men's Curling Championship.
Canada's Team Wade White had scores of four in the first, second and fifth ends in a game against Slovakia to secure a two-win Saturday at the Geneva Curling Club in Switzerland. Meanwhile, Canada's Team Sherry Anderson faltered earlier in the day and started the 2022 World Senior Women's Curling Championship with a loss.
White and his team from the Lac la Biche Curling Club in Alberta secured the latter of their two wins convincingly against Slovakia's Milan Bubenik. The 12-3 win elevated Canada to a 2-0 record and first place in Pool A.
It's the second time White, vice-skip Barry Chwedoruk, second Dan Holowaychuk, lead George White and team leader Bill Tschirhart have competed at the World Senior Curling Championships after earning gold in 2018. Four years later and back on the international stage, it doesn't look like the squad has missed a beat.
"You don't get too many opportunities," White said of wearing the Maple Leaf. "It feels good, and you take advantage it. I take it all in awe while I'm out there because I don't know if I'll ever get back. I'm fortunate to be able to do this."
Team White opened the game with a score of four with the hammer and doubled their output in the second with a steal of four. After a blanked third end, Slovakia had a chance to score two with a hit. The team's rock over-curled but nearly tapped one of its own into the house for second shot. However, a measure determined Slovakia only scored one. Keeping with the theme of fours, Team White tacked on another score of four in the fifth to take a commanding lead and led to an open style of play.
"I'm just not playing any guards. That's from the coach, Bill," White said with a laugh. "Just put them all in the house. You don't want to get one where they lob one behind a guard, and we can't get it out. So we weren't playing with much out front."
Slovakia scored two in the sixth end and, despite scoring, opted to concede.
Earlier in the day, Team White bested Finland's Timo Kauste with a 6-3 win. Canada took an early lead in the game with two in the first and steals of one in the second and third ends. Finland got on the board in the fourth end with a score of one but had an opportunity to draw for two.
The fifth end was messy, but White had a wide draw to the eight-foot around the pile of stones and scored two. Finland scored a single in the sixth and stole a point in the seventh, but Canada ran its opponents out of rocks in the final end to take the victory.
"It's where we're thinking we want to be. The first game, we were pretty well in control of that one with a deuce in the first end and then this game, we just kept the rocks around the house, kept them in the house and didn't throw many guards, so it was pretty good."
After a two-game day, White's team has the day off on Sunday. Canada is back on the ice against Australia's Team Hugh Millikin on Monday at 2 a.m. (all times ET). Australia is playing its first game of the event on Saturday night in Geneva.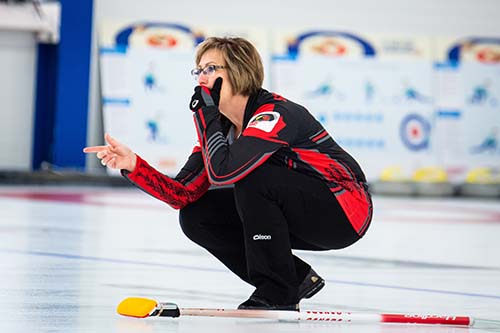 Canada's Team Sherry Anderson from Saskatoon struggled out of the gate during its opening game against Scotland's Edith Hazard. Anderson's team from the Nutana Curling Club succumbed to Scotland's Edith Hazard 8-2 on Saturday morning in Geneva.
Anderson's team is making its third appearance at the world seniors and enters the event as the back-to-back gold medallists. During that span, Anderson, vice-skip Patty Hersikorn, second Brenda Goertzen, lead Anita Silvernagle have won 18 career games at the event, and Saturday's result was only the second time Team Anderson has lost a game while representing Canada. This year the team's rounded out by alternate Denise Hersikorn and team leader Tschirhart.
"You don't like to come out and lose your first game. It wasn't my best performance and the girls played okay, but we missed enough shots too," Anderson said. "We slid too far when we wanted to be in the house, or struggle with a raise or draw through or go deep. There's were a few misses, but I've got to be able to cap off their shots and I didn't."
Scotland started with hammer and the teams forced each other to single points over the first three ends. With a 2-1 lead in the fourth end, Scotland started its path to victory by pulling away with a couple of stolen points. Hazard, who played third for Great Britain at the 1998 Nagano Olympics, conducted back-to-back stolen single points in the fourth and fifth ends for a 4-1 lead.
"I couldn't get second shot by nosing [Scotland's stone]," Anderson said of her final shot in the fourth end. "So I had to play it tight to the long guard and I racked and gave up a steal instead of us getting two, so that's a big swing of three points."
In the sixth end, Team Anderson had an in-turn hit through a port to score three, but it over-curled, and Canada only scored one with the hammer to trail 4-2. It left Canada with a tall task: force Scotland to a point in the seventh and string together a score of at least three to keep the game going.
Anderson had a chance to freeze onto Scotland's shot stone in the seventh end, but it was strong and chipped off, leaving Scotland fourth Mairi Milne with an open hit for four and, ultimately, the 8-2 win.
Team Canada (0-1) hits the ice Sunday at 1 p.m. against Denmark's Linette Henningsen (1-0) in search of a rebound game and winning performance.
"We'll forget by tomorrow night and will come out stronger with a grasp on draw weight. That's the bottom line, if you don't have draw weight you're going to struggle and I usually have draw weight. Hopefully tomorrow is better," Anderson said.
The top three women's teams in both pools qualify for the playoff round with the top two seeds receiving a bye, while the remaining four play in the first round. The top two-ranked men's team in all three pools, plus the top-two third-ranked teams, qualify for the playoffs with all teams playing in an eight-team format with quarterfinals, semifinals and gold- and bronze-medal games. The men's and women's medal games will be played Saturday.
For Team Canada updates, go to www.curling.ca. Follow us on Twitter, Instagram and Facebook.
For the list of teams, draw information and live scoring, visit the event website.
The French version of this story will be posted as soon as possible at www.curling.ca/?lang=fr