Among the top!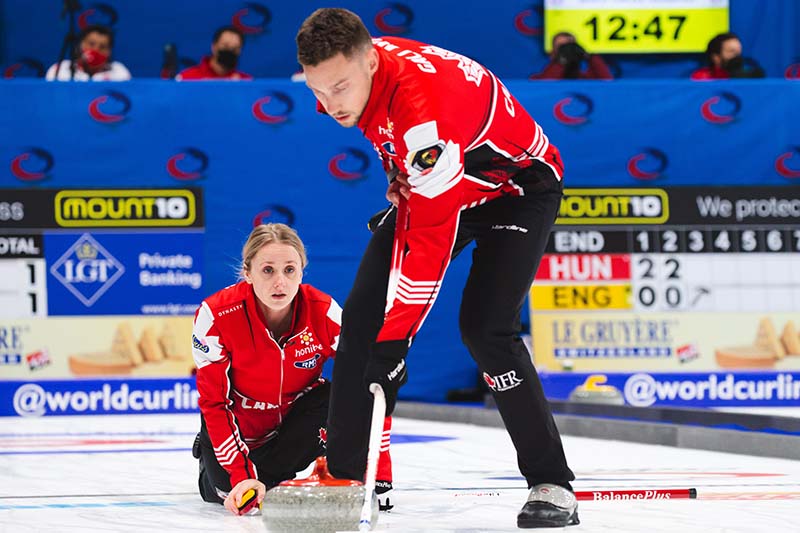 Two wins for Peterman and Gallant on day two of World Mixed Doubles Curling Championship
GENEVA, SWITZERLAND — Canada's mixed doubles team is keeping pace with the best in its pool at the 2022 World Mixed Doubles Curling Championship.
Jocelyn Peterman (Winnipeg) and Brett Gallant (St. John's, N.L.) played their first two-game day at Sous-Moulin Sports Centre in Geneva and walked away with two wins in tow. Now 3-0, Canada keeps pace with the top teams in Pool B, Scotland's Eve Muirhead/Bobby Lammie and sibling duo Rebecca and Matt Hamilton of the United States.
For the Canadian duo, along with coaches Scott Pfeifer and Lisa Weagle, it's right where they want to be at this point of the week after finishing the day with a 10-5 win against Turkey's Dilsat Yildiz and Muhammed Zeki Ucan (0-3) on Sunday night.
"I think we're communicating well and adjusting to the ice to figure it out. I think that's been working well for us, and Brett's been playing great so it's put us in a good spot," Peterman said.
Turkey started the game with the hammer, and Canada forced its opponents to a single point to start the game. Canada had its opportunity for two in the second end with a double-tap but wrecked on a centre guard, meaning Peterman and Gallant took one. Canada stole a single point in the third end, which could have been more had Ucan not moved three Canadian stones out of the four-foot on his last shot. Peterman and Gallant played their last shot behind cover to the top button in the fourth end, but Turkey's Ucan threw an out-turn tap to score a single point and tie the game at the half.
The floodgates opened in the fifth end with Canada's first multiple-point end. While there was a draw for four, Canada settled for three. However, Turkey responded the following end, stringing together its own score of three to tie the game. Canada used its power play in the sixth end and came up with a hefty bounty to take control of the game by scoring five.
"We were just battling the conditions a little bit and the frost. We just had to get a better grasp on that and how they were reacting. Then we had a really good power play, and we made all five of our shots pretty much perfect. That was the difference. We got a few mistakes out of them there. We stayed patient because they made a lot of shots and played pretty well, but we made a lot of good ones too," Gallant said.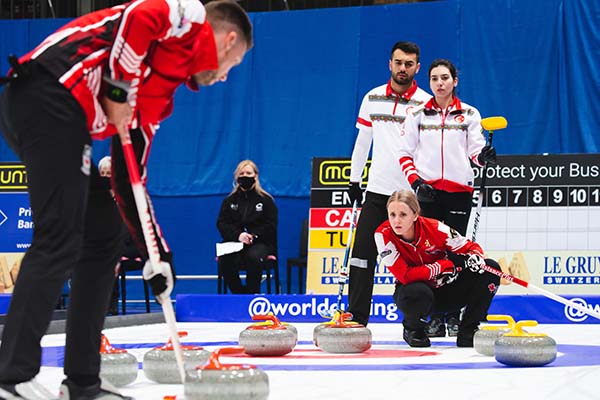 Canada ran Turkey out of rocks in the eighth end for the win.
Peterman and Gallant opened the day with a Sunday morning 8-2 win against Spain's Oihane Otaegi and Mikel Unanue (1-2).
While Spain started the game with an opening-end steal and looked primed to give Canada a run for its money, Peterman and Gallant rebounded by scoring points over the next four ends. First, a deuce in the second, and then steals of one in the third, two in the fourth and one in the fifth. Spain used its power play in the sixth end but was kept to one point, and Peterman/Gallant finished the job in the seventh by playing an open end and scoring two before Spain conceded.
The Canadians controlled the four-foot throughout the game, with the duo clocking in at 73 per cent and 76 per cent shooting efficiency for Peterman and Gallant, respectively, in the convincing win.
Canada plays one game tomorrow, and it's a big one. Canada takes on the undefeated Scottish duo featuring Olympic women's gold-medallist Muirhead and Olympic men's silver-medallist Lammie at 2 p.m. ET.
"It's going to be strong game and it will be a battle. They're great players, but we're up to the task. There are a lot of really strong teams here. If we can get a handle on the ice early in the game and get our rocks in the right spots then we'll have a good chance," Gallant said.
The top three teams in both pools advance to the playoffs with the top two seeds receiving a bye to the semifinals, while the remaining four teams play in the first round. The gold- and bronze-medal games will be played on Saturday.
TSN will broadcast select Canadian round-robin games and all playoff games. For its complete broadcast schedule, click here.
For Team Canada updates, go to www.curling.ca. Follow us on Twitter, Instagram and Facebook.

For the list of teams, draw information and live scoring, visit the event website.
The French version of this story will be posted as soon as possible at www.curling.ca/?lang=fr