Quality game!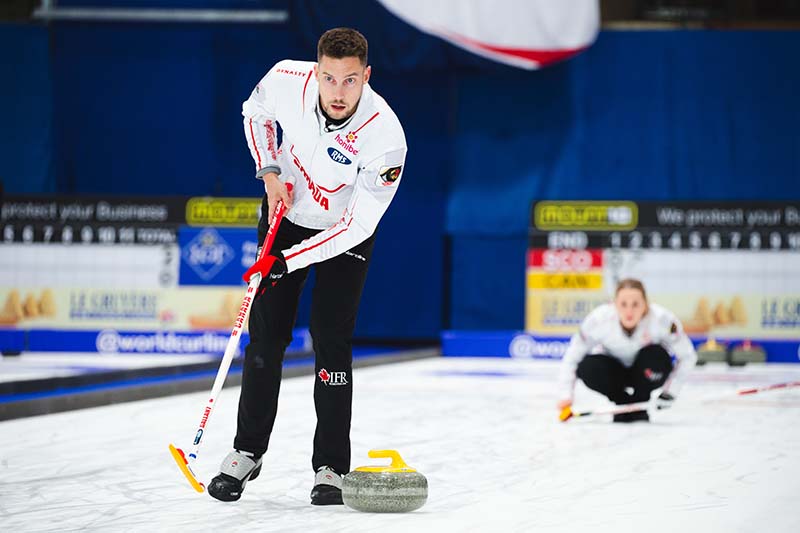 Canada's Peterman/Gallant fall short in bout with Scotland at 2022 World Mixed Doubles Curling Championship
GENEVA, SWITZERLAND — What Canada's schedule lacked in quantity on Monday made up for in quality. Quality shotmaking. Quality strategy. A quality opponent.
In the end, Canada's Jocelyn Peterman (Winnipeg) and Brett Gallant (St. John's, N.L.), along with coaches Scott Pfeifer and Lisa Weagle, succumbed to Scotland's Eve Muirhead and Bobby Lammie 8-4 at Sous-Moulin Sports Centre in Geneva, Switzerland.
This game against Muirhead, the 2022 Olympic women's curling gold medallist, and Lammie, who won Olympic silver in the men's competition this season, had all the makings of a heavyweight bout. Each team was maneuvering and scheming its way to the centre of the house, mastering angles and limiting chances for its opposition. The game was filled with numerous strategical discussions, timeouts on back-to-back shots and a few situations where the team with the hammer opted to throw away their last stone instead of making a risky play into the house.
It wasn't until the seventh end when Scotland managed to gain the inside track and pull away with the game by scoring four with its power play.
"It was pretty tight. In a few ends they seemed to have the angles in their favour a little more than us, and we just weren't able to get the angles set up to give us a chance for more than singles," Gallant said. "We had a really good power play and Eve played a really nice freeze. It looked like we could of had a chance for more than two that end. But I think they just played really well and set up the angles nicely. We did too for a bit, but they had a great power play in the seventh. We had a couple of misses, and that was the game."
The win elevates Scotland to 4-0, and Canada is right behind with a 3-1 record.
Canada hoped to score a couple of points in the first end, but a closing shot from Muirhead doubled out a few Canadian stones and forced Peterman and Gallant to draw for one. Canada returned the favour in the second, keeping Scotland to just one.
In the third, Scotland put Canada in a position where throwing its last would be too risky and decided to take one instead.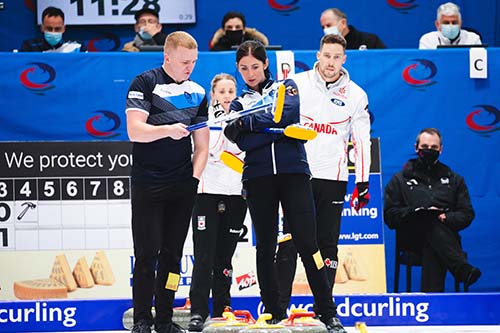 There was no crooked number on the scoreboard until the fourth end when Scotland found its way to two points and then added to its lead in the fifth with a steal of one. Once again, Canada was put into a situation where it decided not to throw its last due to the risk.
Canada used its power play in the sixth end, and it looked like it could pay big dividends with a series of rocks scattered in the 12-foot. Scotland narrowed the scoring zone on its last shot of that end with a freeze, so Peterman/Gallant took two points with a draw to tie the game.
Muirhead and Lammie took advantage of some Canadian half-shots in the seventh end for a big four score and ran Canada out of rocks in the eighth.
"I think both teams made a lot of shots, and we just got caught on a couple there in seven. But besides that, it was a really well-curled game, and we still wanted to try and make a few shots in that last end. I joked that I didn't get to throw many shots, I had to throw my last one away a couple times, and I wanted to throw at least once more," Peterman said.
The four-ender was one of only a few opportunities for either team to take control of the game, with all four players shooting above 80 per cent: 85 and 84 per cent for Muirhead and Lammie, respectively, while Peterman curled 81 per cent and Gallant at 80 per cent.
"We knew that was going to be a good game and we'd have to play well. Even though it was a loss, I think we're feeling pretty confident with how we're throwing and how we played that game," Peterman said.
Peterman and Gallant are back on the ice Tuesday with two games. First, they take on Hungary's Ildiko Szekeres/Gyorgy Nagy (3-1) at 4 a.m. (all times ET), followed by Julie Zelingrova and Vit Chabicovsky of the Czech Republic (2-2) at Noon.
The top three teams in both pools advance to the playoffs with the top two seeds receiving a bye to the semifinals, while the remaining four teams play in the first round. The gold- and bronze-medal games will be played on Saturday.
TSN will broadcast select Canadian round-robin games and all playoff games. For its complete broadcast schedule, click here.
For Team Canada updates, go to www.curling.ca. Follow us on Twitter, Instagram and Facebook.
For the list of teams, draw information and live scoring, visit the event website.
The French version of this story will be posted as soon as possible at www.curling.ca/?lang=fr