WHEELCHAIR MIXED DOUBLES WORLDS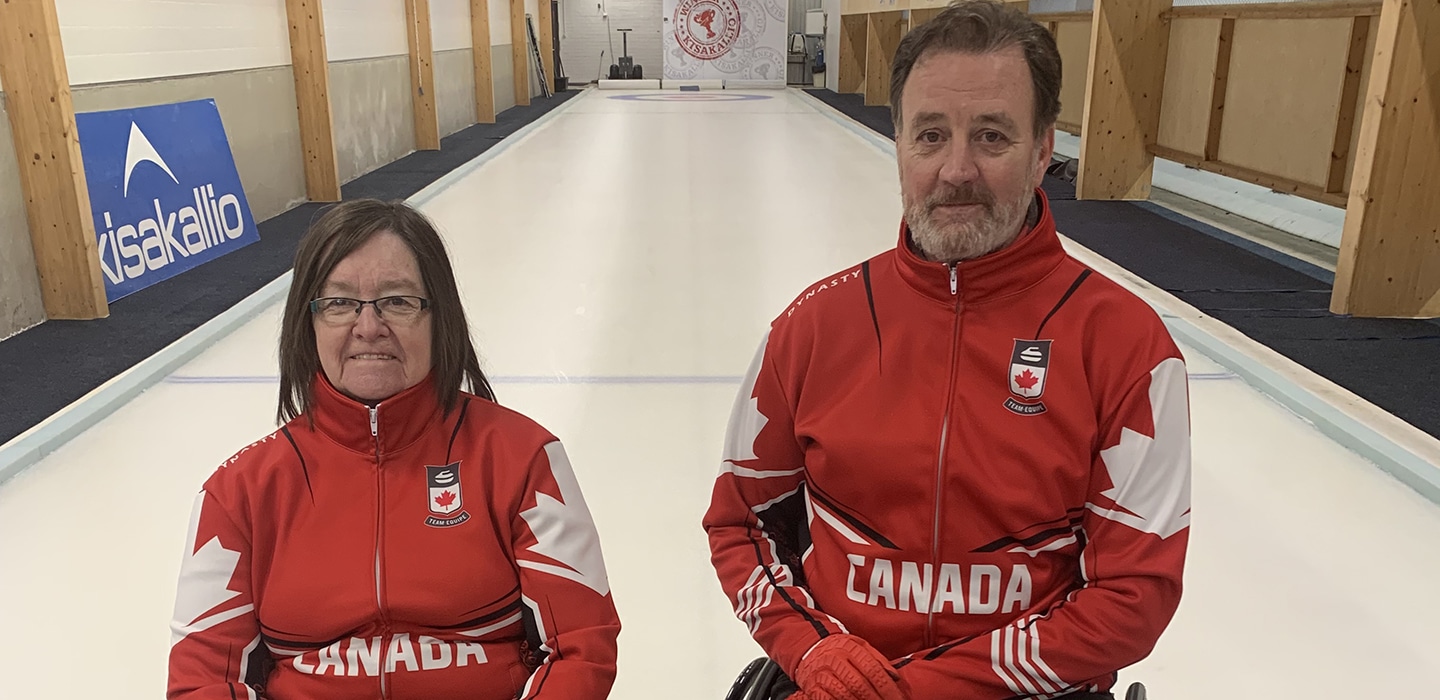 Canadians ready for Wheelchair Mixed Doubles Worlds
With the inaugural Wheelchair Curling Mixed Doubles World Championship just days away, Canada's athletes don't really know what to expect.
"I think it will be great," said Jamie Anseeuw (Winnipeg). "There are no expectations, because it's the first one."
Anseeuw, along with partner Marie Wright were selected from the National Team Program to act as Canada's representatives for the first mixed doubles wheelchair event, starting Saturday in Lohja, Finland. The 18-team event is split into two pools of nine, and will require an eight-game round robin before the playoff teams are decided.
As a new discipline, even the athletes aren't sure how the first championship will unfold.
"Some of the European teams have actually been playing a lot of mixed doubles over there," said Wright (Moose Jaw, Sask.). "We'll come up against some pretty good teams for sure."
"There's pressure because Canada is always one of the strongest countries in the world of curling," said Answeeuw. "But at the same time, because there are no expectations from prior championships, it takes some of that pressure away."
Instead of worrying about what they don't know, coach Dana Ferguson (Edmonton) has been working with the pair to make sure they focus on what they can control.
"They've worked really hard," she said. "Every time we got together, they put the work in. They put the practice in. They're doing all the stuff off the ice, which is all we can really ask for."
Ferguson, a Scotties Tournament of Hearts champion in 2019 with Chelsea Carey, is in her first season as coach of the wheelchair team. She admits there's been some on-the-job learning.
"Mixed doubles, even able bodied, is something that I don't think people have mastered yet," said Ferguson. "Adding in wheelchair mixed doubles – it's a little bit different. So every practice we talk, we learn, and that's all we can really do. So, the plan is to keep learning and use what we know to our advantage."
"For Dana to say she's new at this and doesn't know much – I don't buy that" says Wright. "She's taught us a lot. We've learned a lot from her, specifically about strategy and tolerances."
"We talk a lot about tolerance," said Ferguson. "We know when a shot needs to be played, and what you can't do, and what's okay. We've given that a lot of thought, so we know we can get something out of every shot. We know that if we stay within our tolerance, we'll get better success. Does that mean we're going to win every game? No. It just gives us something to focus on."
The pair of athletes, along with Ferguson and team leader Wayne Kiel arrived in Finland on Monday after a long journey from their training camp in Winnipeg.
"It was nice to have the opportunity to get together and practice," said Wright "It's given us a really good opportunity to read each other's rocks, and see how we throw. I think that's going to help too."
The team had a practice in Lohja on Wednesday, and will open the tournament on Saturday against Latvia. The Canadians are anxious to get started.
"I think because it's the first world championship," said Anseuw, "the whole country is waiting to see how we come out of it. There's a bit of pressure there, but I think it's good pressure. We're a solid team from a solid country so I expect good things."
"Anytime you can put the Maple Leaf on your back and represent your country, it's an honour," said Wright. "I'm really happy to have the privilege once again."
For scores visit: https://curlit.com/wwhmdcc/