Still Positive!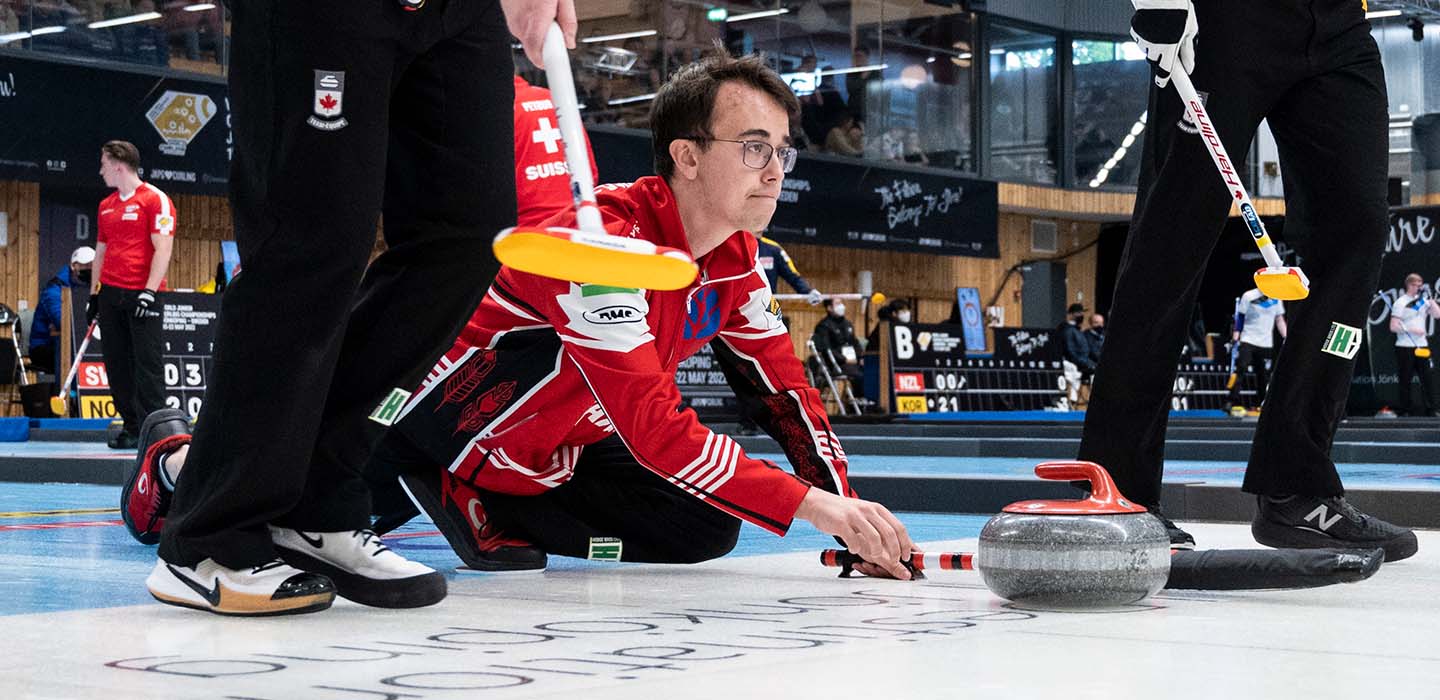 Canadian junior men's and women's teams complete first day of round robin at 2022 World Junior Curling Championships
Canadian junior men's and women's teams began their round-robin schedules at the 2022 World Junior Curling Championships in Jönköping, Sweden on Sunday. The teams played three games combined on opening day and were short of earning a win at the Jönköping Curling Club.
Canada's junior men's Team Owen Purcell (0-2; Halifax Curling Club) and junior women's Team Isabelle Ladouceur (0-1; Curl Sudbury) were winless in three games played at the Jönköping Curling Club. While the teams left the ice without a game in the win column, both remained positive that good things are on the way for the teams donning the Maple Leaf.
Purcell, vice-skip Joel Krats, second Adam McEachren, lead Scott Weagle, alternate Scott Mitchell, coach Anthony Purcell and team lead Jeff Hoffart started the day with an 11-10 loss against Daniel Casper of the United States. The high-scoring affair featured both teams scoring two three-enders apiece. In the end, the United States had a hit for two in the 10th for the win.
"That game was just about making the right shots at the right time, I found, and they did it a little bit better than we did. We paid the price for that, but that's perfectly fine. It was a tough loss, and I thought we played really well," Purcell said.
The United States opened the game with the hammer and scored two, but Purcell and his team played a hit and roll off their stone to score three and regain the lead. The United States attempted a hit and roll in the third end, but it was wide, and Canada stole two.
After a blanked fourth end, the United States made the shot of the day in the fifth. Casper successfully made a long angle-raise takeout to score three against Canada and tie the game at five. The United States maintained that momentum in the sixth with a stolen point, and Canada scored two with the hammer in the seventh.
The teams exchanged three-enders in the eighth and ninth ends – first, a draw for three by the United States in the eighth and a hit for three by Canada in the ninth. That led to a Canadian one-point lead in the last end, which the United States overcame.
Canada's Team Purcell hoped to bounce back in the evening but came up against a strong team from Germany skipped by Benjamin Kapp (2-0). Kapp, the son of two-time world silver-medallist and three-time world bronze-medallist Andy Kapp, led his team to two consecutive steals to secure a 7-2 win in seven ends.
"This game was definitely a tough game. We ran into a really hot German team. Benny Kapp's team, they played extremely well, and it was hard to get anything going against them. We're not terribly flustered with the loss because they played phenomenally. They outplayed us and deserved this one," Purcell said.
The teams traded single points in the first two ends. Germany blanked the third and scored two in the fourth. After that, Canada couldn't manage to put together a productive end with the hammer. Germany scored one in the fifth and three in the sixth. Team Purcell added another point in the seventh end and then conceded.
Despite the winless Purcell, the 2018 Canadian Under-18 champion, remains optimistic heading into the rest of the week. With at least seven more games to be played as Team Canada, Purcell believes there's still time to both embrace this opportunity and trust the process.
"I caught myself in a couple of moments today out on the ice where I was looking around and being like, 'wow, this is really cool.' To be playing in this venue against all these different countries is so amazing," Purcell said. "In terms of today, I think what we can take away from today is we just need to stay resilient. If we keep throwing our shots and playing our game, good things will happen. We just have to be patient."
The Canadian men's team has one game on Monday. It will take Italy's Giacomo Colli (1-1) at 8 a.m. (all times ET).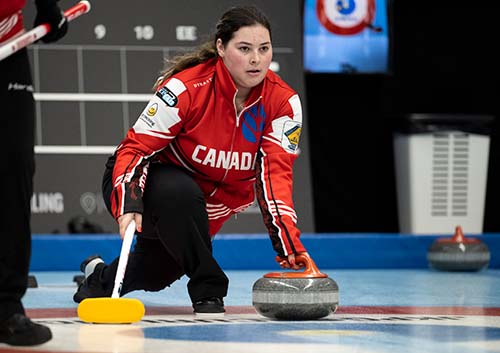 Meanwhile, the Canadian women's team fell short in a 9-7 effort against Scotland's Fay Henderson on Sunday afternoon in Sweden. 
Ladouceur, vice-skip Jamie Smith, second Lauren Rajala, lead Katie Shaw, alternate Katy Lukowich, coach Steve Acorn and team leader Lori Olson-Johns have been soaking in their first international experience together and are representing Canada for the first time at the event. However, with that opportunity comes some excitement and nerves to manage.
"It is an amazing experience, and I'm enjoying every single minute of it. It's really great to be here with my entire team and how we've made it this far. We're trying to enjoy the moment," Ladouceur said. "Going in, we were all feeling a little bit nervous. I think we started out strong, and then as the ice was changing, we weren't adapting quick enough. Now that we've got the jitters out, I think we have a clear-set plan on what we need to improve and how to sharpen things up and become more precise. We're looking ahead to taking the information we learned from this game and taking it forward into our next one."
Canada started its game against Scotland with momentum and soared to a 5-0 lead after two ends. Canada scored two in the first and stole three in the second.
However, there's an adage in curling that if a team is to give up big ends, it is best to do it early so there's more time in the game to come back. Scotland was tried and true in that process, responding with three of its own in the third, a steal of two in the fourth, and an additional steal of one in the fifth for its first lead of the game.
Scotland forced Canada into an open hit for one in the sixth and then took advantage of a heavy Canadian draw in the seventh to score two. Team Ladouceur had an opportunity to tie the game with a wide draw for two points, but it ticked off a stone in the top-12, and the Canadians settled for one. Scotland blanked the ninth end and kept the 10th end clean courtesy of a couple of tick shots, which allowed Fay and her team to make a draw for one and secure the win.
"Even though it wasn't the result we wanted, we just have to be adaptable. Things won't always go our way, but it's important to move forward. We were happy the game was close, and we just want to sharpen up a little bit," Ladouceur said. "It's just all the little things that go into curling because curling is such a precise sport; making sure we're reading the ice right, mapping all the changes, communicating. Those are little things that add up."
Team Ladouceur has two games on Monday. It takes on Switzerland's Xenia Schwaller (0-1) at 3 a.m., followed by Evelina Barone of Latvia (1-0) at 1 p.m.
Canada enters the 2022 World Juniors Curling Championships as defending champions in both the men's and women's events. In 2020, Team Mackenzie Zacharias and Team Jacques Gauthier won the women's and men's titles, respectively, in Krasnoyarsk, Russia. The event was cancelled in 2021 due to the COVID-19 pandemic.
The 10 teams of each gender play nine-game round-robin schedules, with the top four advancing to the semifinal playoffs on Saturday. The winners advance to the gold-medal game and losers will play in the bronze-medal game on Sunday.
World Curling TV's Curling Channel will stream select Canadian games with either light coverage (two static cameras, no commentary) or full coverage (multi-camera with commentary). To see the streaming schedule, click here.
For Team Canada updates, go to www.curling.ca. Follow us on Twitter, Instagram and Facebook.
For the list of teams, draw information and live scoring, visit the event website.
The French version of this story will be posted as soon as possible at www.curling.ca/?lang=fr