In the mix!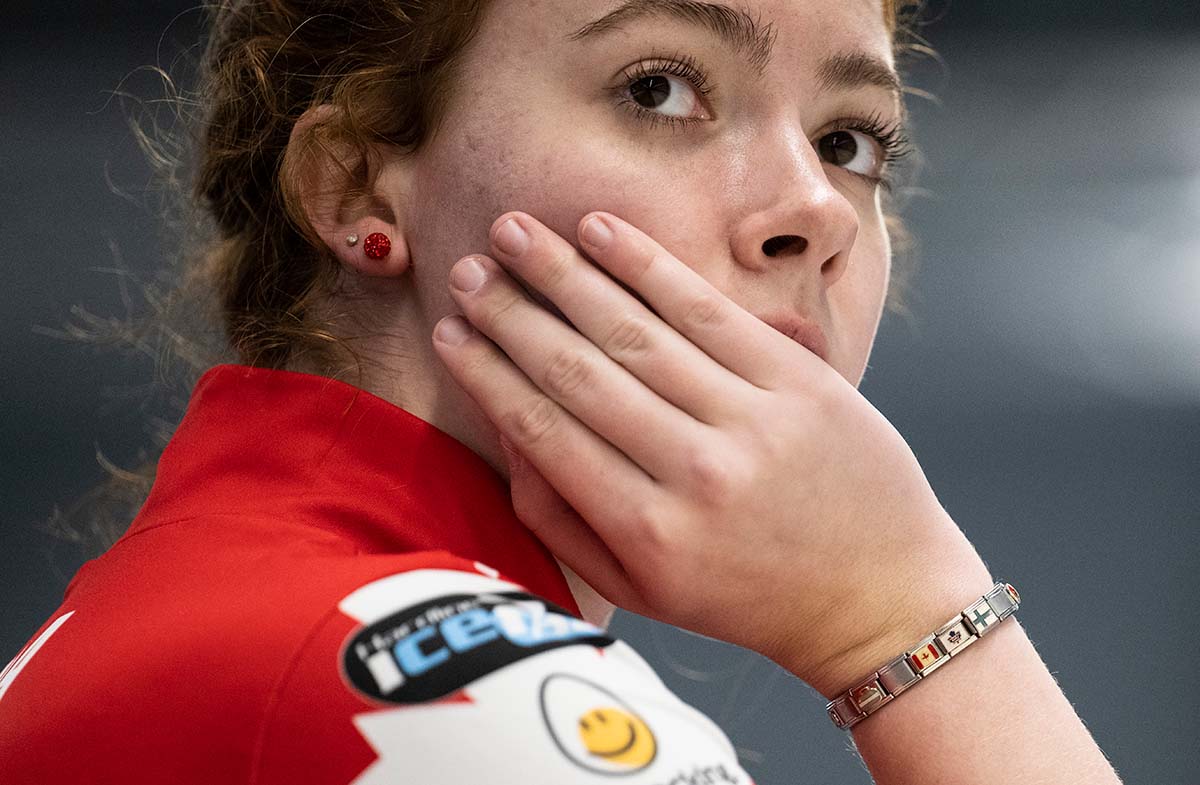 Canadian teams battling for playoff spots at 2022 World Junior Curling Championships
The Canadian junior men's and women's teams are now at the halfway mark of the round robin at the 2022 World Junior Curling Championships in Jönköping, Sweden and both teams are battling for contention in the playoffs this upcoming weekend.
As of Tuesday night at the Jönköping Curling Club, Canada's Team Owen Purcell (2-3; Halifax Curling Club) is in sixth place in the men's standings, while Team Isabelle Ladouceur (1-3; Curl Sudbury) is tied for seventh. Both teams are just outside of the playoff mix, where the top four teams of each gender advance to the playoffs, and are still in contention.
In the women's competition, Canada's Ladouceur, vice-skip Jamie Smith, second Lauren Rajala, lead Katie Shaw, alternate Katy Lukowich, coach Steve Acorn and team leader Lori Olson-Johns took on a tough test in undefeated Eirin Mesloe of Norway (4-0) and succumbed 11-5.
"I think we went into it with a positive mindset. We're not really thinking about the competition itself, but just focusing on how we play," Rajala said.
Trailing by one in the sixth end, Norway came off its own rock to sit two. Team Canada missed a freeze on its final shot, which gave Norway a draw for three and a four-point lead.
Canada attempted to come back and made a draw for three in the eighth end following a missed double attempt by Norway. However, Mesloe – competing in her fourth world juniors and won bronze at the 2019 world mixed championship as lead – put together a score of four in the ninth end.
Trailing by six, Canada conceded in its lone game of the day.
"We're all playing really well, and we're super proud of how we're doing right now. There are a few minor things that we're putting into work, and we're learning as we go," Rajala said. "We're putting together some really great ends. I think it's just a matter of stringing great end after end together and making those key shots when we need them."
It is not the first time Rajala has represented Canada on the international stage. In 2020, she played lead on the Canadian mixed team at the Youth Olympic Games in Lausanne, Switzerland. Now she's back at an international event for the second time in her career and has savoured every moment.
"No, it definitely doesn't get old. It's super amazing to be here, and I'm really proud to have a second shot at representing my country," she said.
On Wednesday, the Canadian junior women's team plays Sweden's Moa Dryburgh (2-2) at 3 a.m., and Karolina Jensen of Denmark (0-4) at 1 p.m. (all times ET).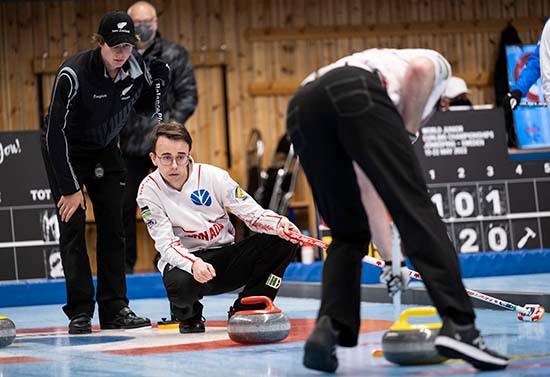 On the men's side, Canada opened the day with a 10-2 win against William Becker of New Zealand (0-5).
Purcell, vice-skip Joel Krats, second Adam McEachren, lead Scott Weagle, alternate Scott Mitchell, coach Anthony Purcell and team lead Jeff Hoffart started the game with a two-ender. Leading 3-2 to start the second half of the game, Canada went on a run, scoring two in the sixth, stealing single points in the seventh and eighth, and another steal of three in the ninth to end the game.
The evening game proved to be a more closely contested battle with Canada and Switzerland's Kim Schwaller (3-2) going to the 10-end distance.
Switzerland, up by one point and with the hammer in the last end, scored one to fend off a Canadian comeback attempt and win the game by 7-5. Switzerland has gained an edge on Canada in the race to the playoffs with the win.
Schwaller and his team obtained the upper hand earlier in the game, which put Canada in the position of playing catch up. In the fourth end, Canada led 1-0, but a four-ender by Switzerland gave the team a buffer which helped it cross the finish line as the victors of this game.
Switzerland forced Canada to one in the fifth. After trading scores of two, Schwaller and his team blanked the eighth end to put some pressure on Canada. Team Purcell replied by stealing a point in the ninth end and trailed by one without the hammer in the 10th.
On Wednesday, the Canadian junior men's team has one game on the docket. Team Purcell takes on two-time world junior bronze-medallist James Craik of Scotland (5-0) at 8 a.m.
The 10 teams of each gender play nine-game round-robin schedules, with the top four advancing to the semifinal playoffs on Saturday. The winners advance to the gold-medal game and the losers will play in the bronze-medal game on Sunday. 
World Curling TV's Curling Channel on Recast will stream select Canadian games with either light coverage (two static cameras, no commentary) or full coverage (multi-camera with commentary). To see the streaming schedule, click here.
For Team Canada updates, go to www.curling.ca. Follow us on Twitter, Instagram and Facebook.
For the list of teams, draw information and live scoring, visit the event website.
The French version of this story will be posted as soon as possible at www.curling.ca/?