Confidence-boosting win!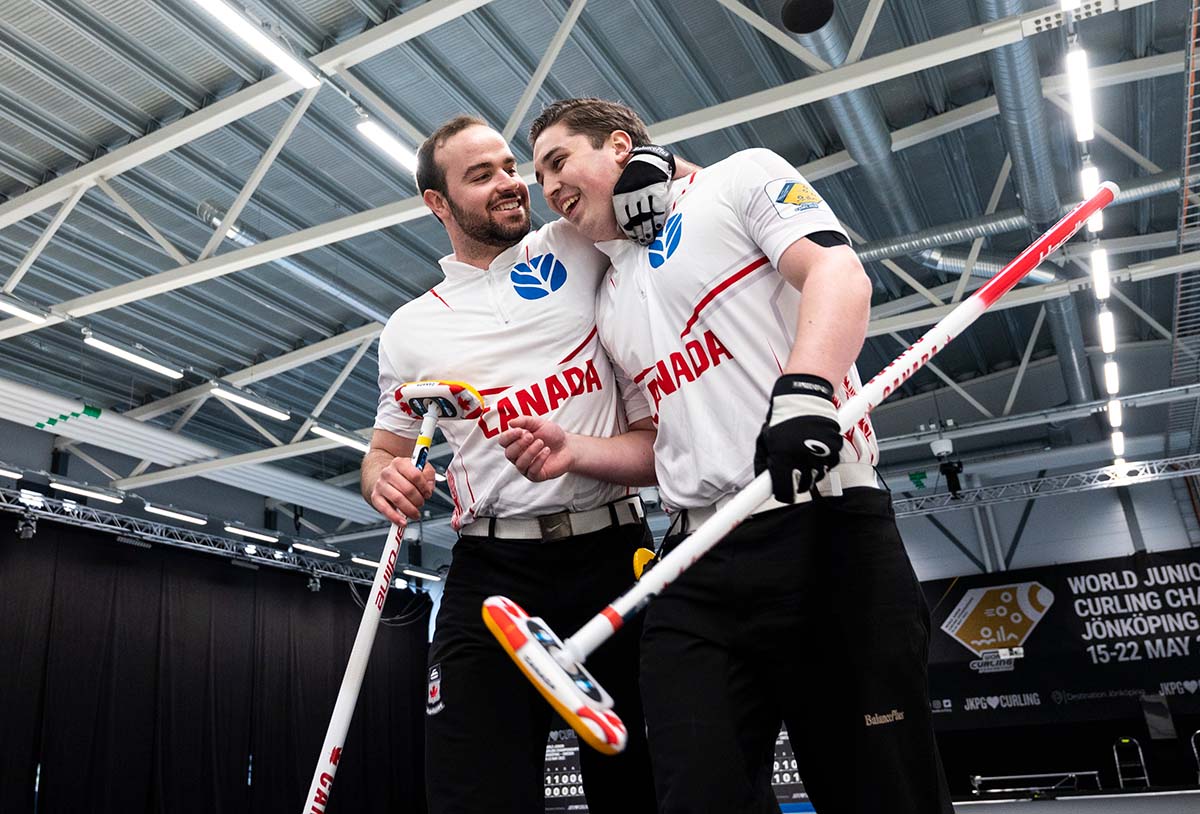 Canadian junior men defeat medal contenders, women split games at 2022 World Junior Curling Championship
The Canadian junior men's curling team found a big win against a medal contender, while the Canadian women's team split a pair of games on Wednesday at the 2022 World Junior Curling Championships.
Team Owen Purcell (Halifax Curling Club) improved to 3-3 at Jönköping, Sweden on the men's side, while Team Isabelle Ladouceur (Curl Sudbury) is at 2-4 in the women's competition.
Team Purcell found confidence after stealing the 7-6 extra-end win against a top tier and previously undefeated Scottish team led by two-time world junior bronze-medallist James Craik (5-1).
Two Canadian front-end stones picked during the extra end, and it led to some early frustration. However, Scotland's shot rock was on the back of the button and allowed Purcell to freeze up to it for shot stone. Scotland, needing to hit the Canadian stone with peel weight and on the nose, over-curled and hit it on the high side. Canada stole one and served Scotland its first loss at the national championship.
"They're an unreal team. I know they maybe didn't have their best game this game, but they're still a phenomenal team. That win does more than just put a win under the 'W' section of our record," said Team Canada second Adam McEachren. "Getting in a good win against a good team that's undefeated does a lot for our confidence."
Trailing 3-2 in the sixth end, Canada took a timeout to discuss its strategy with several rocks scattered around the four-foot. The team opted to punch one of its stones on the side of the four-foot further into the house and lock it onto another stone for backing. That led to Canada scoring three and taking a two-point lead in the game.
"That three in that end was huge," McEachren said. "We've been consistent with the hammer this week, but to get two up on those guys was massive."
Scotland blanked the seventh and tied the game with two in the eighth. In the ninth end, Canada faced a choice: a raise for a potential two or a more difficult high-weight double for three. Team Purcell opted for the latter but hit the intended stone too thin. Scotland stole a point and Canada kept the hammer in the 10th end. Canada scored one in that frame to force the extra end.
McEachren, skip Purcell, vice-skip Joel Krats, lead Scott Weagle, alternate Scott Mitchell, coach Anthony Purcell, and team lead Jeff Hoffart have three games left in the round robin and figure they must win the remaining games to secure a playoff spot. The win against Scotland was a great start.
"We could be playing better up until this point, but we're playing really well. It seems like every single time we play a team that is coming off a big loss, or they just had a phenomenal game and outplayed us," McEachren said.
But in the end, perspective is what prevails. McEachren is representing Canada for the first time in his career after losing a national championship final in the past. McEachren and Purcell lost the 2020 U SPORTS Curling Championship final representing Dalhousie University. That kind of loss puts into perspective how special this opportunity in Jönköping is.
Canada hopes to maintain its momentum on Thursday with two games on the docket. Canada starts the day at 3 a.m. against Jae Beom Lee of South Korea (3-3), followed by Norway's Grunde Buraas (5-1) at 1 p.m. (all times ET).
Canada split a pair of games Wednesday in the women's competition.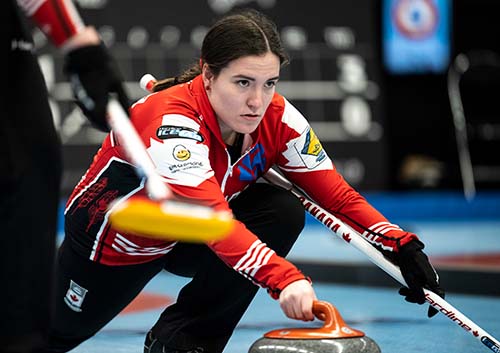 Team Ladouceur fell just shy of a win in the morning against Sweden's Moa Dryburgh (3-3) in a 9-8 loss.
Canada trailed by one in the fifth end and managed to take advantage of some missed draws by Sweden. Ladouceur and the team made a draw for three and took a one-point lead at the game's halfway mark.
However, Sweden struck back the following end with three of its own and then stole two points in the seventh after Canada rolled away on its intended nose hit for one.
Canada bounced back over the eighth and ninth ends. First, it made a hit for two in the eighth, followed by stealing two in the ninth after Sweden was heavy on a draw.
The game was tied eight apiece in the 10th end, but Canada couldn't sit shot stone on its last, meaning Sweden didn't have to throw its final shot to win.
In the evening, the Canadian junior women's team played Karolina Jensen of Denmark (0-6) and got back into the win column with an 11-7 victory.
Ladouceur and her team were simply efficient when they had the hammer. They opened the game with it and scored three points immediately. Canada was methodical over the next four ends by forcing Denmark to one, taking two with hammer and repeating the process until the fifth end for a 7-2 lead.
Denmark upped the ante in the sixth by scoring three points, but Canada maintained its orderly fashion and continued by scoring two in the seventh end. The teams traded scores of two in the eighth and ninth ends to finish the game.
Up next, the Canadian women play Delaney Strouse of the United States (5-1) in a battle of North American teams at 8 a.m.
The 10 teams of each gender play nine-game round-robin schedules, with the top four advancing to the semifinal playoffs on Saturday. The winners advance to the gold-medal game and losers will play in the bronze-medal game on Sunday.
World Curling TV's Curling Channel on Recast will stream select Canadian games with either light coverage (two static cameras, no commentary) or full coverage (multi-camera with commentary). To see the streaming schedule, click here.
For Team Canada updates, go to www.curling.ca. Follow us on Twitter, Instagram and Facebook.
For the list of teams, draw information and live scoring, visit the event website.
The French version of this story will be posted as soon as possible at https://www.curling.ca/?lang=fr