Pan Continental tickets on sale!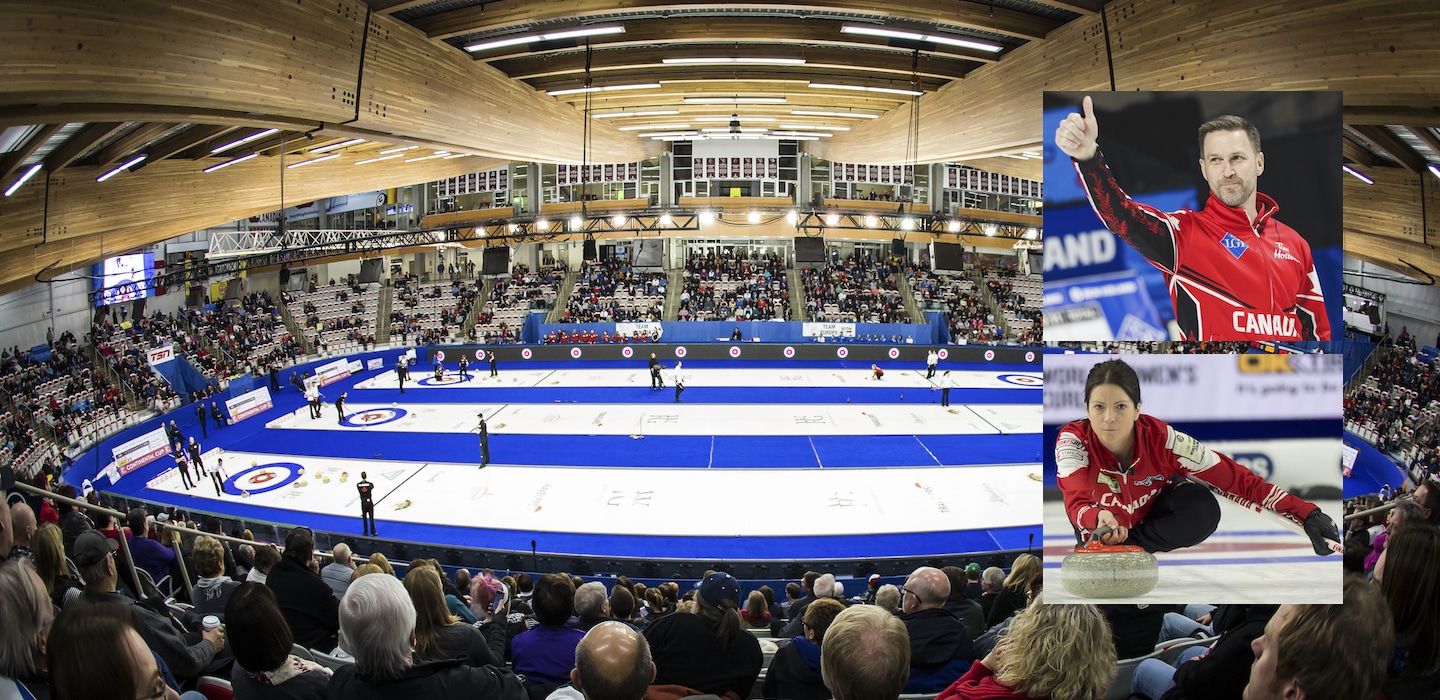 Ticket plans, broadcast details, set for inaugural Pan Continental Championships in Calgary
Canada's reigning men's and women's championship teams will have home-ice advantage when the inaugural Pan Continental Curling Championships kick off on Oct. 31 at the WinSport Event Centre in Calgary.
Home-ice advantage for Team Brad Gushue and Team Kerri Einarson will also mean plenty of Canadian fans in the building to cheer them on, and tickets are now available to watch this historic event, which will match the best teams from North and South America and the Asia-Pacific region, all looking to qualify their countries for the world championships later this season.
With Canadian teams on the ice for 15 of the 16 round-robin draws (which alternate between men's and women's games), there will be no shortage of opportunities to watch Team Gushue and Team Einarson, and no shortage of ticketing options for fans, including the following:
Full event packages: $231
Weekend playoff packages (all Saturday/Sunday draws): $105
Weekday single draws: $15.75
Weekend single draws: $31.50
Advance tickets can be purchased through Ticketmaster online or in person during the event at Winsport. All tickets are subject to standard ticket service fees. For more information go to www.curling.ca/pan-continental-curling-championship-ticket-info/.
You can view the full event schedule by CLICKING HERE.
Team Einarson and Team Gushue earned the right to compete in Calgary by winning the 2022 Scotties Tournament of Hearts and 2022 Tim Hortons Brier, presented by AGI, respectively.
The top five finishers in the men's and women's A pools will automatically clinch berths for their countries (but not their teams) for the 2023 World Women's (March 18-26 in Sandviken, Sweden) and World Men's (April 1-9 in Ottawa) Championships.
As the host country for the World Men's Championship, Canada already has a berth, but Team Gushue needs to finish high enough to prevent Canada dropping into the B Division for the 2023 Pan Continental Championships.
The top four finishers after round-robin play will advance to the semifinals on Saturday, Nov. 5. The men's gold-medal game is set for Sunday, Nov. 6 at 9 a.m. (all times Mountain), and the bronze-medal game is Nov. 5 at 6 p.m.
The women's gold-medal game is Nov. 6 at 6 p.m., with the bronze-medal game at 1 p.m. on Nov. 6.
The women's A Division in Calgary features Canada, the United States, Brazil, South Korea, Japan, Chinese Taipei, Hong Kong, Kazakhstan and Australia. The men's A Division consists of Canada, the United States, Brazil, South Korea, Japan, Kazakhstan, Chinese Taipei and New Zealand.
The Chinese Curling Association announced on Wednesday that its teams were withdrawing from the event.
TSN and RDS, Curling Canada's longtime Season of Champions broadcast partners, will deliver selected games from the Pan Continental Championships.
Check TSN's and RDS's schedules for updates.
Running concurrently with the A Division competition will be the Pan Continental B Division Championships at adjacent Arena B. The B Division men's and women's champions will advance to the A Division for the 2023 Pan Continental Championships, while the last-place men's and women's finishers from the A Division will drop to the B Division for 2023.
B Division draws will be free to watch in Arena B, subject to capacity limitations. Men's teams will come from Australia, the Dominican Republic, Guyana, Hong Kong, India, Kenya, Nigeria, Qatar and Saudi Arabia. The women's field comprises the Dominican Republic, Kenya, Mexico, New Zealand and Nigeria.
CLICK HERE to see the full schedule.