Title Partners!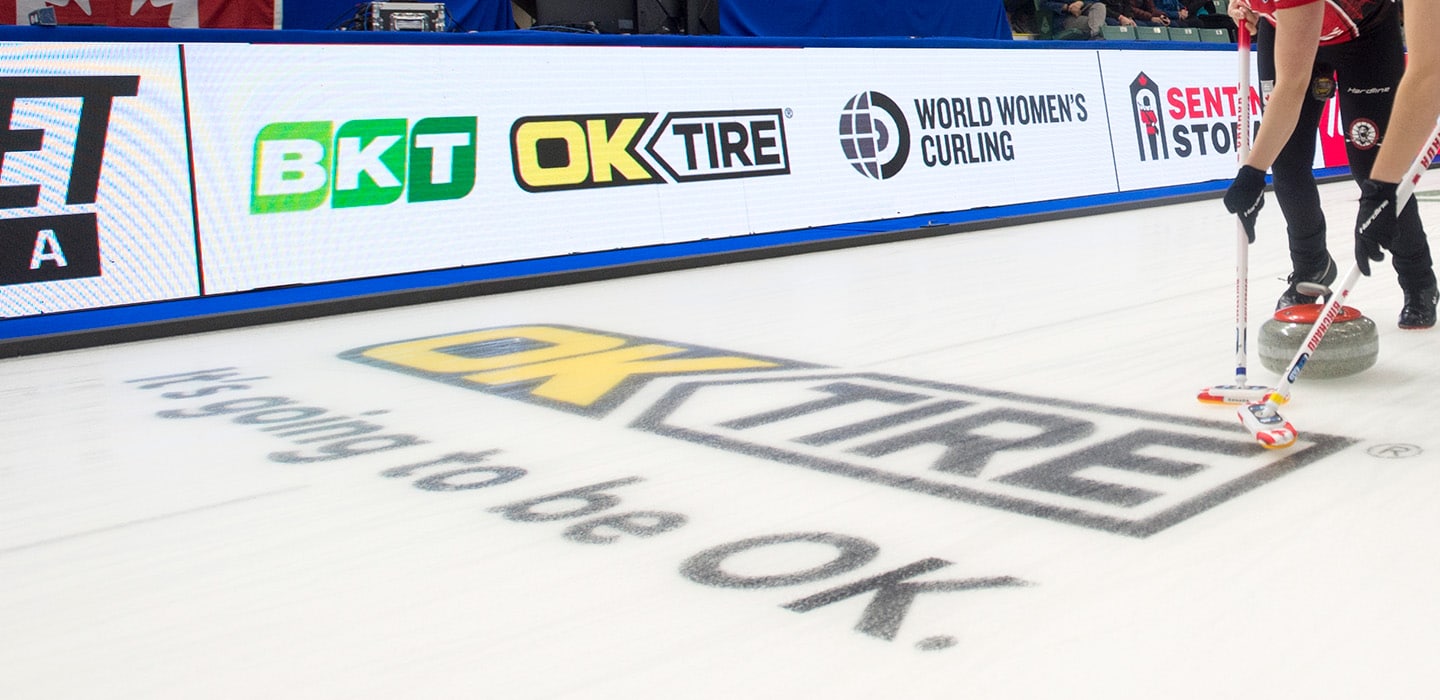 BKT Tires and OK Tire named title partners of 2023 World Men's Curling Championship
Two of Curling Canada's prominent supporters are rolling their support behind an upcoming international curling event in Canada next April.
BKT Tires and OK Tire will continue their partnership with Curling Canada and the World Curling Federation as the title sponsors of the World Men's Curling Championship.
The 2023 BKT Tires & OK Tire World Men's Curling Championship is scheduled for April 1-9 at TD Place in Ottawa.
BKT Tires and OK Tire started its renewed partnership with Curling Canada for the 2022-23 Season of Champions events at the inaugural 2022 PointsBet Invitational in Fredericton.
"Curling Canada looks forward to working with BKT Tires & OK Tire to put on another exciting World Curling Championship in Canada's capital this April," said Katherine Henderson, Chief Executive Officer of Curling Canada. "We are entering a brand-new quadrennial in the sport, with plenty of potential to grow the game at all levels and introduce it to new audiences. We're thankful to enter this new chapter with support from our two partners."
World Curling Federation President Beau Welling said, "We are happy to have BKT Tires & OK Tire named as the title sponsors for the World Men's Championship 2023. After their successful title sponsorship of our world women's championship in 2022 and the men's event in 2021 we are pleased to have them back as a title sponsor of the world men's championship."
BKT Tires and OK Tire and Curling Canada's partnership dates back to 2020 when the companies were named as the joint title sponsors for the 2020 Continental Cup in London, Ont. BKT Tires and OK Tires have since took on the title sponsorship of the men's or women's world championship hosted in Canada every year since. The companies supported the World Men's Curling Championship staged in Calgary in 2021 and the World Women's Curling Championship staged in Prince George, B.C., in 2022.
While the Group foundation dates back to the 1950s, Balkrishna Industries Limited (BKT) started its Off-Highway tire business in 1987. For more than 30 years, BKT has successfully focused on specialist segments such as agricultural, construction and industrial, as well as earth-moving, port and mining, ATV, and gardening applications. As a result, BKT has developed into a global player in the Off-Highway tire industry, offering an extensive product range of more than 32,2700 high-performance specialist tires sold in more than 160 countries worldwide.
"We are delighted to renew this partnership and to continue supporting curling and its fans," said Rajiv Poddar, Joint Managing Director at BKT Tires. "It is a fascinating sport that is gaining more and more well-deserved attention worldwide. BKT feels proud to share this passion with fans. Sport creates incredible and indelible bonds. Indeed, as a company we believe sport can promote positive values and relationships in society, this is why we continue supporting curling and many other initiatives."
OK Tire is Canada's largest independent tire and automotive service retailer network. Part of the Canadian fabric since 1953, there are more than 325 independently owned and operated OK Tire locations across the country offering a full range of both retail and commercial services. Each franchise is unique within its community, tailoring its offerings to meet customers' needs, and covering everything in, around, on or behind any vehicle.
"Sport is at the heart of our initiatives, and we are proud of our Canadian teams and advocate for the power of sports and its positive impact in the communities our locally owned stores live and serve," said Jim Bethune, President and CEO, OK Tire. "We are thrilled to carry on our partnership with BKT Tires in support of Curling Canada, cheering for our Canadian teams."
Ticket packages for the 2023 BKT Tires & OK Tire World Men's Curling Championship are now on sale. Championship weekend ticket packages can be purchased from $199 and full-event packages are available for as low as $399.
All ticket packages are subject to standard facility and ticket service fees.
Tickets will be available online at curling.ca/tickets or in person at the TD Place box office. Phone inquiries can be made by calling 613-232-6767 ext. 8221.
Opening weekend and weekday packages will go on sale in November, while a date for single-draw tickets will be announced at a later date once television and draw schedules are finalized.
The host committee is also seeking volunteers for the event. Anyone interested in contributing to this event's success as a volunteer can register online here.