Four teams remain!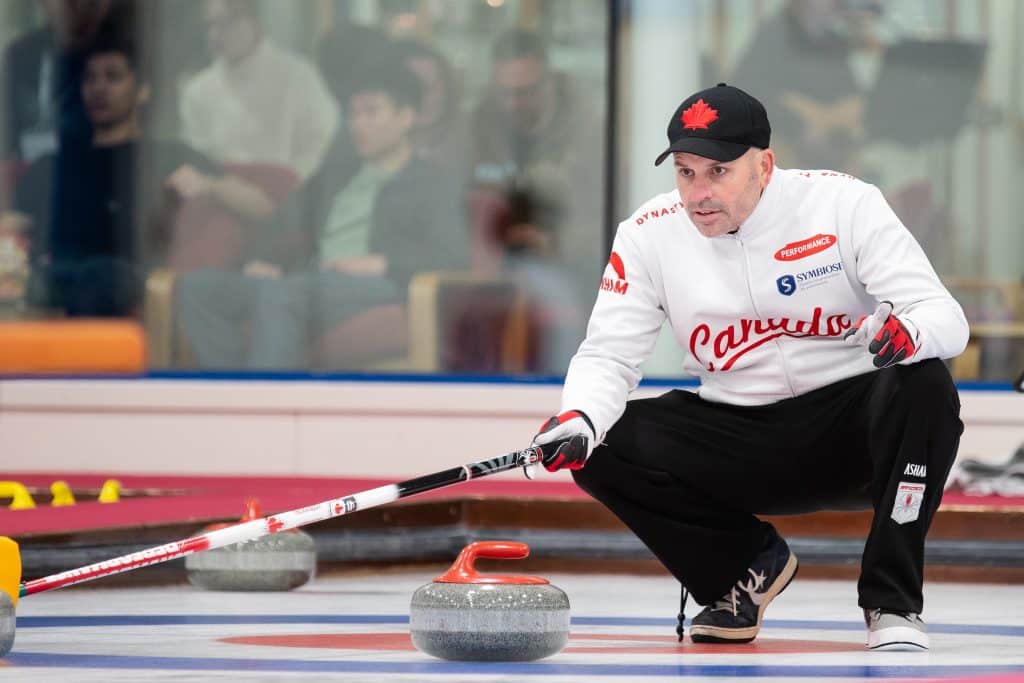 Canada defeats Italy then FInland in playoffs to earn semifinal berth at 2022 World Mixed Curling Championship
It may have been the long route, but Canada has kept its gold medal aspirations alive with two playoff wins on Friday at the 2022 World Mixed Curling Championship in Aberdeen, Scotland.
Having qualified for the playoffs by finishing second overall in group A and facing two must-win games on Friday, the Canadian roster of skip Jean-Michel Ménard, third Marie-France Larouche, second Ian Belleau, lead Annie Lemay and coach Eric Sylvain (9-1; Etchemin/Des Collines, Québec) extended its winning streak to an impressive eight games downing Italy (5-3; Denise Pimpini) 9-5 in a qualifier match followed by besting Finland (7-2; Markus Sipila) 9-6 in an extra end in the quarterfinal.
Hard fought wins and clutch offense were integral to Canada's success in earning its semifinal berth.
First facing Italy in a playoff qualifier match, the two teams would trade scores of singles and threes to be tied 4-4 after the fourth end. Canada would find an extra gear scoring three in the sixth with hammer followed by stealing 2 in the seventh to create a 9-5 lead.
Italy would concede the match as x's would be posted in the eighth setting the table for a quarterfinal match versus Finland, who were the only team to serve Canada a loss during round robin play in draw 5 by a 5-3 score.
The quarter final would prove to be one of Canada's toughest matches yet.
Both teams would play patiently looking for each other to falter in an effort to capitalize on opportunities, but steady play would see the score deadlocked at 2-2 after four ends. 
Canada would find traction in the fifth scoring a deuce then forcing Finland to a single in the sixth. Pressure from Canada with hammer would continue as it posted another score of two in the seventh extending its lead to 6-3 heading into the final end. 
Up three, Canada would fight hard to defend but surrendered three points to Finland to force the game to an extra end. With elimination on the line, Canada was successful in its attack scoring three points of their own in the extra end marking a 9-6 final.
The win now earns Canada a semifinal berth versus undefeated Switzerland (9-0; Ursi Hegner) on Saturday at 4:30 a.m (all times Eastern). Scotland (9-1; Cameron Bryce) will take on Sweden (9-0; Therese Westman) in the other semifinal.
Winners of the semifinals will compete for gold while those defeated will play for the bronze. Both medal games are scheduled for Saturday at 9:30 a.m.
Draw, live scoring, rosters and more information are available here: https://worldcurling.org/events/wmxcc2022
World Curling TV will provide static camera coverage of all games on the Curling Channel.

This story will be available in French as soon as possible here: https://www.curling.ca/category-all-posts-fr/?lang=fr