Ending the drought!
Nunavut snaps six year mixed winless streak at 2022 Canadian Mixed Curling Championship
Nunavut skip Peter Mackey is a player who has a lot of heart.
And that's not just alluding to the heart crests he's earned through his impressive national championship resume either. Mackey has earned hearts in an array of colours representing Nunavut at Canadian national curling championships. He's an experienced curler with range in his positional availability whose resume spans three mixed appearances, three seniors and four purple hearts at the Tim Hortons Brier (18, 19, 21, 22).
Though the accolades are impressive, Peter and his Iqaluit Curling Club squadron of vice-skip Geneva Chislett, second Jeff Nadeau and lead Robyn Mackey will also often win the hearts of the opposition through their camaraderie and embody the spirit of curling with their conduct on and off the ice.
And though Peter, by his own admission, knows that Nunavut won't be competitive in all their matches, they continue to smile and play hard. Needless to say, they're a popular bunch with curlers, volunteers and fans alike.
That popularity manifested itself into a lot of smiling faces for Nunavut on Monday afternoon at the 2022 Canadian Mixed Curling Championship from the Prince Albert Golf & Curling Centre as draw 4 saw Nunavut defeat British Columbia's Miles Craig (1-1; Victoria) by a 6-4 score.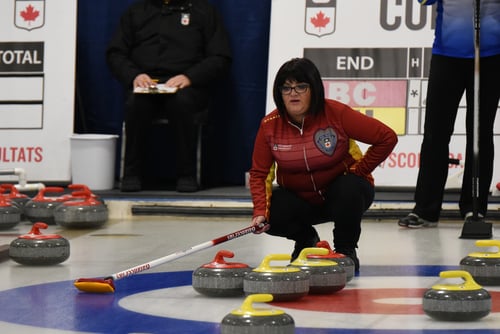 The win marks the first victory at Canadian mixed for Nunavut since 2016-2017 where skip Ed MacDonald went 2-7 defeating Prince Edward Island and the Northwest Territories. None of Nunavut's 2022 roster was part of the 2016-2017 rink.
Mackey is naturally elated by the victory.
"We are excited," said the Nunavut skip emphatically in a post game media scrum. "We've come close before and lost it after the first four ends and then got blown out, so that was in our mind."
Though Mackey naturally had tempered expectations because of the aforementioned blow outs, Nunavut found itself up 5-0 on British Columbia after three ends by way of three consecutive steals, including a strong opening salvo scoring three in the first end.
"We got rocks in and he was trying to hit and roll in on a couple and was just wide and ticked ours," said Mackey painting the scene of the first end steal. "I threw another one down on my shot and on his last shot? He had a shot, a hit and roll in, but was just wide."
The momentum continued to build for Nunavut, but old skeletons remained in Mackey's closet which needed to be suppressed to maintain focus.
"After the fourth end, we were saying 'take it easy, relax' and what we did instead of doing what we've done before, which is try to hit everything, we said 'let's play a draw game, let's get our rocks in there and make some shots.'"
Mackey recognized that even though hitting with a hefty lead is what the conventional strategy would be, the team felt strong in their game plan and chose to execute the shots they knew they could consistently.
"Our draw weight was working for us," said Mackey. "So we didn't have to hit. As long as our draw weight kept working, which it did over the next four ends, we were fine."
British Columbia mounted a comeback continuing into the second half of the match and pulled within two points at the eighth end, but Nunavut would hold off the British Columbia attack with their crafty draw game for the win.
The win means it's celebration time for Nunavut and for a team as popular as they are? They won't have any issues finding new and old friends to revel in the victory with.
"We're off until 2 p.m. tomorrow so we can get to celebrating," said a gleeful Mackey. "We're going to celebrate in our normal Nunavut style with several drinks, enjoy our company and celebrate with anyone else who wants to celebrate."
In other draw 4 action on Monday afternoon, Nova Scotia's Paul Flemming (3-0; Halifax) stayed perfect defeating Prince Edward Island's Dennis Watts (1-2; Summerside) 4-2 in a low scoring affair while the Northwest Territories' Jamie Koe (1-0; Yellowknife) bested Newfoundland and Labrador's William Butler (0-2; St. John's) by a 5-2 score. Québec's Felix Asselin (3-0) remained undefeated with a commanding 8-2 win over host province Saskatchewan's Shaun Meachem (1-1; Swift Current).
The 2022 Canadian Mixed Curling Championship continues to roll Monday evening with draw 5 at 6 p.m. (all times Central) and draws on Tuesday at 10 a.m., 2 p.m. and 6 p.m.
Live-streaming coverage of the 2022 Canadian Mixed will be available on Curling Canada's YouTube page. You can access the broadcast schedule by CLICKING HERE.
For event, team and draw information, visit www.curling.ca/2022mixed.Draw scores/standings will be immediately available on Curling Canada's scoring website.