Inspired by the best!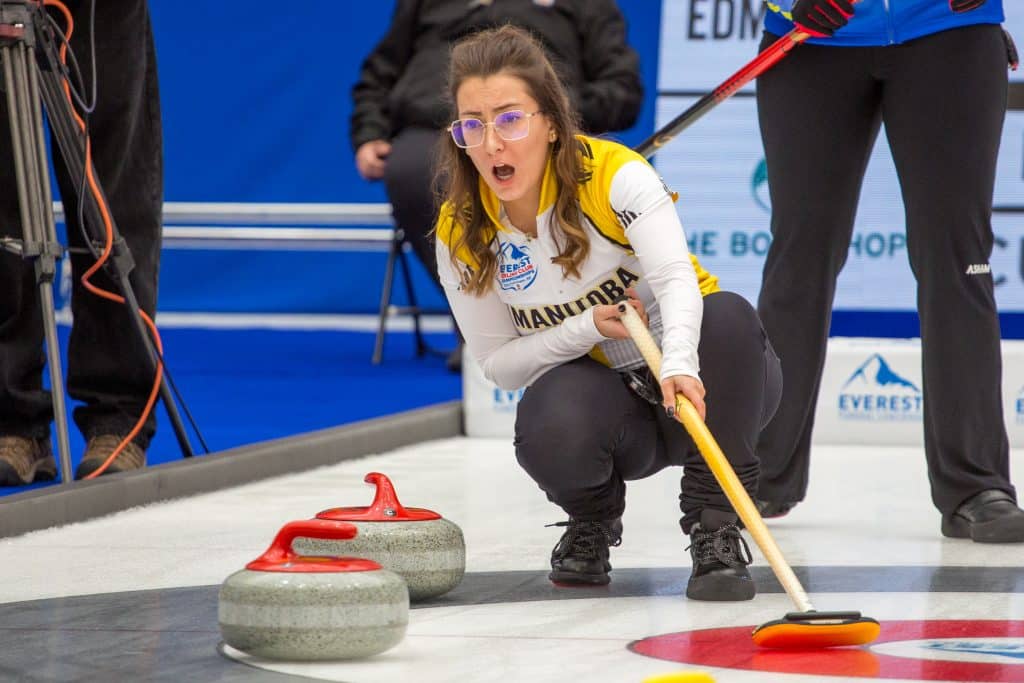 Club Champions Inspired by Household Names
All across the sheets of ice at the 2022 Everest Canadian Curling Club Championship you'll find curlers who have been influenced by some of the country's top names in the sport.
Several participants at this year's event in the West Edmonton Mall have leaned into support from Canadian and World Champions to help them become some of the best club curlers in their province and territory.
Manitoba skip Lisa Birchard credits sister-in-law Shannon Birchard of Team Kerri Einarson for helping prepare her and her team for this year's event.
"Shannon has been so inspiring for me to watch and she reached out to us to tell us what to expect with the arena ice that Greg (Ewasko) makes because we've never played on a surface like this," Lisa said after her team's second game and second win at this year's Everest Canadian Curling Club Championships.
Birchard, along with vice-skip Kelsey Meger, second Breanne Yozenko, lead Ciara Okumura and alternate Jenessa Rutter, defeated British Columbia 9-4 on Tuesday to improve their record to 2-0.
The team from the Pembina Curling Club in Winnipeg defeated Quebec 6-5 in their opening game on Monday. "We got a text from Shannon after that first game and we'll probably hear from her again this week, it's just so exciting to have all the support from back home," Birchard said of the encouragement she's received from the four-time Scotties champion.
"This is such an amazing event and I think more of this is needed to keep our sport and club curling going," Birchard added.
On the other side of the Manitoba win was a team that receives regular insight from a former national and world champion. BC's Kimberly Dennis is the stepdaughter of Greg McAulay.
The 2000 Brier and World Champion has been working with the team from the Delta Thistle Curling Club in Delta, BC throughout their preparations for the Everest Curling Club Championship.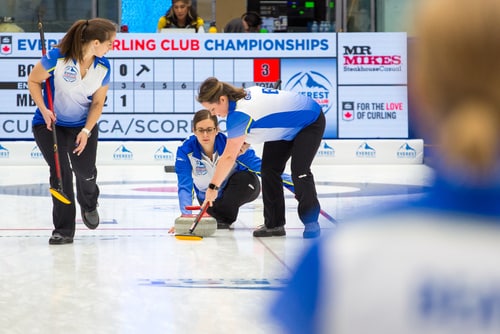 "It's incredible sitting and watching curling with him, we've had many strategy discussions over the years and it's incredible how he sees an end and the game unfolding," Dennis said of McAulay's insight.
Dennis, along with vice-skip Heather Beatty, second Allison Dentoom and lead Jennifer Gauthier, dropped to 1-1 on Tuesday afternoon.
Nova Scotia's Gilda Chisholm's curling mentor now holds the broom for her shots. The second from the Bluenose Curling Club in New Glasgow grew up cheering and admiring Meredith Harrison's junior career. Harrison is now Chisholm's skip at this year's Everest Curling Club Championship. Harrison won the 1997 Canadian Junior Curling Championships for Nova Scotia and bronze for Canada at the World Junior Curling Championships the same year.
"It's a surreal experience to get to play with Meredith now. She's a wonderful curler, such a great teammate and mentor on the team," Chisholm said before Nova Scotia won the team's second game of the event.
Jeff Clubine, second for Northwest Territories, credits three-time Tim Hortons Brier participant John Epping for having the biggest influence on his curling career. Clubine was in Peterborough, Ontario when a teenaged Epping recruited him to fill out their high school curling team's roster.
"He needed some extra people so I volunteered and he basically taught me the sport. We went to two provincial championships and we did pretty well, I mean we had John as our skip!" Clubine beamed. "I'm a big Epping fan and have followed his career ever since, so to be able to actually go to a national curling championship now as a club curler is incredible."
More recently Clubine said his team was influenced by knowledge from another high profile curler in attendance at the Everest Championships all week. "We got lots of information from re-watching our live-stream game from earlier and hearing Jennifer (Jones) commentate about the speed and curl of the ice."
Games from the 2022 Everest Canadian Curling Club Championships are live-streamed on Curling Canada's YouTube channel and features commentary from world men's champion Randy Ferbey, Olympic gold-medallist and world women's champion Jennifer Jones and Olympic silver-medallist Cheryl Bernard and world men's champion Brent Laing. The event is also streamed on the TSN app.
Leading the pack in men's action through Draw 6 is Quebec and Ontario both at 2-0 in Pool A. Manitoba and Northern Ontario are both 3-0 and Alberta is at 2-0 in the men's Pool B standings.
Women's Pool A standings are topped by Manitoba and Nova Scotia, both at 2-0 while Alberta and Saskatchewan are 1-0 and lead Pool B through Draw 6.
Fourteen men's teams and 12 women's teams (Nunavut and Yukon did not send a women's team) are competing in the annual event. The men's field is divided into two pools of seven teams and the women's has two pools of six. After the round robin, the top four teams in each pool will make a modified double-knockout playoffs, which begin Friday, Nov. 25, and conclude with the gold- and bronze-medal games on Saturday, Nov. 26.
On the final day between the semifinals and medal games, a variety of curling disciplines will be on display to mall-goers, including stick curling and wheelchair curling. Learn to curl opportunities will also be available for those passing by through opportunities with Curling Alberta.
For the up-to-date broadcast schedule, click here.
Scores and standings from the event are available at by clicking here.
For draw times, team lineups and other event info, click here.