Lasting Impression!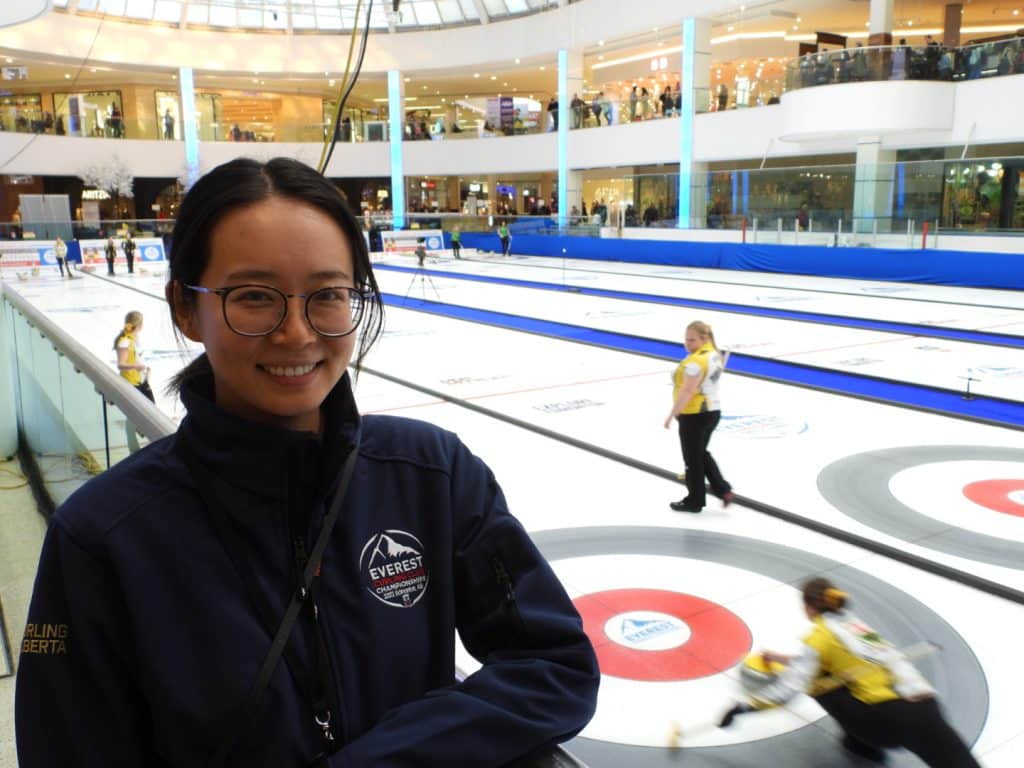 Freshman curlers, volunteers and mall goers impressed by 2022 Everest Curling Club Championships
Sophie Xie and Teng Rong had not set foot inside a curling facility until two months ago but this week at the 2022 Everest Canadian Curling Club Championships, the pair are logging dozens of hours as volunteers and soaking up every minute of the event.
The Edmonton couple first got hooked on curling while watching the 2022 Olympics in Rong's hometown of Beijing.
Xie and Rong quickly looked for local Edmonton options to take up the sport and found a welcome home at the Jasper Place Curling Club. When the couple got word that the Everest Curling Club Championship was coming to the West Edmonton Mall, they jumped at the chance to help out and see championship curling up close.
"It's pretty cool to see club curlers play at this level and see their technique at a place where I often shop," Sophie said before her volunteer shift on Wednesday as an online scorekeeper.
The husband and wife may have only started curling a few weeks ago but they're already inspired by what they've seen at the Ice Palace in the West Edmonton Mall.
"Everyone has been so friendly and the curling has been really exciting to see all week," Rong said before Draw 11.
Asked if we could expect to see him and his wife in an Alberta jacket at a future Everest Curling Club Championship, Rong was optimistic, "I have hope. Maybe I'm just a daydreamer, but hey, who knows!"
Jodi Judd is the skip of the Northern Ontario women and was the 1999 National Aboriginal Curling Champion. She hopes having curling be centre stage inside Canada's largest shopping mall will spark interest among more folks like the Xie's and among those in the Indigenous community.
"I think that would be amazing…If anybody out there, any First Nations people were to come out and try curling after seeing it here maybe for the first time, that would be so special," Judd said.
The skip from the Port Arthur Curling Club in Thunder Bay, Ont., admits her team, like many of the other teams, has yet to leave the West Edmonton Mall all week.
Judd, with vice-skip Judy Bouchard, second Kelli Stevenson, lead Tracey Berry and alternate Rhanda Doran, are still looking for their first win at this year's Everest Club Championship but their record on the ice hasn't dampened their spirits.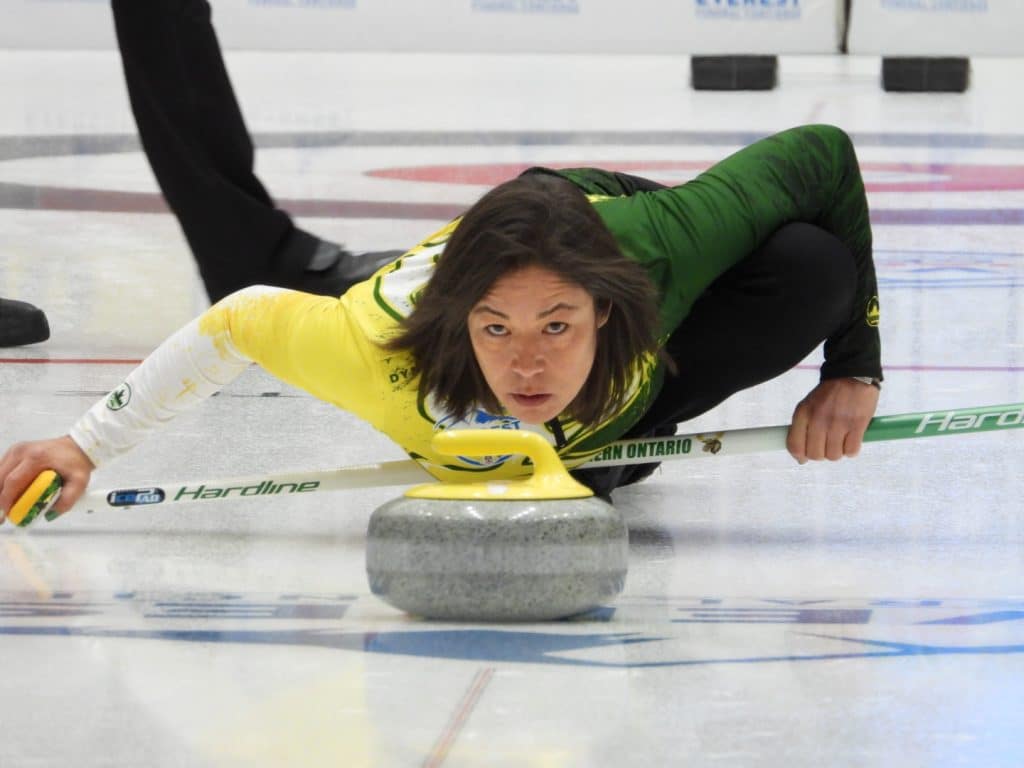 "When we've walked through the mall in our Northern Ontario uniforms they're asking us what the event is and I think this is really bringing a lot more spotlight to the game," Judd added "I want to take it all in but stay in the moment. We've all been trying for so many years to get here. I know our record isn't great but I just want to stay in the moment."
Northern Ontario was handed its fourth loss of the event by New Brunswick in Draw 10 on Wednesday evening. New Brunswick improved to 2-2 and is in the middle of the pack in women's Pool B action. Alberta's Vanessa McConnell and her foursome from the North Hill Curling Club in Calgary were handed their first loss of the event by Prince Edward Island in Draw 10. Alberta and Saskatchewan have 3-1 records with Ontario sitting at 2-2 in Pool B.
Women's Pool A standings also got more complicated after Draw 10. Newfoundland and Labrador upset previously undefeated Manitoba 8-6. Manitoba and Nova Scotia lead the pool with Quebec and British Columbia still in the mix with just one loss apiece after Draw 10.
In men's Pool A action Quebec and Ontario remain undefeated through Draw 10 with 3-0 records. New Brunswick and British Columbia sat in the third and fourth positions in Pool A before men's play resumed on Wednesday evening. Zachary Wasylik and his squad from Manitoba are the first men's team to reach 4-0 and lead Pool B. Host Alberta and Northern Ontario each have one loss in men's Pool B, while Saskatchewan has won back-to-back games to improve to 2-2 and stay in the hunt for a spot in the playoffs.
Fourteen men's teams and 12 women's teams (Nunavut and Yukon did not send a women's team) are competing in the annual event. The men's field is divided into two pools of seven teams and the women's has two pools of six. After the round robin, the top four teams in each pool will make a modified double-knockout playoffs, which begin Friday, Nov. 25, and conclude with the gold- and bronze-medal games on Saturday, Nov. 26.
On the final day between the semifinals and medal games, a variety of curling disciplines will be on display to mall-goers, including stick curling and wheelchair curling. Learn to curl opportunities will also be available for those passing by through opportunities with Curling Alberta.
Teams at this year's Everest Curling Club Championship are also competing off the ice. New this year is an online auction with unique items from across Canada that were contributed by the teams and Curling Canada. The three teams with the highest funds raised through the auction will win a team prize and a cash grant for their curling centre to invest in the programs and initiatives that matter most to their curling community. The auction closes Friday at 7 p.m. MT.
Games from the 2022 Everest Canadian Curling Club Championships are live-streamed on Curling Canada's YouTube channel and features commentary from world men's champion Randy Ferbey, Olympic gold-medallist and world women's champion Jennifer Jones and Olympic silver-medallist Cheryl Bernard and world men's champion Brent Laing. The event is also streamed on the TSN app. For the up-to-date broadcast schedule, click here.
Scores and standings from the event are available at by clicking here.
For draw times, team lineups and other event info, click here.