Superb Start, Saskatchewan!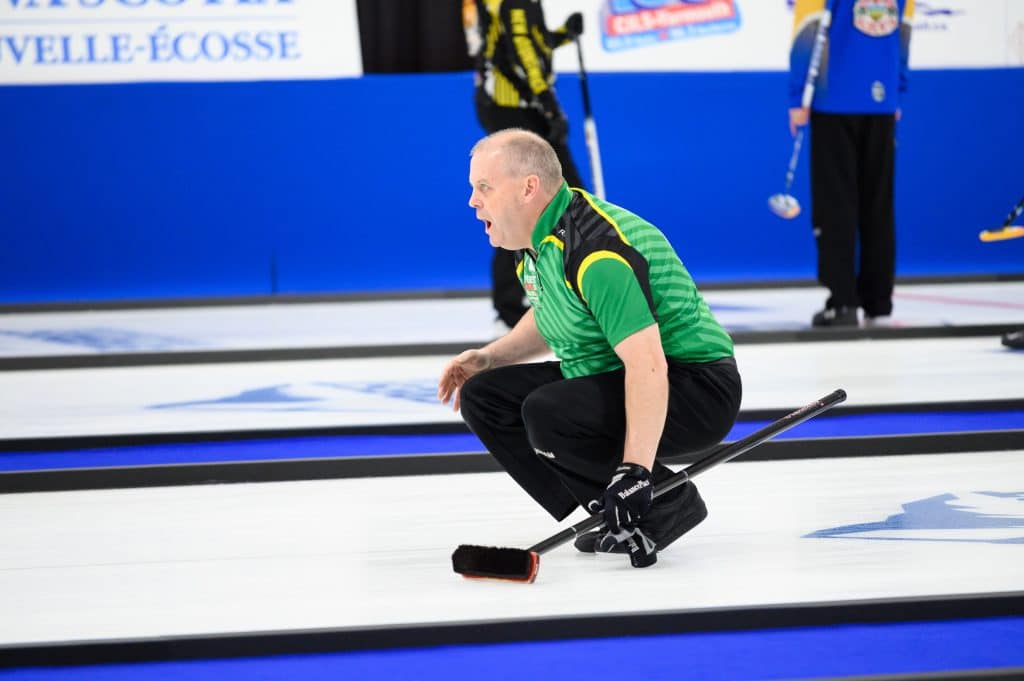 Saskatchewan men and women post opening wins at 2022 Everest Canadian Senior Curling Championships
With the opening draws of the 2022 Everest Canadian Senior Curling Championships from the Mariners Centre and Yarmouth Curling Club in Nova Scotia concluding on Sunday evening, fans of Saskatchewan curling have much to cheer about.
Both Sherry Anderson (1-0; Saskatoon) and Randy Bryden (1-0; Regina) were dominant in their openers at this year's Everest Canadian seniors event, with Anderson defeating Newfoundland & Labrador's Laura Phillips (0-1; St. John's) 8-1 and Bryden cruising to an easy 10-3 win over Prince Edward Island's Philip Gorveatt (0-1; Montague).
The stakes are high for Saskatchewan and Team Sherry Anderson, who can add to its most-championships-won record with a fifth-straight victory at the event. A fifth championship win in a row would further grasp the team's spot as one of the most extraordinary senior women's teams in the game's history.
Anderson, vice-skip Patty Hersikorn, second Brenda Goertzen and lead Anita Silvernagle of the Nutana Curling Club in Saskatoon are two-time world senior women's champions and will target that unprecedented fifth national championship amongst a tenacious field of women's teams.
Meanwhile, Randy Bryden and his team of vice-skip Troy Robinson, second Russ Bryden and lead Chris Semenchuck of the Callie Curling Club in Regina were dominant in their 10-3 win over Prince Edward Island, which was the feature match of the evening broadcasted live on TSN.ca as well as Curling Canada's YouTube page.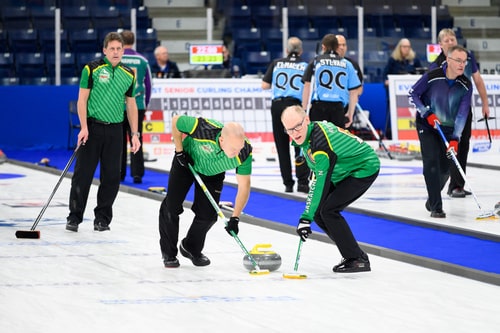 Bryden, who is playing in his first Everest Canadian Senior Men's Championship, says the first win is a great feeling and credits strong play from his team.
"It feels great to come to the nationals for seniors for the first time and win your first game," said a confident Bryden. "The guys played fantastic throughout the whole game."
Though the scoreboard reflects a lopsided victory in favour of Saskatchewan, it was a tough start for the rookie prairie representatives. Bryden and his team found themselves down 2-0 after the first end thanks to an unforced error on Bryden's part.
"I missed a wide open hit in the first end, and that didn't feel so good," remarks Bryden about the match. "But we were able to get two the next end to bounce back and tie it up."
The bounceback, as described by Bryden, would be strong enough to make a superball blush. The Saskawtchewan foursome saw their recovery quickly manifest into a steal of four in the third end to open up 6-2 lead.
"Then in the third, we had a real good end and stole four, and that was basically the difference in the game," said Bryden about the 10-3 victory over Prince Edward Island.
In a sport where mental toughness can be the difference maker, Bryden employs a simple strategy to recover from misses and unforced errors.
"I just don't do it again," laughed Bryden. "It's not the first time I've missed a wide open hit, so when I was younger, it probably would have bothered me more, and it still bothers me a bit, but it's over with and you move on to the next one ready to go."
Though nerves can accumulate for Bryden as an Everest senior nationals rookie, he and his team are keeping everything in perspective while balancing some ambitious goals.
"You come out to the first game and you're pumped to play and stuff, but it's a long week" details Bryden about his team's chances to be in the championship mix. "But we'll see. The guys played fantastic today and the ice was really nice to play on, so we'll keep our fingers crossed and see what happens."
Bryden and his Saskatchewan rink will try to build a win streak next facing the Northwest Territories' Glen Hudy while Sherry Anderson is set to take on Alberta's Diane Foster. Both matches are at 10 a.m. (all times Atlantic)
Live scoring updates for the 2022 Everest Canadian Seniors are available by clicking here. For event information, click here.
Games from the 2022 Everest Canadian Senior Championships will be live-streamed on TSN.ca as well as on Curling Canada's YouTube channel. For the up-to-date broadcast schedule, click here.