Ready in Finland!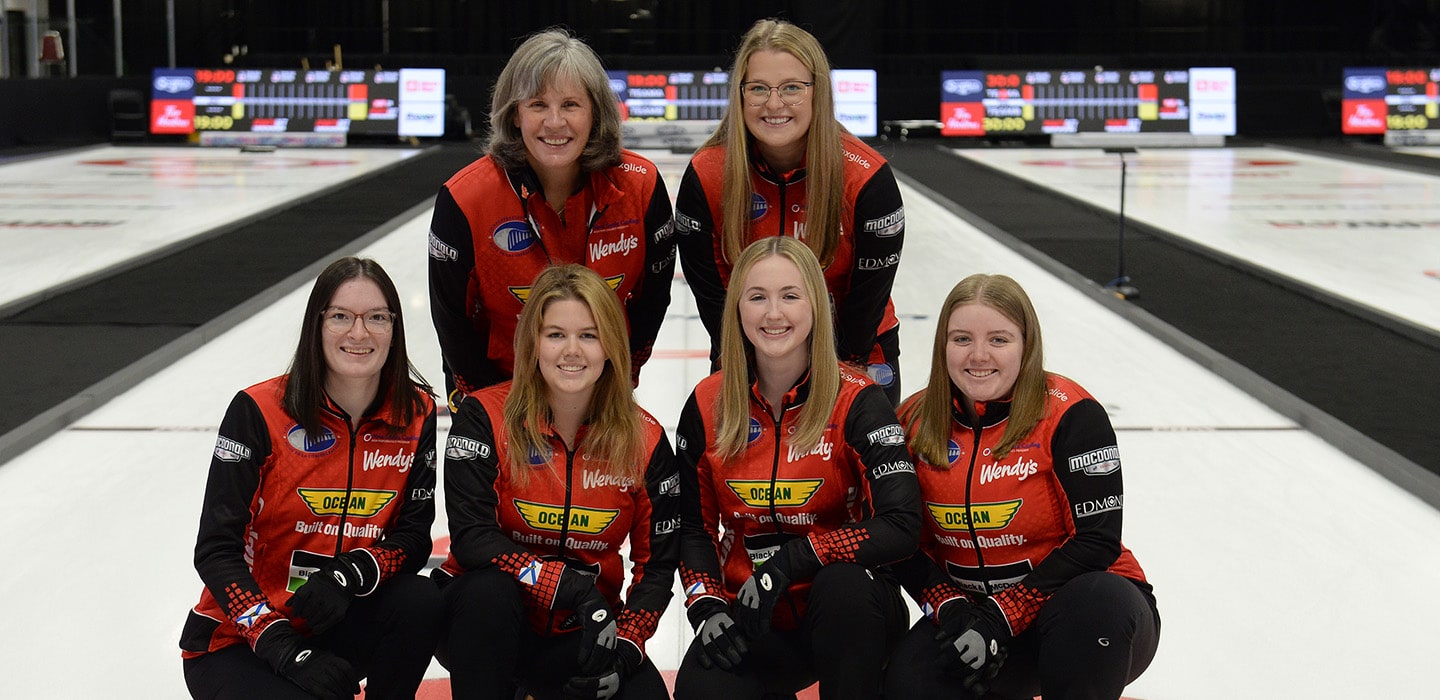 Canadian Junior Women's Curling Team Seeking World Juniors Spot at B-Event in Finland
Canada's U-21 women's team begins its quest to reclaim a spot in the 'A' event this week, as the foursome skipped by Ottawa's Emily Deschenes – formerly skipped by Halifax's Taylour Stevens – landed in Finland for the 2022-23 World Junior-B Curling Championships.
The mostly-Nova Scotian foursome of Deschenes, Lauren Ferguson, Alison Umlah, and Cate Fitzgerald completed the trip and was getting adjusted to the time change, looking forward to their first practice Tuesday in Lohja, a small city about 40 km west of Helsinki.
"It was a long travel day," said Stevens, who is accompanying the team in a support role. "We've barely slept in 30 hours, but the energy is still really high, and we're happy to have step one completed. We're here on time so that stress is gone, and now we're looking forward to getting on the ice."
When Stevens led Nova Scotia to a gold-medal win at the 2021 New Holland Canadian U-21 Curling Championship last March, she knew she wouldn't be playing with her team at the ensuing world championship due to aging out of juniors.
A change in junior eligibility at the national championship delayed Stevens's trip to the world event to the following year, meaning she would be ineligible to compete and that a replacement skip was going to be needed.
"I knew I wouldn't be playing in the worlds, but I really hadn't prepared myself for what it actually meant," said Stevens via Facetime from Finland. " It's really hard to be on the sidelines. I don't know how 5th players, parents, and coaches do it! It's really stressful when you're watching that last rock come down. It's a different kind of stress than when you're throwing it."
The urgency to find that replacement skip increased after the 2022 World Junior Curling Championships when the Canadian women's team was knocked into the World Junior-B Championships.
It also meant that replacement skip Deschenes would have to be ready to compete in December 2022 rather than (or perhaps in addition to) March 2023.
"Emily is a great thrower, and she calls a similar game to me," said Stevens. "We worked really hard over the summer, and practised as much as we could to be ready for this. We knew she was going to be a great addition to the team, and she's definitely living up to the expectations."
For Canada to reach the 'A' championship (in Fuessen, Germany, in March), it will have to finish on the podium at the 25-team event. Canada begins pool play this Thursday at 1 am (all times ET) vs. Italy and will play five more games vs. Poland, Kenya, Turkey, Brazil, and Slovakia before the playoff round begins.
The champion will be decided on Dec. 19 at 7 am.
Canada's schedule is:
(Note: Draw updated following Kenya withdrawal from event)
Dec. 15 – 1 am vs. Italy
Dec. 15 – Noon vs. Brazil
Dec. 16 – 7 am vs. Turkey
Dec. 17 – 2 am vs. Slovakia
Dec. 17 – Noon vs. Poland
Dec. 18 – 10 am – Quarterfinals*
Dec. 19 – 2 am – Semifinals*
Dec. 19 – 7 am – Gold- and bronze-medal games*
*Pending Qualification
Draws, live scoring, rosters, standings and more are available here.