Double-win day!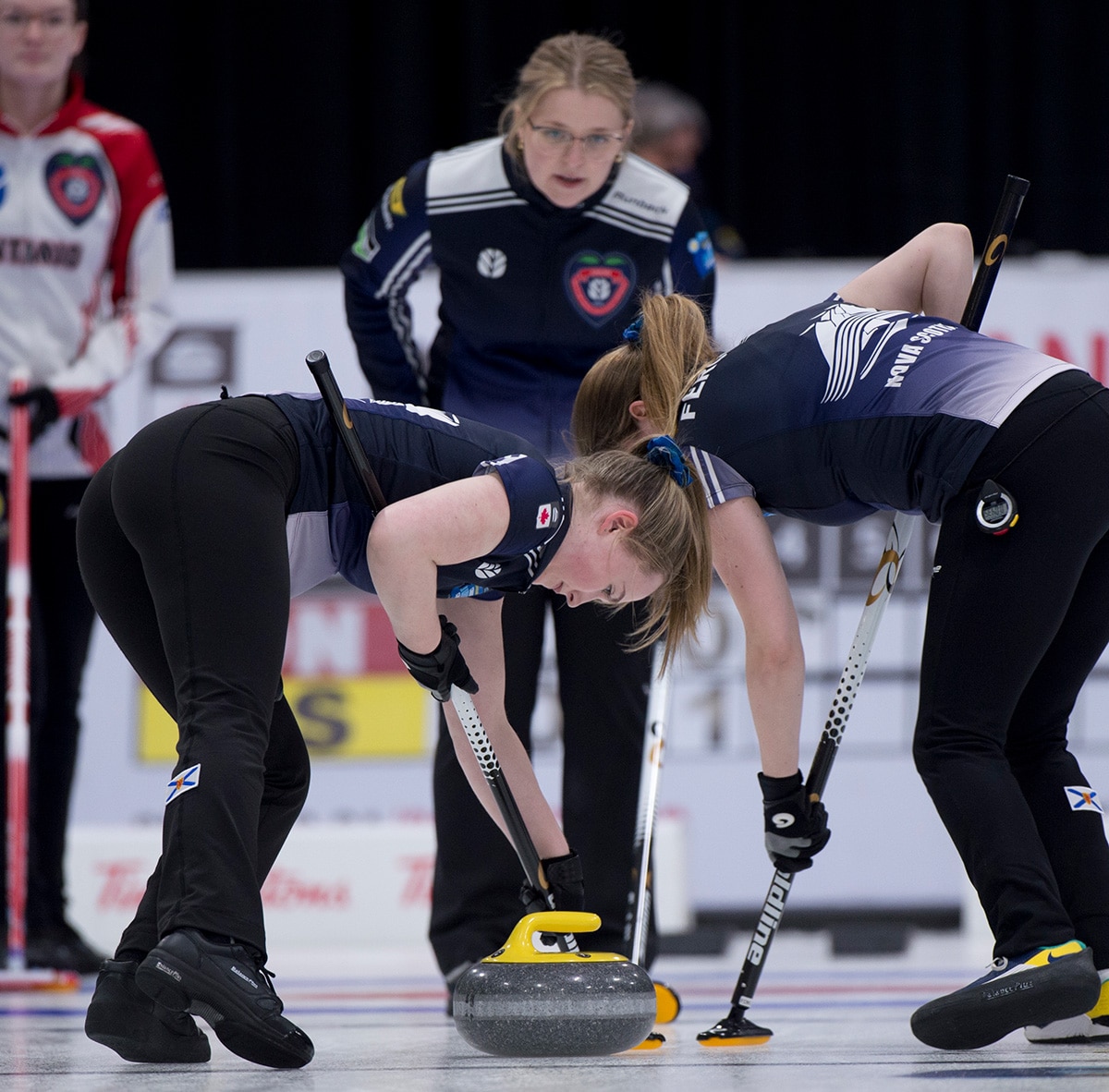 Canada opens B-Group Worlds with two-win day
After a gruelling travel schedule, a pre-competition practice, and a pre-event schedule change, Canada's junior women finally hit the ice in Finland, ready to reclaim a spot in the A-Group World Junior Curling Championships.
The Canadian side, skipped by Ottawa's Emily Deschenes, opened the World Junior-B Curling Championships in Lohja, Finland, with a two-win day, beating Italy 11-1 in six ends and later besting Brazil 8-3.
The victories start Canada's quest for a podium finish in the 24-team event, which would qualify the team for the A-Group World Championships in March. The Nova Scotia team, originally skipped by Taylour Stevens, won the right to represent Canada at the 2022 New Holland Canadian Under-21 Curling Championships in Stratford, Ont., last March.
With Stevens aging out of the junior ranks, Deschenes was recruited to skip.
Deschenes and her new team (third Lauren Ferguson, second Alison Umlah, lead Cate Fitzgerald, team support Stevens, coach Mary Mattatall and national coach Lori Olson-Johns) wasted no time finding form in the first game, scoring four in the second end, and five in the third, to take a 9-0 lead over Italy in just three ends.
Canada stole another in the fourth to make it 10-0 before trading singles in the fifth and sixth ends, which led to early handshakes and a well-earned win.
The second game was closer, although only marginally. Canada started with hammer, by virtue of the Last Shot Draw. Team Deschenes scored one in the first, followed by a steal of two in the second.
After a force of one in the third, Canada scored one in the fourth and stole one in the fifth to take a 5-1 lead at the halfway point. Brazil fought back with a deuce, which Canada answered with three of its own.
Brazil conceded before the eighth end finished.
In Canada's pool, Poland and Turkey also opened the tournament with two wins. Canada will face Turkey in its only game Friday at 7 a.m. ET.
Canada's schedule originally included a game vs. Kenya, but the team withdrew before the competition. As a result, the Canadians' week is one-game shorter than the six originally planned games.
All teams will now complete a five-game round robin before eight teams from four pools advance to the quarterfinals.
Draws, live scoring, rosters, standings and more are available here.
Select games can be streamed live on the Curling Channel.