Off to playoffs!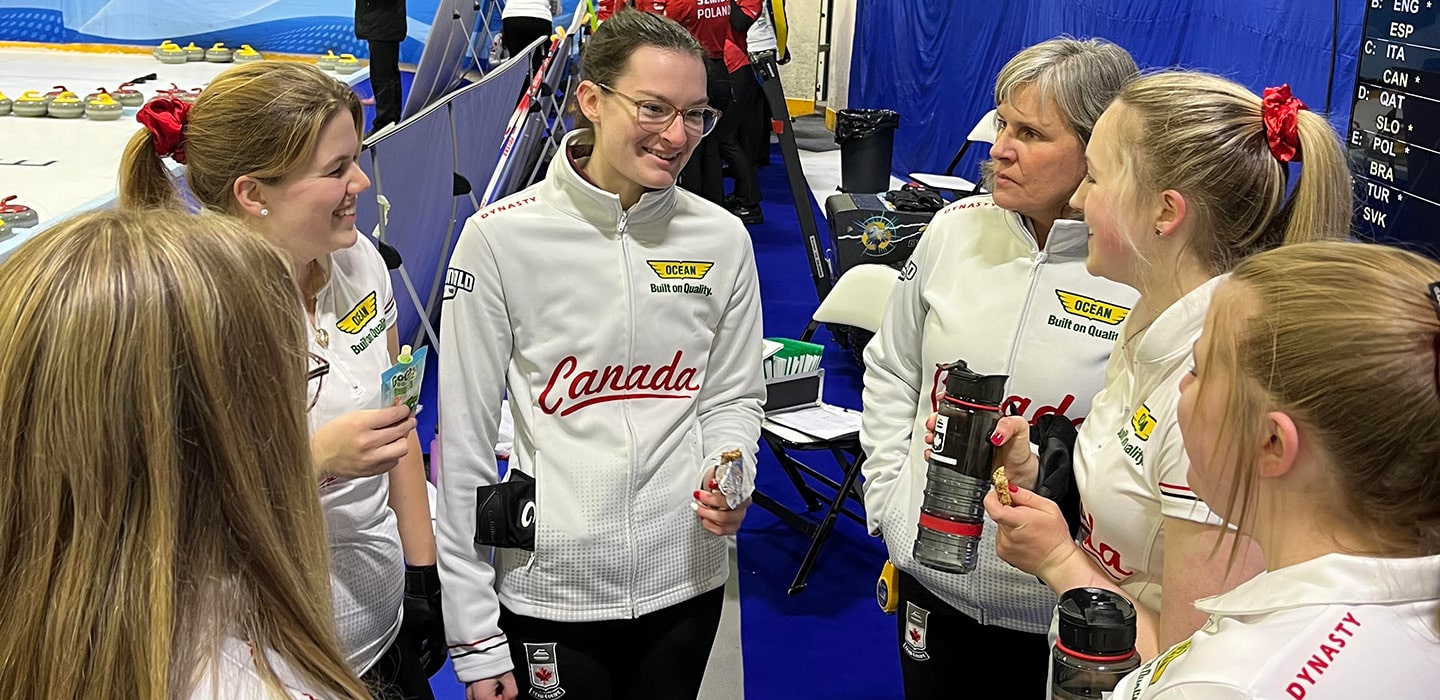 Canada advances to playoffs at World Junior-Bs
Canada took a major step forward on Saturday at the World Junior-B Curling Championships, qualifying for the playoff round after an undefeated 5-0 round-robin record.
With the first win of a two-win day, the Canadian junior women qualified for the quarterfinals, defeating Slovakia's Team Nina Summerova, 5-2.
Skip Emily Deschenes, third Lauren Ferguson, second Alison Umlah, and lead Cate Fitzgerald started the game with hammer, and put a deuce on the board right away. After a blank and a force, Canada blanked the fourth, before Slovakia stole the fifth. Canada was forced to a single in the sixth, but managed to steal two in the seventh which put the game out of reach.
"We're really proud of the result," said Canadian team leader Lori Olson-Johns. "We've got our playoff spot, which was objective number one."
Rounding out team Canada at the event are team support Taylour Stevens and coach Mary Mattatall.
The Canadians' last game against Poland's Team Monika Wosinska only mattered for playoff seeding as the berth was already secured. Canada ended the day strong with an 8-6 win.
Poland opened the game with two steals, before Canada was able to reply with two scores of two. After trading scores of three in the fifth and sixth end, Canada was able to force a single in the seventh, giving them a one-point advantage and the hammer playing the eighth.
With one more draw to play on Sunday before the quarterfinals begin, Scotland, Denmark, and Korea all remain undefeated, and have also secured playoff spots. Turkey and China have also qualified, finishing their pools with a single loss.
"We are fortunate to have this opportunity to play in Lohja," said Olson-Johns.  "The facilities, the ice conditions, and the hospitality has been outstanding. It has been a pleasure to compete against these countries and it has added to the experience to meet athletes from all over the world."
Canada will not know its playoff opponent until the last games have been played. The team must finish in the top three overall to move them back into the A-Group World Championships in March.
The last time a Canadian curling team was in a B-Group championship was in the wheelchair discipline in 2019, when the team skipped by Mark Ideson claimed gold. That championship, coincidentally, was also in Lohja, Finland – in the same arena.
Draws, live scoring, rosters, standings and more are available here.
Select games can be streamed live on the Curling Channel.