Family Curling in Alberta!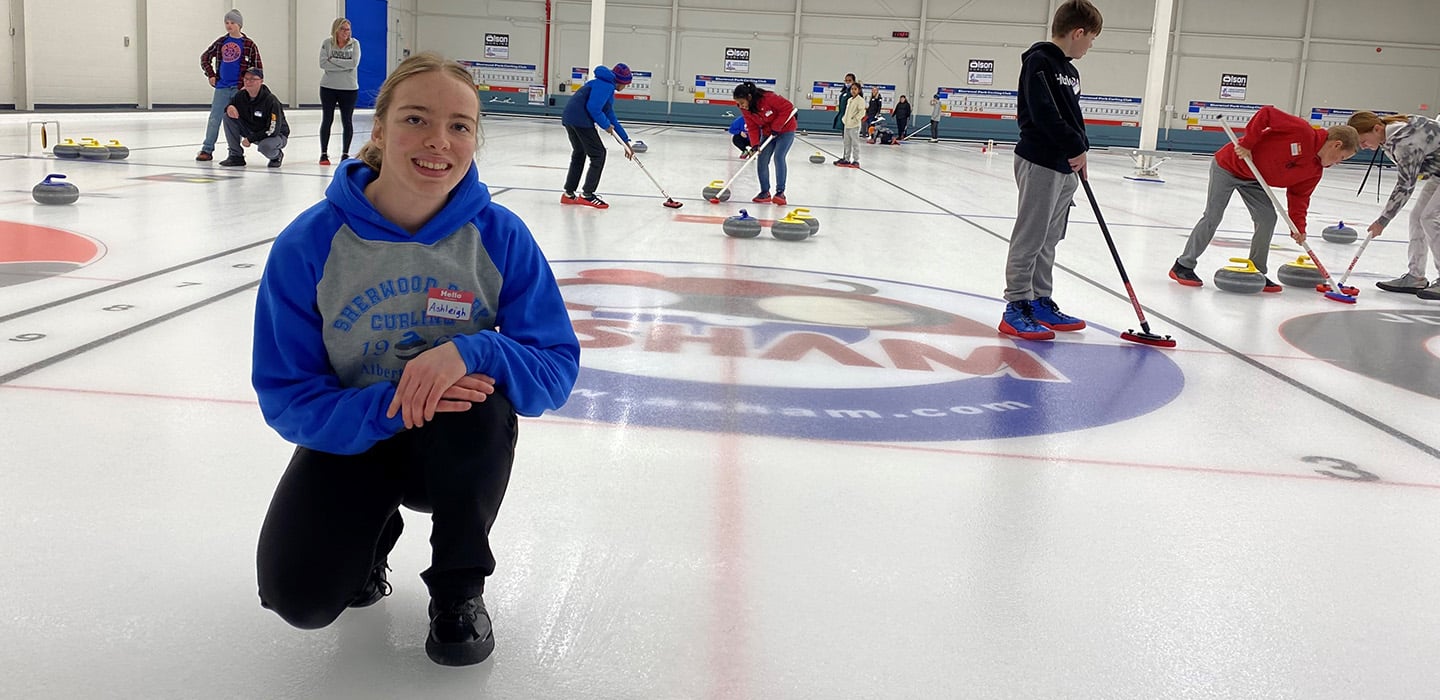 All Heart Curling Award recipient introducing curling to promote diverse, family curling
Winner of the All Hearts Junior Curling Award, Ashleigh McKinnon, uses the initiative to help promote diverse, family community curling within her home community of Sherwood Park, Alta.
In October, junior curler Ashleigh McKinnon was awarded the All Heart Junior Curling Award to promote diversity and inclusion in her local club, the Sherwood Park Curling Club. If unfamiliar with the All Heart Junior Curling Awards, you can read previous articles for further details, including a full list of the winners.
Having curled since 2014, both competitively and recreationally, Ashleigh is passionate about sharing curling with others, particularly her peers who don't see curling as a 'youth' sport. It's more than the competition that Ashleigh loves, it's the community of curling that keeps her coming back. As she puts it, "Curling brings together people of all sorts of different backgrounds, and there is that common ground we can all find in the love of our sport."
Despite being a community sport that is highly accessible, there is a noticeable trend in curling clubs that reflects a particular membership lacking diversity. Ashleigh feels that it is her duty to do what she can to change that, and share her love of the sport with people from all walks of life. When considered a minority, one is already at a disadvantage. It's important to Ashleigh, as a person in a position of privilege, to remain aware of this fact and do what she can to use her position to help raise the voices of others that are not always heard.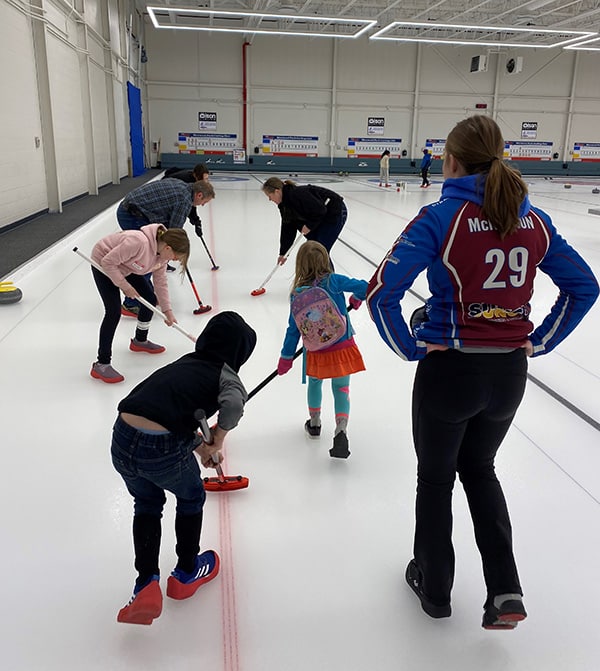 "It is always crucial that we take a look around our community, our province, our country, and then our world to notice the injustices that other people face and find ways to solve them when possible," Ashleigh said. "Inaction is simply intolerable. Curling, even though it is a smaller way to solve these big problems, is still a step in the right direction that will bring all people together."
What Ashleigh, along with the manager of the Sherwood Park Curling Club, Heather Nedohin, did to help bring people together is organize a series of three events called 'Curling 4 Families'. Curling 4 Families was run on three dates (Nov. 26, Dec. 3 and Dec. 17) and encouraged families of all backgrounds within the Sherwood Park and area community to come out and try this fun social sport. This event was complimentary for the attendants, making it particularly accessible to people, as all that was needed was a clean pair of indoor shoes.
Ashleigh's passion for curling comes through every time that she discusses it, and it makes it clear why Heather reached out to her to help spearhead this initiative.
"Ashleigh is one of those wonderful juniors that started in our junior program when she was quite young and continues to be one you follow along in her junior journey. She is simply an energy spark!" Heather said. "She has a joyous, positive, infectious personality that attracts many around her (teammates, coaches and competitors). When you see a young adult working hard both on- and off-ice and academically, I wanted to find a way to combine her continuous generosity within the curling community with our community of Strathcona County."
Though it is not just Ashleigh that is passionate about curling; the Sherwood Park Curling Club has made it their mandate to, "[t]o champion the sport of curling on behalf of recreational and competitive curlers alike." This is highlighted in the way that they chose to run the Curling 4 Families event.
While aimed at children ages 9-17, any interested parents or guardians were encouraged to come onto the ice as well. Furthermore, they encouraged everyone to stay afterwards for drinks and socialization, going all out with snacks provided by their sponsors for their third and final event on Dec. 17. The main goal was to introduce people to a fun, accessible and easy sport, encouraging the social aspect that comes with it. It was important to Ashleigh that these events be social, fostering a sense of community, because to her curling wouldn't be what it is without the social aspects before, after and during the games.
The Curling 4 Families event saw an increase of double the attendants from the first event to the second and these attendees included a range of families, from new immigrants to families new to the area and even locals who had never been to the club before. Ideally, if the interest continues, Sherwood Park Curling Club would be willing to expand into their Sunday afternoon programs and look into creating a '4 Families' league.
"By hosting the Curling 4 Families Series, we have connected … to many new-to-curling youth and their parents / guardians [providing] them … a first-time curling experience that was fun, enjoyable and memorable both on and off the ice," Heather said. "By providing this event, we continue to champion recreational curling within Strathcona County and help expand the network of possible future curlers and members of our SPCC."
In the end, it comes back to that sense of community. Unfortunately, so many things in the world seem to divide us; by creating these spaces in local curling clubs, we make the space to come together to share a common interest. Through this, we begin to break down those presumed barriers and open up important discussions. We begin to understand each other. As Ashleigh said herself – curling may be a small part of a larger discussion, but it is a good place to start.