Scotties Draw Set!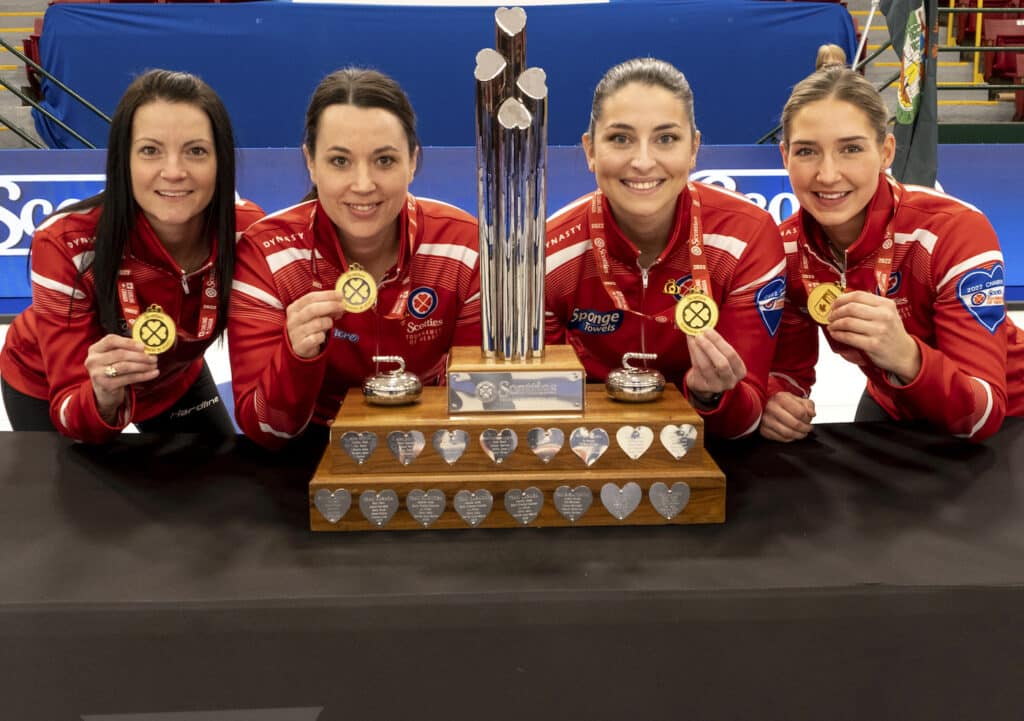 Round-robin pools, schedule finalized for 2023 Scotties in Kamloops
Team Kerri Einarson will begin its pursuit for a record-tying fourth consecutive title against Quebec's Team Laurie St-Georges on Feb. 17 to open the 2023 Scotties Tournament of Hearts in Kamloops, B.C.
Einarson and her Gimli, Man.,-based Team Canada — vice-skip Val Sweeting, second Shannon Birchard, lead Briane Harris and coach Reid Carruthers round out the lineup — have won the past three Canadian women's curling championships, and with a win in Kamloops at the Sandman Centre would match the record for consecutive titles currently held by Team Colleen Jones, who won four straight from 2001 to 2004.
The full field, and the two round-robin pools, have now been set after seven provincial championships were decided this past weekend.
The event will feature 18 teams — Team Canada, 14 provincial/territorial champions and three Wild Card teams — split into two pools of nine, seeded based on their final standing on the Canadian Team Ranking System (CTRS) as of Jan. 30, 2023.
Team Kaitlyn Lawes (Winnipeg), Team Casey Scheidegger (Lethbridge, Alta.) and Team Meghan Walter (East St. Paul, Man.) nailed down the Wild Card berths.
Team Lawes will have a new player in the lineup for the Scotties as Laura Walker will replace Selena Njegovan, who has been granted a pregnancy leave and is not expected to travel to Kamloops. Teams in the top five of the CTRS standings were eligible to apply for a pregnancy exemption that allowed them to add a free agent player for the national Scotties who didn't participate in their provincial/territorial playdowns. The exemption applied only to top five teams because their ability to replace a player with someone with an equal level of ability and commitment is limited.
Teams will play a complete eight-game round robin within their pools. From there, the top three teams in each pool advance to the playoffs. The second- and third-ranked teams in each pool cross over to play in Page playoff qualifier games on Friday, Feb. 24, at 1 p.m. (all times PT). The winners advance to play the winners of Pool A and Pool B on Friday, Feb. 24, at 6 p.m. The winners of those games go to the Page 1v2 game, while the losers will compete in the Page 3v4 game.
The standard Page playoffs commence with the winner of the Page 1v2 game on Saturday, Feb. 25, at 6 p.m., advancing directly to the final, and the loser plays the winner of the Page 3v4 game (scheduled for 1 p.m. on Saturday) in the semifinal.
The semifinal (Sunday, Feb. 26, at noon) winner takes on the winner of the Page 1v2 game in the final at 6 p.m. on Sunday. The winner will represent Canada at the 2023 LGT World Women's Curling Championship March 18-26 in Sandviken, Sweden.
If necessary, only one tiebreaker game will be scheduled for Friday, Feb. 24, at 8:30 a.m. for third place only. If there is a tie between more than two teams for the spot, teams will be eliminated by head-to-head record first and then by accumulated last stone draw distance to determine the two teams that will play in the tiebreaker game. Tiebreaker games will only be played if teams have a winning record (5-3 or better).
Here's a look at how the two pools are set up:
(Teams listed according to overall seeding, and listed in order of skip [player calling the shots], vice-skip [player holding the broom for the skip], second, lead, alternate, coach/High Performance Consultant)
Pool A
1. Team Canada, Kerri Einarson (Val Sweeting, Shannon Birchard, Briane Harris, Reid Carruthers; Gimli, Man.)
4. Wild Card 1, Kaitlyn Lawes (Laura Walker, Jocelyn Peterman, Kristin MacCuish, Lisa Weagle; Winnipeg)
5. British Columbia, Clancy Grandy (Kayla MacMillan, Lindsay Dubue, Sarah Loken, Katie Witt; Vancouver)
8. Nova Scotia, Christina Black (Karlee Everist [throws second stones], Jenn Baxter [throws third stones], Shelley Barker, Carole MacLean, Stuart MacLean; Halifax)
9. Alberta, Kayla Skrlik (Geri-Lynn Ramsay [throws second stones], Brittany Tran [throws third stones], Ashton Skrlik, Crystal Webster, Shannon Kleibrink; Calgary)
12. Prince Edward Island, Marie Christianson [throws third stones] (Suzanne Birt [throws fourth stones], Michelle Shea, Meaghan Hughes, Sinead Dolan, Danny Christianson; Cornwall)
13. Saskatchewan, Robyn Silvernagle (Kelly Schafer, Sherry Just, Kara Thevenot; North Battleford)
16. Quebec, Laurie St-Georges (Alanna Routledge [throws second stones], Emily Riley [throws third stones], Kelly Middaugh, Émilie Desjardins, Michel St-Georges; Glenmore & Laval-sur-le-Lac, Que.)
17. Nunavut, Brigitte MacPhail (Sadie Pinksen, Kaitlin MacDonald, Alison Taylor, Donalda Mattie; Iqaluit)
Pool B
2. Ontario, Tracy Fleury [throws third stones] (Rachel Homan [throws fourth stones], Emma Miskew, Sarah Wilkes, Kira Brunton, Ryan Fry; Ottawa)
3. Manitoba, Jennifer Jones (Mackenzie Zacharias [throws second stones], Karlee Burgess [throws third stones], Lauren Lenentine, Emily Zacharias, Glenn Howard, Winnipeg/Altona)
6. Wild Card 2, Casey Scheidegger (Kate Cameron, Jessie Haughian, Taylor McDonald, Joan McCusker; Lethbridge, Alta.)
7. Wild Card 3,  Meghan Walter (Abby Ackland, Sara Oliver, Mackenzie Elias, Howard Restall; East St. Paul, Man.)
10. New Brunswick, Andrea Kelly (Sylvie Quillian, Jillian Brothers, Katie Forward, Daryell Nowlan; Fredericton)
11. Northwest Territories, Kerry Galusha [throws lead stones] (Jo-Ann Rizzo [throws fourth stones], Sarah Koltun, Margot Flemming, Megan Koehler, Shona Barbour; Yellowknife)
14. Northern Ontario, Krista McCarville (Sarah Potts [throws lead stones], Kendra Lilly [throws third stones], Ashley Sippala [throws second stones], Rick Lang; Thunder Bay, Ont.)
15. Newfoundland & Labrador, Stacie Curtis (Erica Curtis, Julie Hynes, Camille Burt, Eugene Trickett; St. John's)
18. Yukon, Hailey Birnie (Chelsea Jarvis, Kerry Campbell, Kim Tuor, Jenna Duncan; Whitehorse)
For the entire 2023 Scotties Tournament of Hearts schedule, click here.
Tickets are available online at curling.ca/tickets, in person at the Sandman Centre box office, or by phone at 250-828-3339.