U18 Playoff Picture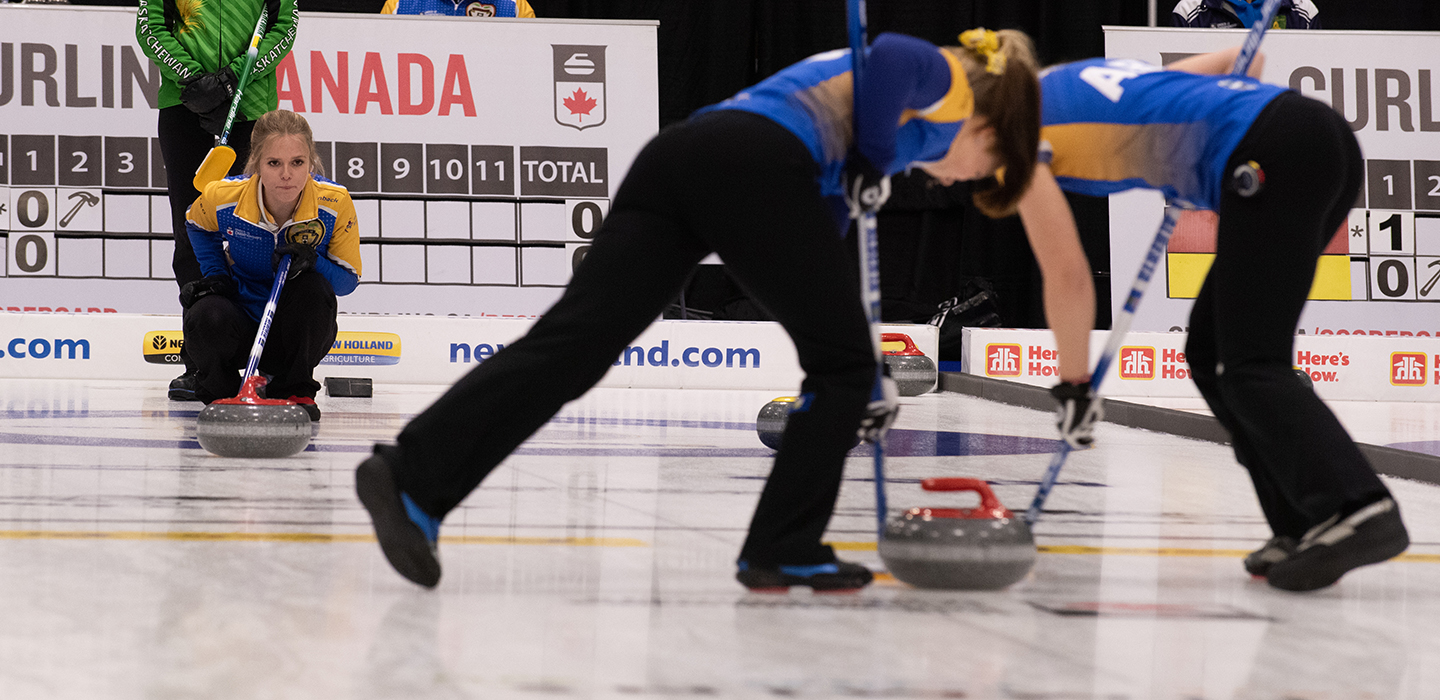 Playoff picture slowly comes into focus in Timmins
At most major curling championships, Wednesday is usually considered to be "Moving Day,"
It's usually about halfway through the week when the good teams start to separate themselves from the pack, and the pretenders fall back out of contention.
But is it still Moving Day when there's 42 teams playing, for 24 playoff spots? Well… it's hard to say.
At the end of the fourth day of competition at the U18 Canadian Curling Championships, 12 draws of nine games have been completed, and some things can be said for certain.
First, the boys.
In Pool A, Alberta's Zach Davies (AB #2) and New Brunswick's Tim Marin will be moving on to the playoffs with their 5-0 records. They will face each other tomorrow, where one team is guaranteed to earn a top seed in the pool, and a first round playoff bye. The loser could still claim a first-round bye with a 5-1 record, and a good Last Shot Draw score, but there's no guarantee at this point in the case that a team from another pool survives the round robin with just one loss.
"It'll be a good game for sure," said Marin, referring to the matchup with Alberta tomorrow. "We're going to keep doing what we're doing, and try to keep it simple, one shot at a time."
"It would be nice to win the pool," he continued. "We'd really like to have that break, especially for the sweepers. They could use a day off… it's easy for me, I just stand there and yell at them. It would be good for confidence too."
In Pool B, Alberta's Jaxon Hiebert (AB #1) has claimed the top spot in his pool and a first round playoff bye, regardless of what happens in his team's final round robin. The Alberta champion defeated Nova Scotia's Nick Mosher (NS #1) on Wednesday, preserving his undefeated record, and giving him the edge in any tiebreaking scenarios. Mosher will advance as well, and still has a chance at the last first round bye spot, as well.
In Pool C, Calan MacIsaac of Truro, Nova Scotia (NS #2) will capture the top spot and the first round bye, by virtue of his team's 5-0 start. No team in the pool can catch up, even if he was to lose his final round robin game tomorrow to Saskatchewan's Rogan Snow (SK #2).
What that means for some teams is that the future is uncertain. Teams that finish at 5-1 or 4-2 are safe into the main playoff draw; that much we know.
Some teams will make it in with a 3-3 record, while others won't. The other records in their pool, head-to-head results, and eventually LSD scores will influence who advances to the main draw, and who is relegated to the consolation event.
Careful examination of the win/loss permutations reveal that some teams know that they're in a "win and you're in" scenario.
On the girls' side, the situation is equally clear and muddy, only moreso.
After tonight's draw, Pool A is somewhat decided with Quebec #1, New Brunswick #2, and Quebec #2 currently tied for first. They'll all move on, as will fourth place Newfoundland and Labrador. Regardless of tomorrow's results, those teams will reach the main playoff division, and one team will receive the first round bye.
In Pool B, British Columbia's Holly Hafeli has clinched the top spot even though they lost to Ontario #2 tonight. Their 4-1 record is enough to guarantee first place, while Northern Ontario #2, Nova Scotia #1, Manitoba #2 and New Brunswick #1 are all at 3-2, tied for second. Tomorrow's results will decide who moves on.
In Pool C, Alberta's Myla Plett has clinched a first round bye with a 5-0 record, while the rest of the pool is log-jammed with a potential three losses. There are too many possibilities to list which of five teams may move on, and in which order.
"It means a lot to have that extra day and get a bit of rest," said Plett. "The sweepers have been pounding rocks all week, and they'll really appreciate the day off. It'll be nice to have a break."
Plett and her team earned the top spot in Pool C by defeating provincial rivals Alberta #2.
"We are pretty close with those guys. We see each other pretty much every weekend in Alberta, so both teams really want the win. It was like being at home, playing against some friends… but I'm glad we won!"
Action from the 2023 Canadian Under-18 Boys and Girls Curling Championships resumes on Thursday morning at 8:30 a.m. (all times Eastern).
Live-streaming coverage of the 2023 Canadian Under-18 Curling Championships will be available on Curling Canada +, Curling Canada's new streaming platform. You can access the broadcast schedule by CLICKING HERE.
For event, team and draw information, visit https://www.curling.ca/2023under18/.
Draw scores/standings will be immediately available on Curling Canada's scoring website.