Looking to Defend!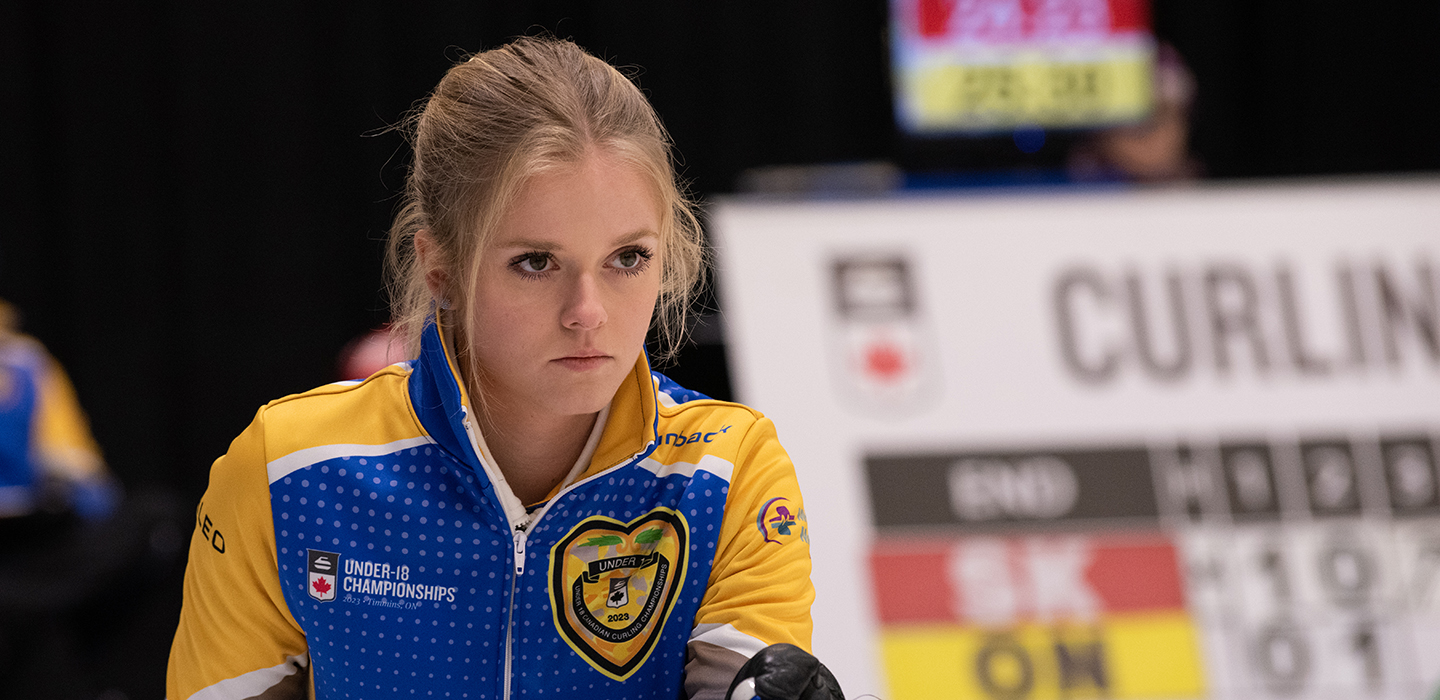 ALBERTA'S PLETT ONE GAME WAY FROM REPEATING AS NATIONAL CHAMP AFTER WIN OVER QUEBEC
For Alberta's Myla Plett, the goal was simple: to repeat as U-18 National Champions.
And after six days, eight games, and zero losses at the 2023 U-18 Canadian Championships being held in Timmins, Ont., Plett, Alyssa Nedohin, Chloe Fediuk, and Allie Iskiw are now one game away from that objective.
"Winning it again would be crazy," said Plett. "We worked so hard all year, so to have it pay off would be awesome."
The Alberta provincial champs fought off a valiant attack from Quebec #2's Anne-Sophie Gionest, winning the semifinal – their eighth straight win at the event – with a 7-5 finish.
"Quebec played a really good game, they're a strong team," said Plett. "We just had to wait for our opportunities, and went aggressive when we could."
Almost every end was a mess of rocks in play, which required a lot of creative shot making and the occasional highlight reel runback, which both teams were able to convert.
"It was really fun to play," said Plett. "Playing at a national event in general is fun, but that team is also just really good, but also really sweet. It was a really fun experience."
In the other semifinal, New Brunswick #2's Melodie Forsythe bested Nova Scotia's Sophie Blades in a battle of Maritime provinces. The back and forth battle did not start well for Forsythe, as the Bluenosers were able to score three in the first end.
"It was a bad start," said Forsythe. "But our coach told us that's the best end to give up a lot of points because you have the whole game to fight back… we just had to stay calm."
Stay calm they did, fighting back to take a 6-5 lead in the sixth, forcing a single in the seventh, and coming home tied with the hammer. New Brunswick's last shot left them sitting four, which was more than enough for the victory and a berth in the final against Alberta.
"They're a really good team," said Forsythe of their gold-medal game opponent. "I'm expecting a tough game. But we're excited to play them."
On the boys side, 2022 runner-up Nick Mosher (NS1) knocked off his provincial rival Calan MacIsaac (NS2) to earn a spot in the gold medal game.
"It was a really tight one," said Mosher of his team's 6-4 win. "We play them all the time, and it's always really aggressive. It's always a lot of fun, but we came out on the good side of this one."
After trading scores of two for the first three ends, Mosher held MacIsaac to a single in the fourth, and never relinquished the lead after that.
Mosher, who lost last year's U-18 final in Oakville says that experience will help in tomorrow's gold medal game.
"It's going to be tough, but luckily we've been there before," he said. "We have a little experience, so we won't be quite as tense and we'll come out sharp."
The other finalist is the still undefeated Alberta 2 squad, skipped by Zach Davies. His team beat New Brunswick's Tim Marin with an 8-4 final, although the game was actually much closer than that. There were several unforced errors from both teams, and momentum shifted back and forth several times. 
"We tried really hard to stay positive out there," Davies said. "We tried to let the bad shots go, and keep good body language and focus, and not get down after a couple of bad misses."
Davies, a rookie at the U-18 Championship, is taking it all in stride.
"In the final, I expect we'll see more of the same, only at a higher level," he said. "So, we'll have to rise to the occasion!"
Action from the 2023 Canadian Under-18 Boys and Girls Curling Championships concludes Saturday, with finals at 12:30pm and 4:30 pm.
Live-streaming coverage of the 2023 Canadian Under-18 Curling Championships will be available on Curling Canada +, Curling Canada's new streaming platform. You can access the broadcast schedule by CLICKING HERE.
For event, team and draw information, visit https://www.curling.ca/2023under18/.
Draw scores/standings will be immediately available on Curling Canada's scoring website.