Galusha wins milestone game!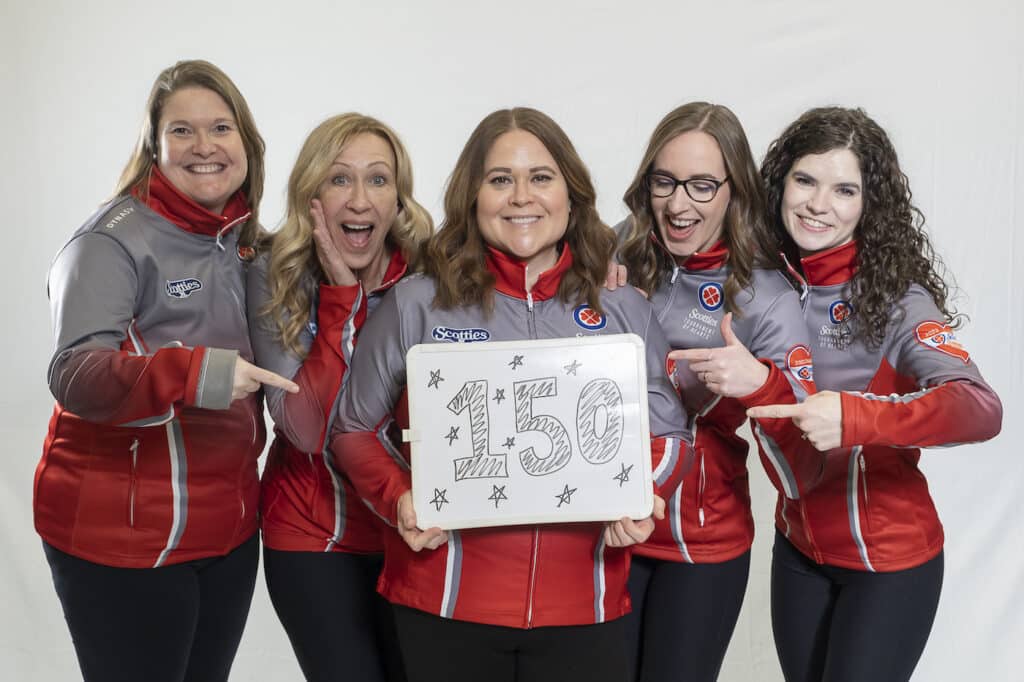 Galusha puts retirement talk on hold at Scotties
Kerry Galusha figured Kamloops, B.C., represented her swan song at the Scotties Tournament of Hearts.
Now she's not so sure. She's having too much fun.
"I'm walking it back a bit from that (retirement statement)," the veteran Northwest Territories skip smiled after walking off the ice with a 6-4 victory Saturday afternoon over Team New Brunswick's Andrea Kelly (0-1, Fredericton). "It's hard to quit when I have a good, strong team behind me. We're having fun, we're winning games."
And why should she? Galusha said her team from Yellowknife is full of confidence and committed to doing even better at the Scotties than they did last year in Thunder Bay, Ont., where they made the playoffs, a first for a team from the North.
Galusha, 45, has already made a significant contribution to curling in the North. She not only qualified for the six-team Scotties playoffs last season, but also became the first skip to guide a northern team solely from the Northwest Territories to the playoffs. It had been her passion for several years and, now that she's accomplished that, her quest for something better has taken on new urgency as retirement from the game draws nearer.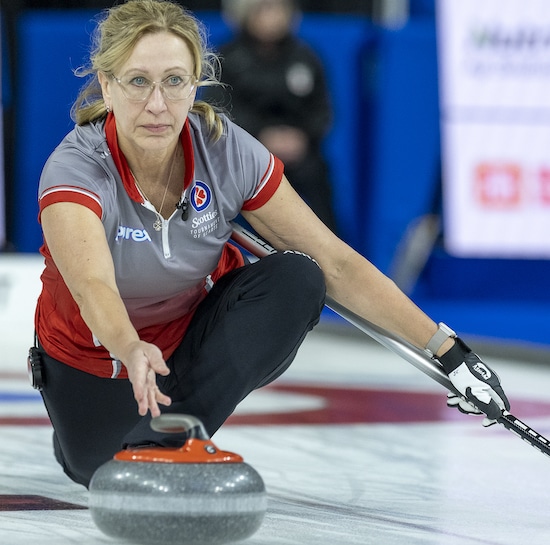 "I feel I really have built a good team around me," said Galusha who throws lead rocks and leaves the skip stones to Jo-Ann Rizzo. Sarah Koltun, Margot Flemming, alternate Megan Koehler and coach Shona Barbour round out the lineup. "It's really worked for us so I'm hoping we can build.
"Last year was a dream year. It was amazing," said Galusha after playing her 150th game at the Scotties. "This year will be tougher. The whole field is tougher. But we're excited to play and see what we can do. We're underdogs still but if we come out and make the right shots at the right time and stick together as a team, you never know what can happen."
It was also a good start for skip Krista McCarville and her team from Thunder Bay who looked focused and dangerous as ever, opening with an 11-8 win over Team Manitoba's six-time champion Jennifer Jones (0-1, Winnipeg/Altona) Saturday at the Sandman Centre.
It was the feature game of the afternoon draw as they opened hostilities in Pool B, and it was a good one featuring two of the favourites to make the six-team playoffs. It was a game the fans could appreciate with points lighting up the scoreboard, but it was hardly a masterpiece as both teams kept flittering away chances. They exchanged deuces and threes and it all came down to an open hit by McCarville in the 10th to settle matters.
"It was a great win, that's for sure" said McCarville, a 40-year-old school teacher whom the kids call Miss M back in the Lakehead. "It was an intense game, very back and forth, a lot of rocks in play, but we know that's the way she likes to play and it's tough to get away from that. But to start off with a win always makes you feel good."
McCarville has more or less shrugged off the disappointment of last year when she had to settle for the silver medal in her own home town.
"We don't really want to focus on last year," she said. "We want to focus on this week and play like we know how to."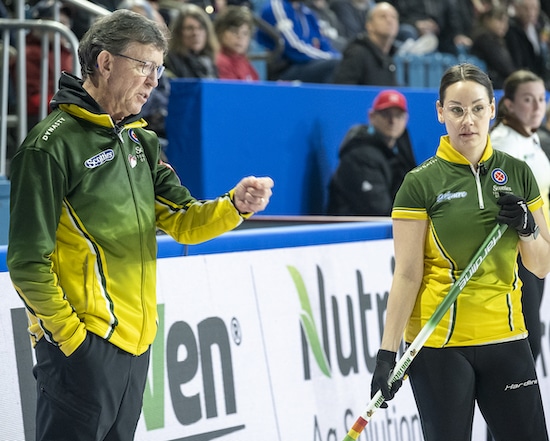 Jones, as expected, gave as good as she got with her new-look lineup of young-uns, and except for a shot or two here and there, could have won. But it's only one loss and there's still the rest of the round-robin to recover and make history. Jones is looking to win her seventh national women's curling championship, more than any other curler in the country. Jones, who lives in Ontario but is skipping the Manitobans, entered the 2023 Scotties tied with Colleen Jones and Jill Offer with six Scotties titles.
Meanwhile, three-time national champion Rachel Homan (1-0, Ottawa) also made an early statement, posting a convincing 12-3 win over Newfoundland and Labrador (0-1, St. John's) skipped by Stacie Curtis.
In the other Pool B game, skip Casey Scheidegger's Team Wild Card #2 (1-0, Lethbridge, Alta.) played a tidy game en route to a 5-3 win over Team Wild Card #3 skipped by Meghan Walter (0-1, East St. Paul, Man.), which was making its Scotties debut.
The 18 Scotties teams are split into two pools of nine, and will play a complete eight-game round robin. The top three teams in each pool advance to the playoffs where it will be further reduced to a Final Four and a Page playoff system.
The final goes Sunday, Feb. 26.
The Scotties champion will represent Canada at the 2023 Women's Curling Championship in Sandviken, Sweden, from March 18-26.
The 2023 Scotties Tournament of Hearts continues Saturday with a draw at 6 p.m. (all times PST).
Live scoring, standings and statistics for the 2023 Scotties Tournament of Hearts are available at www.curling.ca/scoreboard/.
TSN and RDS2 will provide complete coverage of the 2023 Scotties Tournament of Hearts. CLICK HERE for the complete schedule.
For ticket information for the 2023 Scotties Tournament of Hearts, go to www.curling.ca/2023scotties/tickets/.
This story will be available in French as soon as possible at www.curling.ca/2023scotties/nouvelles/?lang=fr.