Playoff picture clearing up!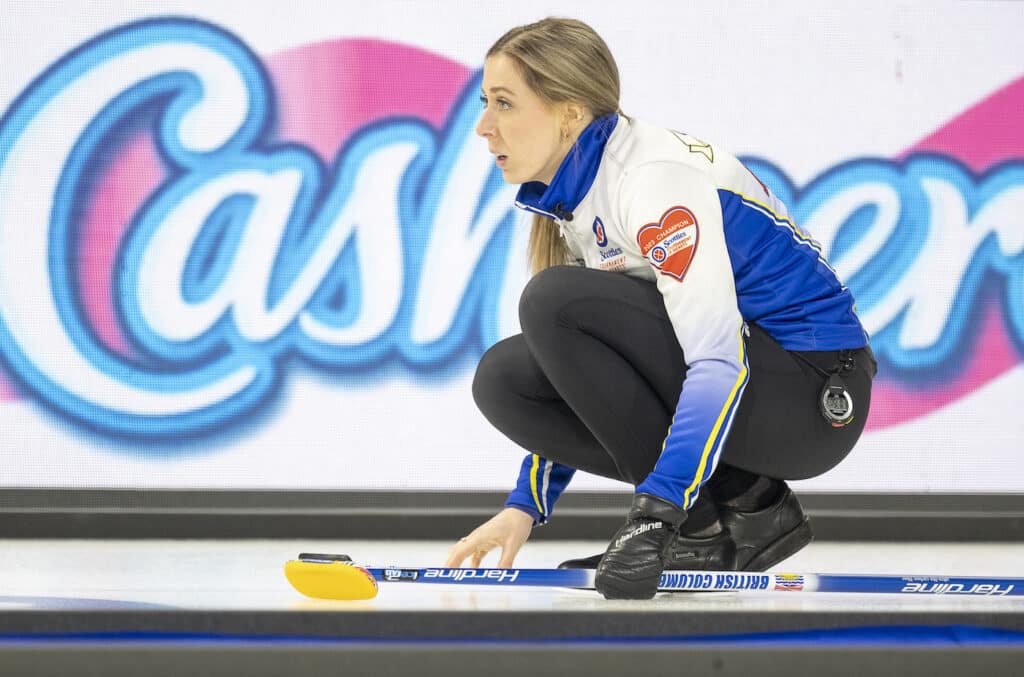 B.C., Alberta improve their chances with crucial Scotties wins
The Pool A playoff picture got slightly clearer but there's still plenty of mud on it after Wednesday afternoon's preliminary round-robin draw at the 2023 Scotties Tournament of Hearts in Kamloops, B.C.
Two games featured teams with only two losses battling it out for the two remaining playoff spots in Pool A. A fifth team, Team Quebec (4-2, Laurie St-Georges, Laval-sur-le-Lac) is also in the mix. And even after the stones had settled all five remained in the running.
Team Alberta (Calgary) and Team B.C. (Vancouver) staked their claims by improving to 4-2 with idle Team Quebec. Skip Kayla Skrlik's Alberta squad (third Brittany Tran, second/ vice skip Geri-Lynn Ramsay, lead Ashton Skrlik, alternate Crystal Webster, coach Shannon Kleibrink) downed Team Nova Scotia (4-3, Dartmouth) skipped by Kristina Black 7-4 while B.C. skip Clancy Grandy, third Kayla MacMillan, second Lindsay Dubue, lead Sarah Loken, and coaches Katie Witt and Niklas Edin stole two in the 10th end for a 7-5 win over Team Wild Card #1 (3-3, Winnipeg, skip Kaitlyn Lawes, third Laura Walker, second Jocelyn Peterman, lead Kristin MacCuish, Selena Njegovan (parental leave), coach Lisa Weagle).
"It's a really big win for us. It gives us a chance at playoffs," said Skrlik. "We still have top teams to play, Grandy out of B.C. and Canada still so winning this one gives us a chance to drop one and still get in.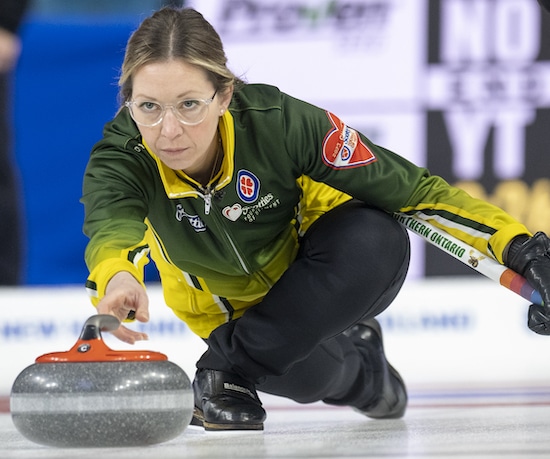 "I feel like we haven't had a lot of tight ones because some have gone the opposite way when we have given up big leads but we haven't had one like this where it was tight all the way through, so it builds our confidence to win the tight ones."
With her last shot Grandy lightly raised a Team Wild Card shot rock to force Lawes to make a difficult draw which came up short.
"The importance of it is huge," said Grandy. "Every single win here is important with where we are in the standings and getting toward the end of the round robin. When we play (Alberta) it's going to be real tough."
While those teams ground it out in the draw in Pool B action Team Northern Ontario (Thunder Bay) skipped by Krista McCarville cruised into the playoffs by dispatching Team Yukon (1-5, Hailey Birnie, Whitehorse) 10-2.
With the win Northern Ontario (Thunder Bay) clinched its playoff berth with a 6-1 record tied atop Pool B with Team Manitoba (Winnipeg), skipped by Jennifer Jones. Her St. Vital Curling Club crew clinched a spot in the playoffs earlier Wednesday by edging Team Wild Card #2 (Lethbridge, Alta.), skipped by Casey Scheidegger, 7-6 in an extra end. Team Canada (Kerri Einarson, 6-0, Gimli, Man.) clinched a playoff spot in Pool A Tuesday.
"It feels really good," said McCarville of reaching the playoffs. "We usually come down to the very end, last draw, nail biter usually. Maybe we'll take it a little easier this time."
McCarville, third Kendra Lilly, second Ashley Sippala, lead Sarah Potts (vice skip), and coach Rick Lang can secure first place by defeating Team Newfoundland and Labrador in Northern Ontario's final round-robin game tonight. Northern Ontario holds the tiebreaker advantage over Manitoba by virtue of a win over Jones in their opening round-robin encounter.
"There's pretty big benefits to come in first," said McCarville, whose team lost the Scotties final to Team Canada in 2022, finished second in 2016 and third in 2010. "So we know we have a pretty big game against Newfoundland."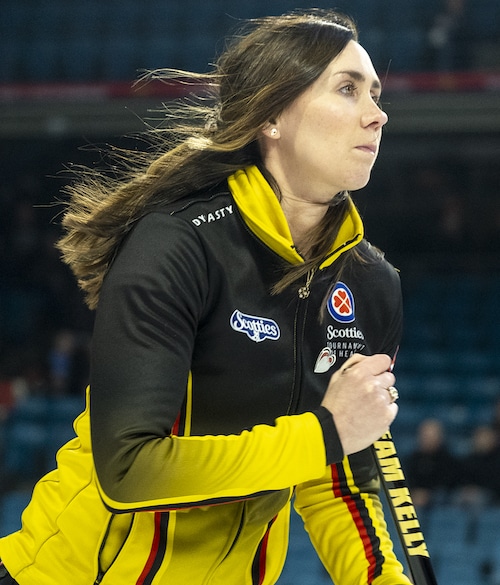 Northern Ontario will not have to play Thursday and if they win tonight won't have to play again until Friday night.
"Now that we know we're in the playoffs it's kind of nice to sit back and kind of watch what happens," said McCarville.
In the other Wednesday afternoon game, New Brunswick's Team Andrea Kelly (3-3; Fredericton) shaded Newfoundland/Labrador's Stacie Curtis (1-5; St. John's) 8-7.
The 18 Scotties teams are split into two pools of nine, and will play a complete eight-game round robin. The top three teams in each pool advance to the playoffs where it will be further reduced to a Final Four and a Page playoff system.
The Scotties champion will represent Canada at the 2023 Women's Curling Championship in Sandviken, Sweden, from March 18-26.
The Scotties final goes Sunday, Feb. 26.
The 2023 Scotties Tournament of Hearts continues Wednesday with a draw at 6:30 p.m. (all times PST) and the final day of round robin play Thursday with draws at 8:30 a.m., 1:30 p.m. and 6:30 p.m..
Live scoring, standings and statistics for the 2023 Scotties Tournament of Hearts are available at www.curling.ca/scoreboard/.
TSN and RDS2 will provide complete coverage of the 2023 Scotties Tournament of Hearts. CLICK HERE for the complete schedule.
For ticket information for the 2023 Scotties Tournament of Hearts, go to www.curling.ca/2023scotties/tickets/.
This story will be available in French as soon as possible at www.curling.ca/2023scotties/nouvelles/?lang=fr.