Award winners!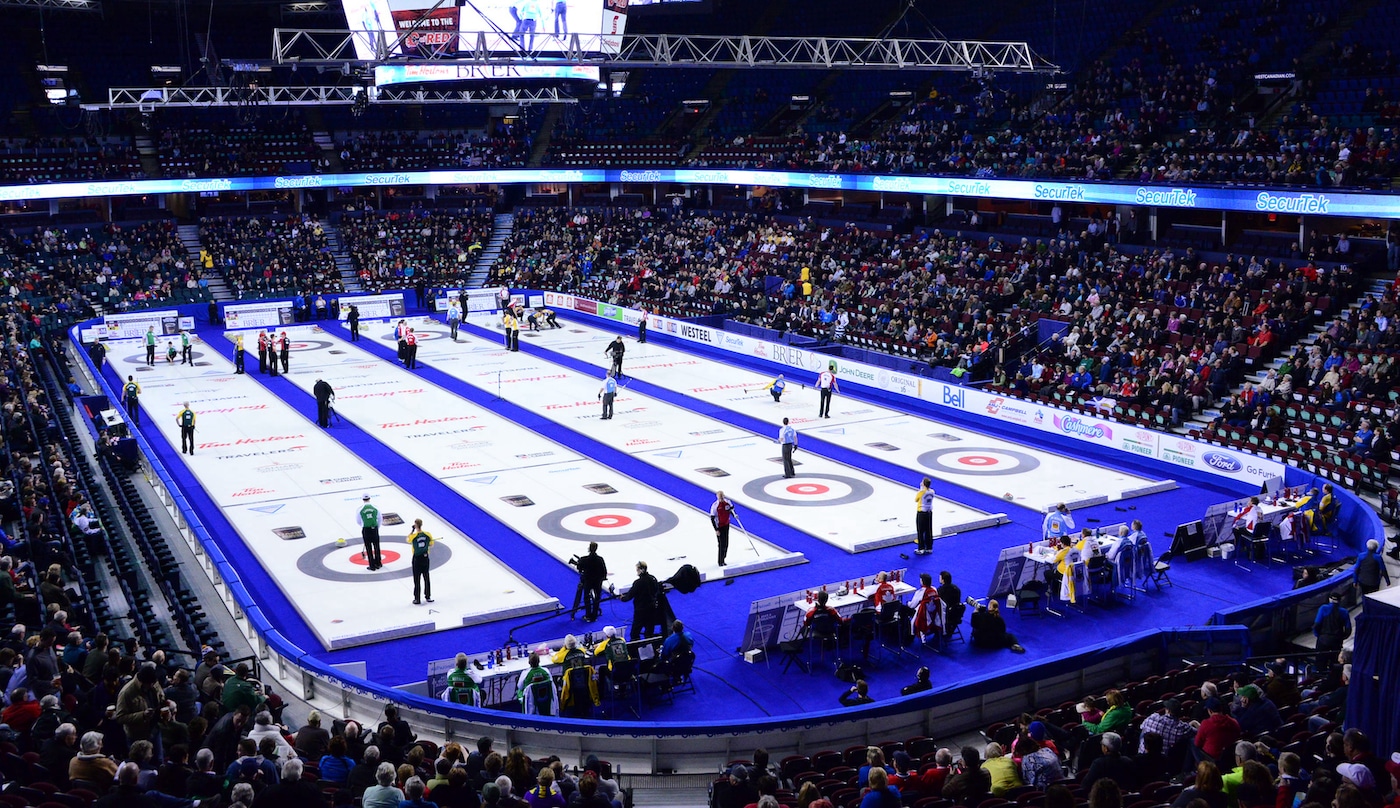 New Hall of Fame member, award winners, honoured by Curling Canada
One new member will enter the Canadian Curling Hall of Fame, it was announced today by Curling Canada.
Additionally, winners of Curling Canada awards were confirmed, and will be honoured at events during the remainder of the season.
More announcements on new Canadian Curling Hall of Fame inductees and award winners will be made later in the season.
The Canadian Curling Hall of Fame will welcome one member posthumously — Lino Di Iorio as a Builder.
Meanwhile, the Ray Kingsmith Award for dedication to curling will go to Ken Thompson; the Curling Canada Award of Achievement will be presented to Scott Higgins; the 2021-22 Volunteer of the Year Award will go to Jeff Northey; and the Board of Governors Special Recognition Award will be presented to Dr. Robert McCormack.
Here's a look at each of the honourees:
Hall of Fame
Lino Di Iorio (Builder)
(Aurora, Ont.)
Di Iorio, who passed away on Jan. 13, was an innovator who applied his inventor's mind to the sport of curling when he took up the sport in his mid 40s.
His desire to design a better curling shoe that helped curlers slide easier and with more stability led to the creation of a slider in 1995 that would be the foundation for the creation in 1996 of BalancePlus Curling Equipment, one of the world's leading curling manufacturers and retailers.
Working with his wife and partner Lynne as well as Scott Taylor, Di Iorio and BalancePlus would grow beyond sliders, and start looking at ways to improve the technical aspects of the sport related to delivery lines, deceleration and release points.
But ultimately, it always came down to Di Iorio's goal to make curling easier and more enjoyable for everyone, and of course, himself.
Among his innovations to help himself (and many others over the years) improve were:
A remote-controlled video recording system that enabled him to review his line of delivery on all areas of the sheet without the assistance of others. This led to better delivery techniques.
Rock-matching equipment that could throw an entire set of stones at once to reduce the negative outcomes caused by mismatched rocks and also be used to compare sweeping techniques.
Use of Doppler radar equipment to measure deceleration of curling equipment. Subsequent adjustments to equipment enabled members of a team to have similar slide speeds during their delivery.
Automatic sensors that measured delivery speeds and initial rock speeds.
Di Iorio was also heavily involved with coaching and worked in various countries in Europe.
Today, the BalancePlus logo is found on clothing, broom handles, broom-heads, and of course, their shoes. And it all goes back to a new curler, Lino Di Iorio, looking for a better way to curl.
Board of Governors Special Recognition Award
The Board of Governors Special Recognition Award is awarded to an individual or organization whose unique contribution(s) or achievement(s) significantly impact the sport of curling in Canada.
Dr. Robert McCormack
(Vancouver)
Dr. Robert McCormack — known universally as Dr. Bob — has been working with Canadian curlers for years in his role as the Chief Medical Officer for the Canadian Olympic Committee from 2005 to 2019.
In the summer of 2020, he took on a great role with the Canadian curling community as he became involved in the planning and the eventual successful execution of the Calgary Curling Bubble that saw seven major championship events staged safely and responsibly over a three-month stretch.
Dr. Bob designed the medical protocols that resulted in no positive tests among curlers and staff members situated inside the bubble. His protocols, produced in consultation with other subject-matter experts in the field of prevention, became the gold standard for other sporting events, and Curling Canada was the only NSO that successfully held amateur sports championships during the pandemic.
In addition to his duties with Curling Canada, Dr. Bob is the Medical Director of the B.C. Lions and has served on the CFL's Medical Committee since 2011. He is a Professor of Medicine in the University of British Columbia's Department of Orthopedic Surgery, and serves as the Chief Medical Officer for the British Columbia Hockey League and the Medical Director for the Canadian Premier Soccer League.
Award of Achievement
Presented annually, Curling Canada's Award of Achievement recognizes individuals who have contributed significantly to curling in one of four areas — builder, technical development (instructor, coach, official, ice technician), marketing and media.
Scott Higgins
(Toronto)
Since joining TSN 34 years ago, Scott Higgins has been around the world as an integral part of the network's behind-the-scenes broadcast team. But it is his work as a Senior Producer, Live Events at curling events over the past 20 years that has continuously raised the bar of excellence and provided thousands of hours of entertainment to curling fans across Canada.
Higgins's passion for curling and its people comes through loud and clear on TSN broadcasts. He oversees all content and the presentation of TSN's curling coverage while leading the network's talented group of storytellers. His goal has always been to ensure that each broadcast embodies the right balance of analysis and entertainment for the viewer at home.
His first major Canadian championship event was the 2003 Scotties Tournament of Hearts in Kitchener, and he's been at just about every Season of Champions since then, working in the familiar Dome Productions mobile truck and orchestrating the show that tells the stories not only of the games but also the curlers themselves.
Among his many highlights, the 2017 Tim Hortons Brier in St. John's stands out thanks to the storytelling by the TSN announcers, production and technical group, combined with the dramatic and emotional finish featuring Team Brad Gushue finally winning its first Canadian men's title on home ice.
Curling Canada Volunteer of the Year
The Curling Canada Volunteer of the Year Award is based on the nominee's contributions from the previous curling season, in any number of areas.
Jeff Northey
(Forestburg, Alta.)
For four decades, Jeff Northey has been a member of the Forestburg Curling Club, a three-hour drive northeast of Calgary.
And when it comes to giving back to the sport of curling, and his home club in particular, Northey has earned the respect and admiration of his fellow members for his volunteer efforts on and off the ice.
His latest projects took place during the 2021-22 season. Among the projects he oversaw and contributed to were installing a new cement ice floor for the three-sheet rink, rebuilding walkways and installing insulation, a vapour barrier, pipes and rebar for the cement floor.
And on top of that he was the project manager for the installation of a new ice plant when the old plant failed in January 2022. He oversaw and worked with contractors and volunteers on-site and contributed more than 450 hours of his time to the project.
It's estimated that his volunteer time saved the club approximately $50,000.
"Our facility is now modern, stylish, welcoming, energy-efficient," wrote Forestburg Curling Club president Ken Bullock in the nomination package for Northey. "We have seen a 15% increase in our curling memberships. The community can see the positive energy and amazing results that Jeff and other volunteers have made to keep our club vibrant and viable for years to come."
The other nominated finalists were as follows:
• Martin Forster-Sands (Ontario)
• Jean Garbolinksy (Manitoba)
• Cathy Jones (British Columbia)
• Charlene Morin (Manitoba)
• Dustin Rohr (Ontario)
• Gary Smith (Ontario)
• Ken Stevens (Manitoba)
Ray Kingsmith Award
The Ray Kingsmith Award is named after the man who played a leading role in bringing curling to the Winter Olympic family. He was a tireless volunteer in administration and management roles in the sport of curling. The award honours individuals who best demonstrate a similar commitment and dedication to our sport that made Kingsmith the consummate sport executive.
Ken Thompson
(Kingston, Ont.)
Ken Thompson has spent countless hours working behind the scenes on successful major curling events in Ontario, and it all started at the 1974 Brier in London, Ont., where he volunteered as a driver for visiting media.
Since then, he has chaired or vice-chaired four Canadian curling championships — the 2020 Tim Hortons Brier in Kingston, the 2017 Canadian Curling Club Championships in Kingston, the 2013 Scotties Tournament of Hearts and the 1991 Brier in Hamilton.
He's also been active at the local level as well, serving as a board member, a former curling board chair and president at the Cataraqui Golf and Country Club in Kingston.
Thompson also showed his journalism chops as a feature writer and co-owner of the Ontario Curling Report for 38 years.