Win-win day!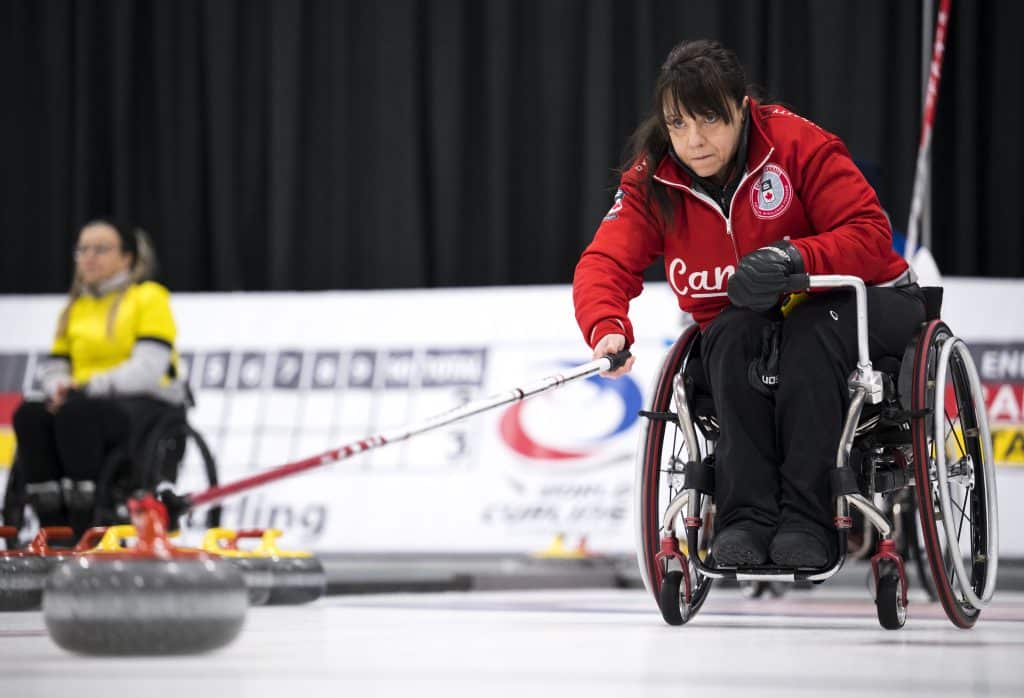 Both Canadian teams at world wheelchair championships on a roll
They may be newbies in the burgeoning sport of mixed doubles wheelchair curling but Collinda Joseph and Dennis Thiessen are playing like veterans at the 2023 world championship at the Richmond Curling Centre in Richmond, B.C.
The pair have an immaculate 5-0 record after defeating the German duo of Christiane Putzich and Burkhard Moeller 10-4 Tuesday. Canada is alone on top of the nine-team Pool B standings ahead of England and Latvia at 4-1.
Canada took control with a score of four in the third end to go up 5-1 and then increased it by stealing a point in the fourth end when Germany (3-2) elected to utilize its power play to try and get back in the game. The Germans did, however, score three in the fifth end but Canada got the three points back the next end on its power play.
"We did really well on the power plays," said Thiessen (Winnipeg).
"Dennis made some amazing shots today, he was on fire," added Joseph (Stittsville, Ont.). "It was a pleasure to watch from my end, he did fantastic."
Canada will play England on Wednesday (9 a.m. PT) in Joseph and Thiessen's only game of the day which will be huge considering the first-place finisher in the pool advances straight to the semifinals.
"We can't let our guard down. We've got to come out firing every game," said Thiessen. "We're thrilled to be 5-0. We prepped really hard all season for this and to be 5-0 is awesome."
Both Joseph and Thiessen, who are supported by head coach Dana Ferguson and team leader Kyle Turcotte, are relatively new to the discipline having played on four-person wheelchair curling teams, but were enthusiastic to take on the challenge of mixed doubles when asked by Curling Canada.
"I love it. Collinda and I feel we gelled right off the hop, and our working relationship with each other we can say whatever we want to each other and we don't take offence to it and help each other out," said Thiessen. "It takes a special pair to do that and I think we have that. It's just so comfortable and so good out there with Collinda. She's an excellent skip, puts the broom down for me in the right spots for me to make shots."
For Joseph, the new game is "so interesting" and gives the duo a chance to be pioneers.
"Not much was known about how to play mixed doubles in the wheelchair and what that would look like, it's very different than the able-bodied game. There's so many opportunities to learn things and why not be part of that, it's so exciting," said Joseph.
"The other thing that's cool about this sport is you're involved in every single shot. There's no time for you to stop and take a break like you can in fours and that is fantastic … It's much more challenging than you think."
And being pioneers could include the pair being the first Canadian team to compete in mixed doubles wheelchair curling when it makes its debut at the 2026 Paralympics. "That's the hope," Joseph said.
Canada's entry in the 2023 World Wheelchair Curling Championship also continued its winning ways with a sixth straight victory defeating Italy 6-4 Tuesday.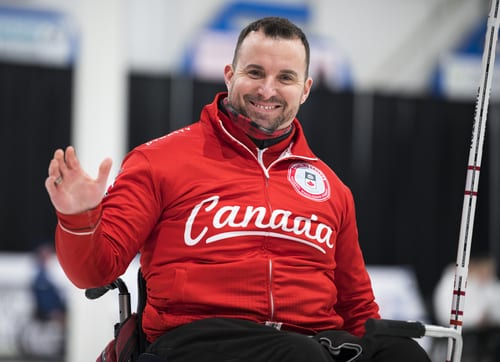 Skip/lead Mark Ideson (London, Ont.), fourth Jon Thurston (Dunsford, Ont.), third Ina Forrest (Spallumcheen, B.C.), second Gil Dash (Wolseley, Sask.) fifth Marie Wright (Moose Jaw, Sask.), head coach Mick Lizmore and team leader Kyle Paquette are tied for first in the 12-team round robin with China, the only team to defeat Canada, at 6-1.
Canada took charge by scoring three in the fourth end and stealing one in the fifth to take a 6-2 lead on Italy (1-6), skipped by Egidio Marchese, before securing the victory.
"Lots of rocks in play. They put a lot of pressure on us in the last couple of ends," said Ideson.
Monday evening, Canada took out Norway (5-2) 10-3 by scoring three in each of the sixth and seventh ends. Canada was to face Scotland (4-3) Tuesday (8 p.m. all times PT) before taking on South Korea (5-2, 12:30 p.m.) and Sweden (4-3, 8 p.m.) Wednesday.
"It's a really strong field and we still have lots of round-robin games left to go and we'll be back and prioritize some rest and recovery," said Ideson.

Both of Canada's teams are supported by Dr. Steven Macaluso (Physician), Sari Shatil (Physiotherapist), Erin Brennan (Mental Performance Consultant), and Wendy Morgan (Leadership Support).
Live scores can be found at https://worldcurling.org/live-scores/ and results at https://worldcurling.org/events/wwhcc2023?pageType=results.
There is free entry to watch the event live. The World Curling Federation will provide coverage of select games at the World Wheelchair and World Mixed Doubles Wheelchair Curling Championships. Watch live games on The Curling Channel in partnership with Recast.

For non-feature games, Curl BC will provide an international live stream of static camera footage on its YouTube channel. Canadians can watch feature games on the CBC Sports YouTube channel.