Perfect in pool!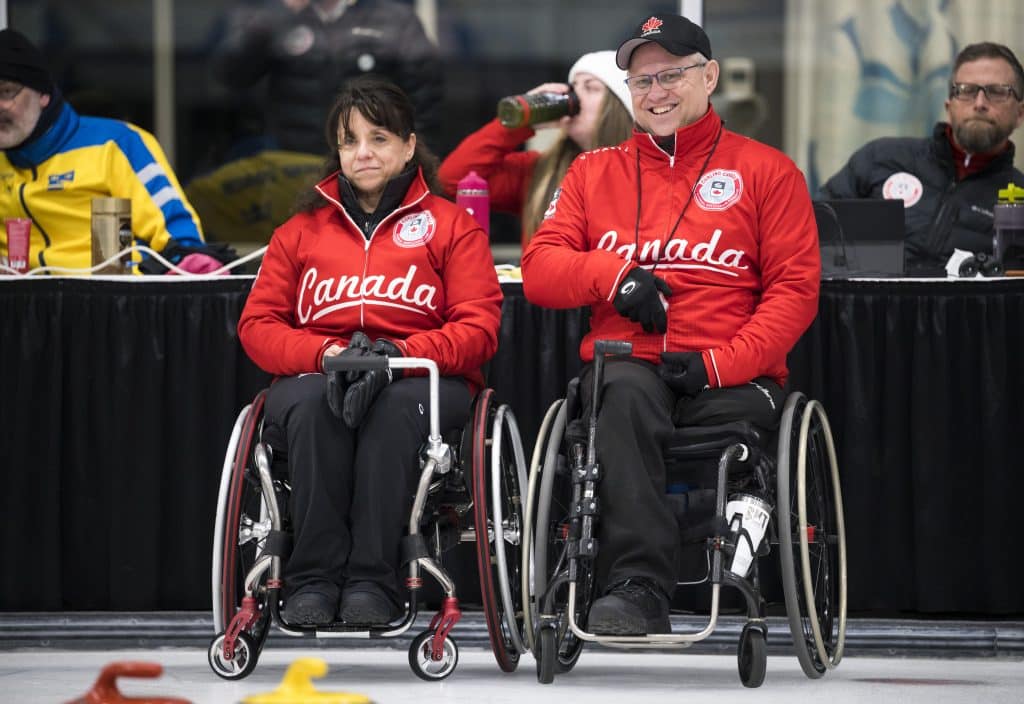 Canada's wheelchair mixed doubles team runs table in round robin to advance to semifinal
Canada's team of Collinda Joseph (Stittsville, Ont.) and Dennis Thiessen (Winnipeg) ran the table in its pool to qualify for the semifinals at the 2023 World Wheelchair Mixed Doubles Championship at the Richmond Curling Centre in Richmond, B.C.
Joseph and Thiessen, supported by coach Dana Ferguson and team leader Kyle Turcotte, defeated Japan 13-7 Friday to go 8-0 in the nine-team Pool B round robin. That means Canada will get to play for a medal in the finals Sunday (2:30 p.m., all times PT) even if it loses in the semifinals to be played Saturday (7 p.m.).
"I was talking to Dennis and we were joking and I kind of said jokingly but not jokingly, 'I'm not going home without a medal.' So we're pretty pleased we're in a medal game," said Joseph, who admitted there is no room for error, which they had with the round robin, if they hope to win gold. "Don't put too much pressure on ourselves, we've just got to enjoy the moment."
She added it was "massive, absolutely" to go directly to the semifinals thanks to their undefeated record.
"How can you not feel proud about how things went this week?" said Joseph. "We didn't expect to come in and running the table. We're pleased that we did. These teams here are really, really good teams. We had a couple of grinders that built a little bit of character."
"Throughout the week," noted Thiessen, "there were one or two games where Collinda held me up and I held her up. The working relationship that's what pulled us through. Even today, I feel like Collinda helped me out. It feels great."
Although they put up some big ends Friday, including scoring five in the second end, there were some missed shots with lots of rocks in play.
"They made some fantastic shots, their draw weight was unbelievable," said Joseph of the Japanese team of Ono Miki and Iljima Shuichi, who went 1-7 in the round robin. "That just speaks to the number of people that are really good here. The record doesn't demonstrate how good they actually are."
Since they don't play again until Saturday night, Thiessen said he'll be looking to get lots of rest and try to keep calm.
"I'd be crazy if I didn't say I wasn't going to be nervous going into the next match. But you know what, we've got each other's back. I feel great going into it," said Thiessen. "To me it doesn't matter (who they play). I won't even worry about it. I'm just going to enjoy the 24 hours we have off."
Joseph said with help from Ferguson and Turcotte, they'll regroup and talk about their next stage even though they don't know who their next opponent will be.
"If we just approach this next game as we've approached everything else and just kind of grind through things that are a bit of a challenge and keep calm and keep pushing through," said Joseph.
Thursday evening, Canada ran its record to 7-0 by scoring two in the eighth end, after surrendering a four in the seventh, to edge the Swedish team of Rebecka Carlsson and Tommy Anderson 9-8.
Latvia, with a 6-2 record, has qualified second out of Pool B with England (5-2) third. In the 10-team Pool A round robin, the only position sewed up for sure is China (8-0) in first but second and third place are yet to be determined with Slovakia (5-3), the United States (5-4) and Switzerland (4-4) still in the running.
In the four-person mixed competition, Canada, which finished second in the 12-team round robin with a 9-2 record, had Friday off as skip/lead Mark Ideson (London, Ont.), fourth Jon Thurston (Dunsford, Ont.), third Ina Forrest (Spallumcheen, B.C.), second Gil Dash (Wolseley, Sask.), fifth Marie Wright (Moose Jaw, Sask.), head coach Mick Lizmore and team leader Kyle Paquette prepared for Saturday's semifinals (2 p.m.).
Canada will play Scotland (5-6) which upset Korea (8-3) 6-2 in the qualification games Friday afternoon. The other semi will feature China (10-1) taking on Sweden (6-5), 11-3 winners over the United States (7-4) in their qualification game.

Both of Canada's teams are supported by Dr. Steven Macaluso (Physician), Sari Shatil (Physiotherapist), Erin Brennan (Mental Performance Consultant), and Wendy Morgan (Leadership Support).
Live scores can be found at https://worldcurling.org/live-scores/ and results at https://worldcurling.org/events/wwhcc2023?pageType=results.
There is free entry to watch the event live. The World Curling Federation will provide coverage of select games at the World Wheelchair and World Mixed Doubles Wheelchair Curling Championships. Watch live games on The Curling Channel in partnership with Recast.

For non-feature games, Curl BC will provide an international live stream of static camera footage on its YouTube channel. Canadians can watch feature games on the CBC Sports YouTube channel.