Shootout at B.C. Corral!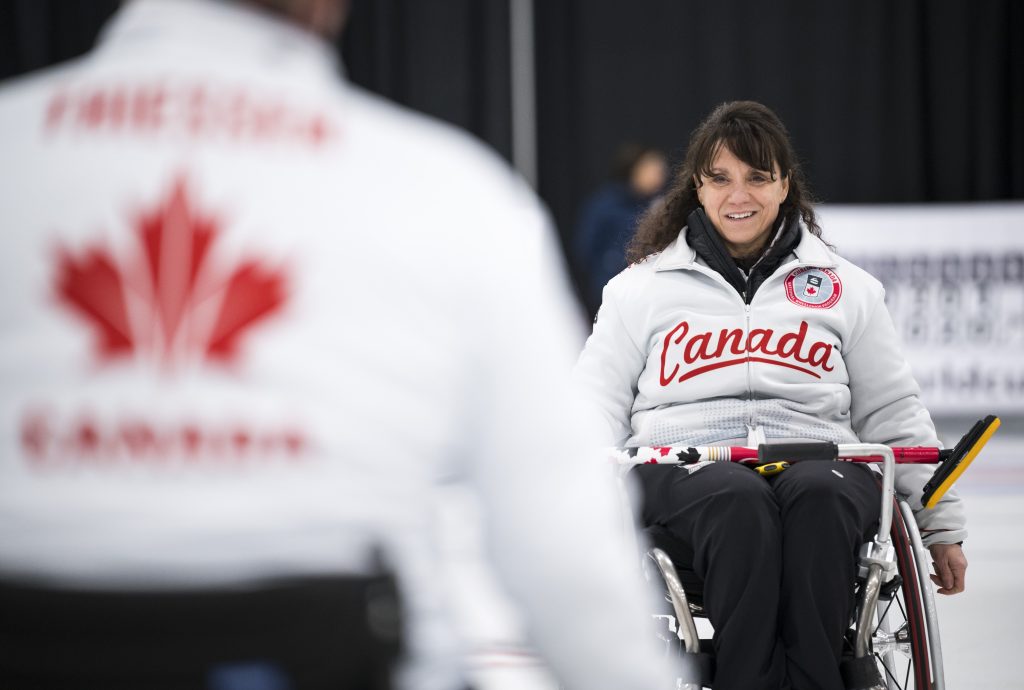 Canada wins bronze in high-scoring showdown with China
The Richmond Curling Club turned into the wild west and when the last shot had been fired it was Canada claiming bronze with a 13-11 victory over China in the 2023 World Wheelchair Mixed Doubles Curling Championship in Richmond, B.C.
And when that final shot had come to rest Dennis Thiessen (Winnipeg) pumped both his hands and then gave his partner Collinda Joseph (Stittsville, Ont.) a vigorous, enthusiastic hug.
"We couldn't be prouder," said Joseph.
"This was beyond expectation," said Thiessen.
"To have two teams medal at an event on home soil in two different disciplines, it just demonstrates how good a program ours is," said Joseph referring to Canada's four-person mixed team taking silver earlier Sunday.
While Thiessen went about cheering and high-fiving Canadian supporters, Joseph had another long hug with her husband, Euan MacKellar, but this one was much more emotional.
"He's supported me all the way through my curling career," said Joseph. "He just wanted to be here for us, and it's emotional when your family is here and it's so big to have them here and I was so proud to share the moment with him.
"We came into the game going 'we have nothing to lose.' After last night (a 7-6 loss to the United States on a stolen point in the eighth end) putting so much pressure on ourselves we just decided to stay loose and enjoy the moment and that's what we did."
Scoring came in bunches early and often. In the first end, with Canada already sitting two, Joseph picked a Chinese stone out to score five. But China's Meng Wang and Jianxin Chen got most of that back with an open draw by Wang for four in the second, Then in the third, Joseph was heavy on a draw to the eight-foot for four but had to settle for three and an 8-4 lead. But then China quickly responded with three of their own to trail Canada 8-7, which is normally a final score not one at the fourth-end break.
However, the super-sized scoring didn't cease in the second half of the game. Joseph delivered a delicate shot to the side of the button to score three in the fifth end to give Canada an 11-7 lead. But the treys kept on coming with China getting three in the sixth and once again Joseph and Thiessen's lead had been shrunk to one, 11-10 after six ends. Canada utilized its power play in the seventh end in the hopes of a multiple score. They did get two, which was ironic because it seemed like a low score compared to the first six ends. In the eighth, Joseph made a double with her last shot to ensure no worse than a tie and an extra end. But Wang wrecked on a guard out front and China only got one, the only single in the game, to make the final 13-11.
"Just rocks landing in the right spot for each team," said Joseph with a shrug of her shoulders trying to explain the high scoring.
"And rocks landing not in the right spot for the other team," chimed in Thiessen.
Even team head coach Dana Ferguson, who has been to six Scotties Tournament of Hearts women's Canadian championships reaching the podium five times including winning it all in 2019, hadn't seen anything as wild as that game.
"I think that was a new one for the record books for sure. I can't say I wasn't stressed but I felt very confident. They had control the whole game so we just needed to finish it off," said Ferguson.
"The team with hammer on both sides was scoring with numbers. It was pretty tough to draw, it was quite fast so as soon as a team got some in there it was pretty hard to get out of it.
Joseph and Thiessen, who were also supported by team leader Kyle Turcotte, have formed a mutual admiration society.
"Collinda played just absolutely amazing. Great ice calling and great shotmaking. She was absolutely amazing," said Thiessen.
"It was a two-way street. It was a great team win," said Joseph.
Ferguson is also a society member.
"They worked really hard, they played so well all week they deserved a medal and I'm happy they got it," said Ferguson.
The gold medal game was also a wild affair with the Latvian team of Polina Rozkova and Agris Lasmans defeating the United States (Pam Wilson and David Samsa) 11-8 in an extra end.
Earlier Sunday, Canada's four-person mixed team lost 5-2 to the two-time defending Paralympian champions from China in the gold medal game. The team of skip/lead Mark Ideson (London, Ont.), fourth Jon Thurston (Dunsford, Ont.), third Ina Forrest (Spallumcheen, B.C.), second Gil Dash (Wolseley, Sask.), fifth Marie Wright (Moose Jaw, Sask.), head coach Mick Lizmore and team leader Kyle Paquette was awarded the silver medal.

Both of Canada's teams are supported by Dr. Steven Macaluso (Physician), Sari Shatil (Physiotherapist), Erin Brennan (Mental Performance Consultant), and Wendy Morgan (Leadership Support).
Live scores can be found at https://worldcurling.org/live-scores/ and results at https://worldcurling.org/events/wwhcc2023?pageType=results.